Camp Recap, March 22nd- Pitcher's Duel in Camp Loss to Blue Jays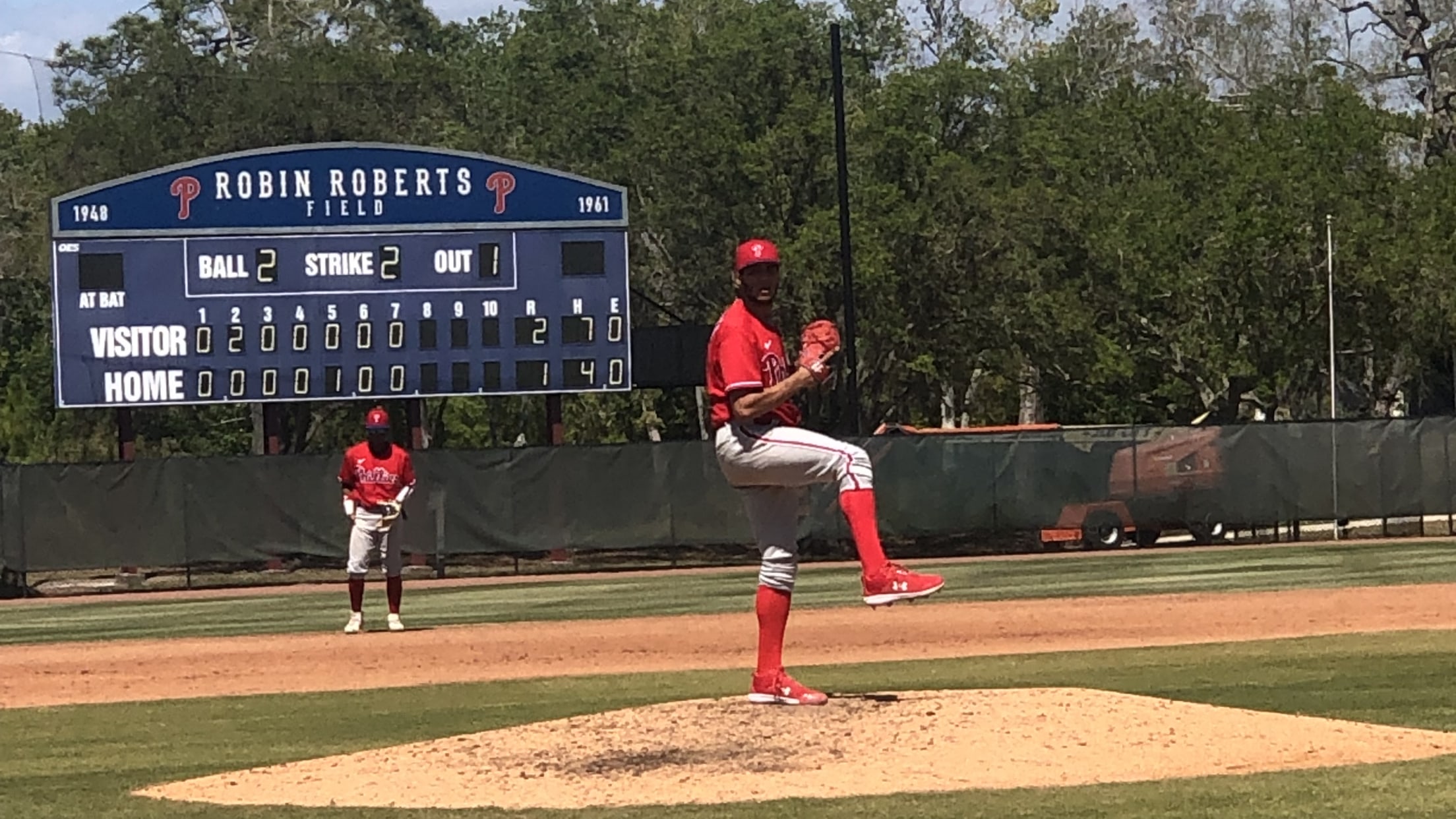 Erubiel Armenta throws in Minor League Camp against the Blue Jays
CLEARWATER, Fla. -- Erubiel Armenta struck out four of the seven batters he faced as the Phillies minor league staff held the Blue Jays to two runs in a 2-1 loss on Wednesday afternoon at the Carpenter Complex. The Phillies and Blue Jays minor leaguers face off again on Thursday
CLEARWATER, Fla. -- Erubiel Armenta struck out four of the seven batters he faced as the Phillies minor league staff held the Blue Jays to two runs in a 2-1 loss on Wednesday afternoon at the Carpenter Complex. The Phillies and Blue Jays minor leaguers face off again on Thursday as spring training continues.
The Blue Jays got their only runs in the second inning on an RBI single from Garrett Spain, and it took until the fifth before the Phillies struck back. Last year's number seventeen overall pick Justin Crawford led off with a single in the fourth, stole a base, and made it to third before the inning ended on a strikeout.
With two outs in the fifth, Jordan Viars came up to the plate with a hard-hit single to his name already. He took a 2-0 pitch to right-centerfield for a no-doubt solo home run. Viars' solo home run cut the Blue Jays' lead to 2-1.
Both teams combined for three more hits after the homer, and the Blue Jays finished in the win column with a 2-1 victory. It was their first victory over the Phillies' minor league camp this spring.
Braeden Fausnaught allowed two runs on three hits with one strikeout in 2.0 innings of work. Jaydenn Estanista threw 2.0 shutout innings, with two strikeouts and two hits allowed. Danny Wilkinson struck out two and walked one without allowing a hit in 2.0 innings, and Armenta struck out four with one hit in 2.0 innings.
Notes:
The Blue Jays did not bat in the top of the ninth...Each team had one extra-base hit...There was only one inning for each side where the teams recorded multiple hits...Keep up to date on more coverage of Phillies minor league camp on ThreshersBaseball.com…You can purchase tickets for the Threshers season, with the Home Opener on Tuesday, April 11th, at ThreshersBaseball.com/tickets or by calling 727-467-4457…The Box Office at BayCare Ballpark is also open daily to purchase Phillies Spring Training and Threshers tickets…The hours are 10 AM-5 PM Monday through Friday and 10 AM-3 PM on Saturdays.