Perry's Previews: 49ers vs. Gamecocks
Knights Media Associate Sam Perry Previews Collegiate Baseball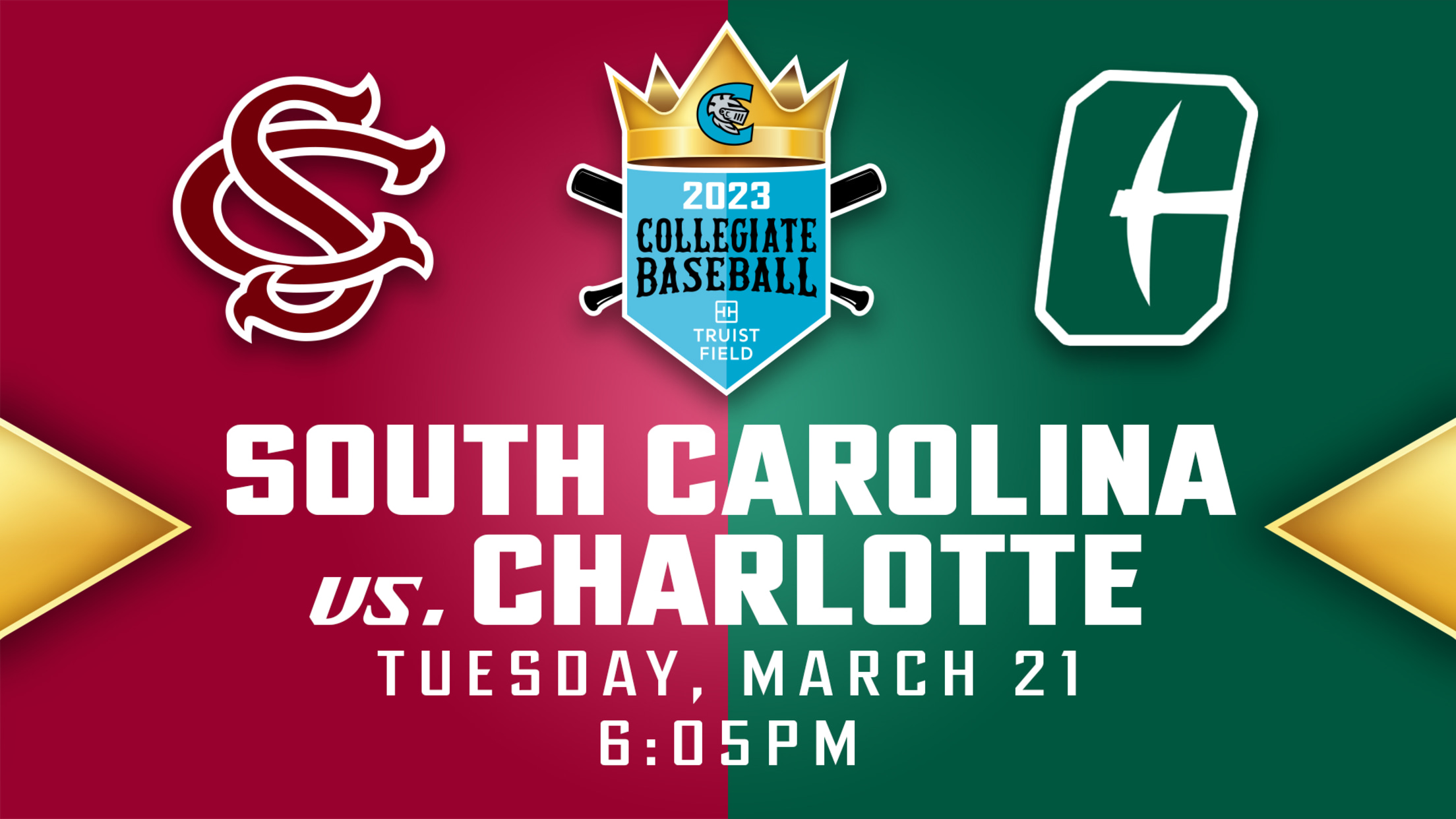 The Charlotte 49ers and nationally ranked #11 University of South Carolina Gamecocks start off the college games at Truist Field in Uptown Charlotte. Both teams come into the game riding strong offensive performances as they gear up to play Tuesday, March 21, at 6:05 p.m. RIDING THE HOT STREAK South
The Charlotte 49ers and nationally ranked #11 University of South Carolina Gamecocks start off the college games at Truist Field in Uptown Charlotte. Both teams come into the game riding strong offensive performances as they gear up to play Tuesday, March 21, at 6:05 p.m.
RIDING THE HOT STREAK
South Carolina comes into the matchup with an astounding 20-1 record after sweeping the weekend series over Georgia. Charlotte is 8-11 on the year but coming off a strong weekend performance where their pitching staff shut down a solid Louisiana Tech lineup on the way to a series win.
LOOKING AT THE NINERS
The 49ers stroll into Uptown after beating the LA Tech Bulldogs 14-6 Saturday and 9-0 Sunday, carrying strong momentum into Tuesday night.
Outfielder Cam Fisher has been the offensive star for the 49ers this season, batting a team-leading .408 with 28 runs scored, 19 RBI and 17 walks. He leads the team with 10 home runs on the season.
Will Butcher, an infielder for Charlotte, has also been on a tear this season, batting .300 with 16 runs scored, three home runs, 14 RBI and three walks.
On the mound, Andrew Spolyar has had some strong performances for the 49ers both in weekend and midweek play providing stable innings for Charlotte.
Spolyar has made six appearances with 15.2 innings pitched, with the team's second-most strikeouts with 22 while posting the team's third-best WHIP at 1.09.
EYES ON THE GAMECOCKS
South Carolina is on an 11-game win streak dating back to March 4. Their staunch combination of stellar hitting and pitching has helped them work their way up the national rankings to #11.
Ethan Petry has been hot at the plate for the Gamecocks as he is batting .458 with 19 runs scored, nine home runs, six walks and a team-best 31 RBI.
Braylen Wimmer has been another vital bat during this strong season start. Wimmer is batting .364 with a team-best 32 runs scored, six home runs, 20 RBI and 12 walks.
Right-handed pitcher Eli Jones has been shining on the mound in midweek games this season, with the sophomore making four appearances with 14.2 innings pitched a 4-0 record, a 1.23 ERA, 0.70 WHIP and 18 strikeouts.
Jones is riding a wave of momentum after throwing four perfect innings against Presbyterian last week, where he accumulated six strikeouts.
BACK AGAIN
The 49ers and the Gamecocks will also return to Truist Field in one of the other four collegiate games hosted by the Charlotte Knights in 2023.
TICKETS ARE ON SALE NOW
To see the collegiate stars of today and potential future Charlotte Knights, you can purchase tickets at CharlotteKnights.com or by calling 704-274-8282.
* MORE DETAILS ON GAMES & TICKET INFO * | Player stats updated as of March 1st