Knights Drop Thursday's Game to Bulls 6-5
Lenyn Sosa Recorded Three Hits in His Triple-A Debut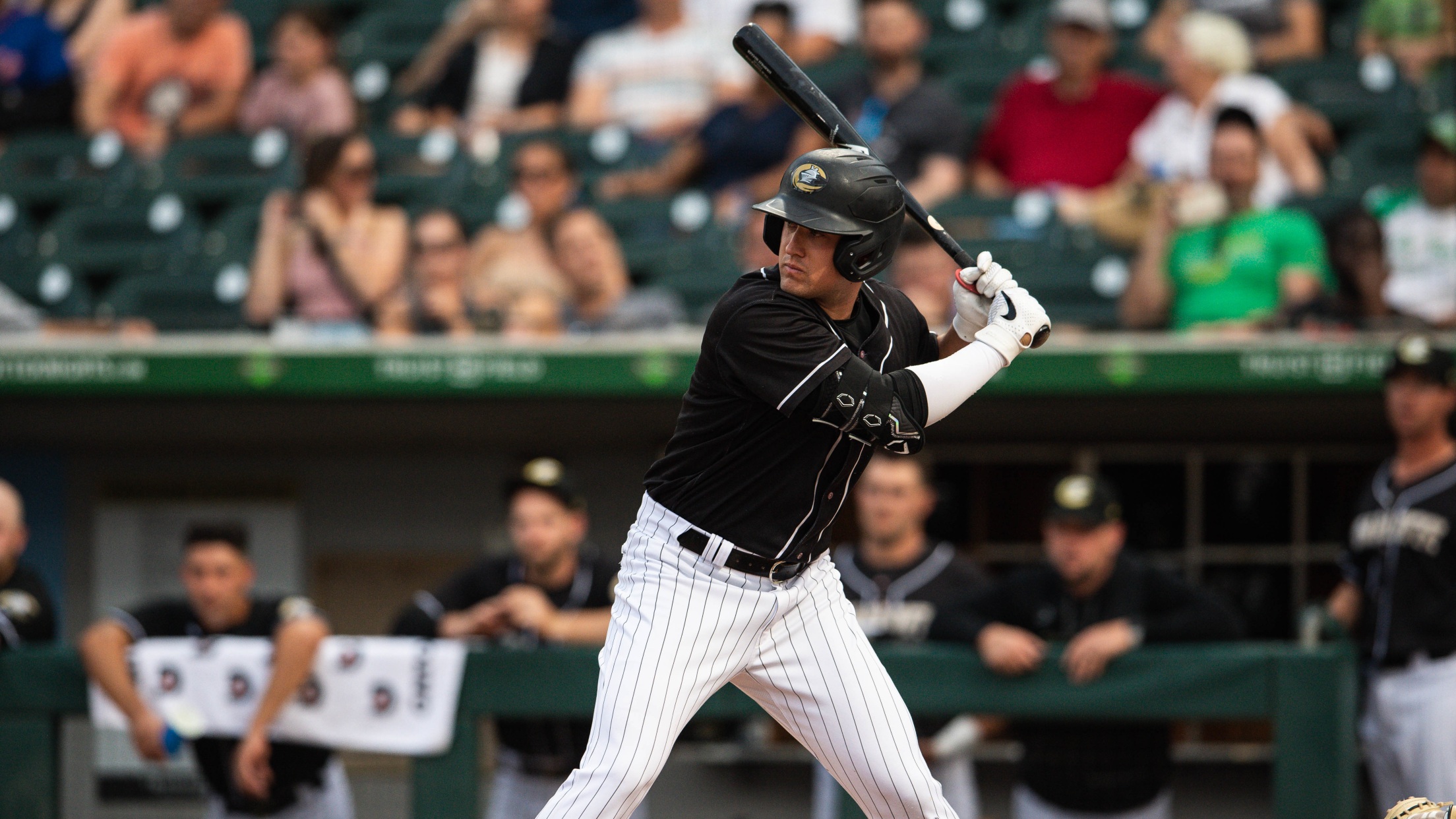 Blake Rutherford hit his eighth home run of the season. (Laura Wolff/Charlotte Knights)
(UPTOWN CHARLOTTE, NC) -- The Charlotte Knights fell just short in game three of the six-game series to the Durham Bulls by a score of 6-5 on Thursday night from Truist Field in Uptown Charlotte. A total of 8,368 fans watched an exciting game from start-to-finish on Thursday. A night
(UPTOWN CHARLOTTE, NC) -- The Charlotte Knights fell just short in game three of the six-game series to the Durham Bulls by a score of 6-5 on Thursday night from Truist Field in Uptown Charlotte. A total of 8,368 fans watched an exciting game from start-to-finish on Thursday.
A night after the Knights walked it off against the Bulls, the team scored five runs over the final three innings on Thursday and nearly duplicated that impressive feat from Wednesday night. The Knights brought the go-ahead run to first base in the bottom of the ninth inning on Thursday but failed to relive the magic from Wednesday evening's 9-8 walk-off win.
Shortstop Lenyn Sosa made his Triple-A debut on Thursday and was impressive at the plate. Sosa, who was optioned to Charlotte from Chicago on Tuesday, went 3-for-5 with a run scored and an RBI in his debut. His three hits were a team high on the night. He also helped the Knights pull to within one run with an RBI single in the bottom of the ninth inning.
RALLY TIME!!!

Lenyn Sosa with his third hit of the game! It's an RBI single and we're within one run in the 9th! pic.twitter.com/fBb5RqF5X4

— Charlotte Knights (@KnightsBaseball) July 1, 2022
Despite the loss on Thursday, the Knights put forth a solid offensive output. Charlotte center fielder Blake Rutherford launched his eighth home run of the season, a solo home run in the bottom of the seventh inning, which started the scoring for the Knights. Rutherford went 2-for-3 on the night with the home run.
It's a Blake 💣@BlakeRuth2 with a solo homer to get us on the 'board! pic.twitter.com/pJTbLll1oK

— Charlotte Knights (@KnightsBaseball) July 1, 2022
In all, the Knights tallied 12 hits on the evening. Designated hitter Carlos Pérez and left fielder Logan Glass each chipped in with two hits apiece.
On the mound, LHP Kyle Kubat (4-3, 6.04) started for the Knights and was saddled with the loss after he allowed three runs on four hits over four innings.
The Knights will continue the six-game home series against the Durham Bulls (Triple-A affiliate of the Tampa Bay Rays) from Truist Field in Uptown Charlotte on Friday night. The "Voice of the Charlotte Knights" Matt Swierad and long-time Knights broadcaster Mike Pacheco will have the call for all of the action on 730 The Game ESPN Charlotte and www.CharlotteKnights.com. First pitch on Friday night is set for 7:04 p.m. from the home of the Knights.