Woodpeckers Hand Mudcats Third Straight Loss
The Mudcats fell a full game back of the first-place Down East Wood Ducks with the loss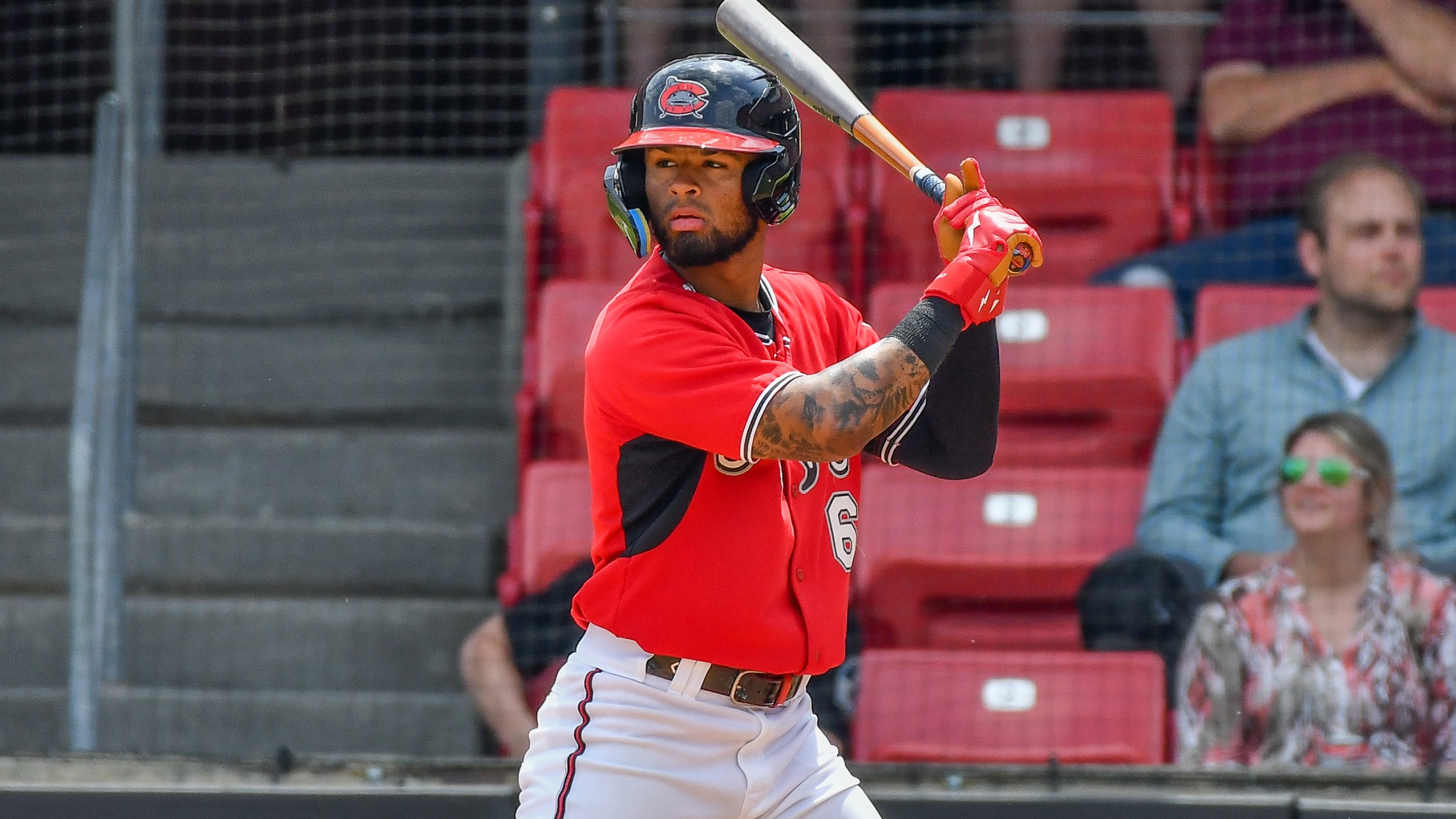 Hedbert Perez - Carolina Mudcats (Credit: Neal Hock)
Fayetteville Woodpeckers 6 @ Carolina Mudcats 2 June 08, 2023 | Venue: Five County Stadium | First pitch: 6:59 PM | T: 2:26 | Att: 1,402 | Box Score FAY: 0 0 0 1 0 4 0 0 1 6 12 0 CAR: 0 1 0 0 0 0 0
Fayetteville Woodpeckers 6 @ Carolina Mudcats 2
June 08, 2023 | Venue: Five County Stadium | First pitch: 6:59 PM | T: 2:26 | Att: 1,402 | Box Score
FAY: 0 0 0 1 0 4 0 0 1 6 12 0
CAR: 0 1 0 0 0 0 0 0 1 2 8 1
WP: Nic Swanson (2 - 2) LP: Tyler Wehrle (4 - 3)
ZEBULON, N.C. – Hedbert Perez went 2-for-4 with a RBI single in the ninth, Jesus Parra had a RBI single in the second, Logan Henderson started and struck out six while pitching into the fifth, but the Carolina Mudcats lost their third straight 6-2 to the Fayetteville Woodpeckers on Thursday night at Five County Stadium.
The Mudcats (30-22) scored first after getting a RBI single from Parra in the second. The Woodpeckers (22-32) answered with a run to tie it in the fourth when Dauri Lorenzo connected on a two-out RBI single off Henderson.
Henderson ended up allowing just the one run in his start while reaching a career-best four and 2/3 innings pitched. He also struck out six and walked one while totaling a career-high 70 pitches (51 strikes).
Reliever Tyler Wehrle took over in the fifth and was able to get through the rest of the frame unscathed but would later give up four runs and five hits in the sixth as Fayetteville jumped out to a 5-1 lead.
Luis Encarnacion and Leosdany Molina both had run-scoring hits in the sixth for the Woodpeckers. Yamal Encarnacion also drove in one with a sacrifice fly.
Despite the runs, Carolina recorded two solid defensive plays to begin and end the sixth with Jace Avina catching a runner at second on a hustle double attempt for the first out and Kay-Lan Nicasia throwing out a runner at third on the Encarnacion sac fly to end the inning.
Wehrle (L, 4-3) settled in nicely after the four run sixth and would go four and 1/3 with eight hits, five runs (four earned) and two walks. He also gave up a run in the ninth on a Ricardo Balogh two-out single.
Carolina's final run came in the last of the ninth when Perez crushed a RBI single off the first base bag to scored Jheremy Vargas from second. The hit was Perez's second of the game and came off newly inserted reliever Ian Foggo. The run, however, was charged to Elvis Garcia who walked Vargas to start the ninth before leaving the game.
Garcia went two and 2/3 with a run allowed on two hits. He also walked four and struck out two. Nic Swanson (W, 2-2) started and earned the victory after working through six complete with five strikeouts and just one run on five hits.
TOP PERFORMERS - BATTERS:
Balogh, 3B (Fayetteville): 2-for-5, 1 RBI
Cruz, 1B (Fayetteville): 2-for-4, 2 R
Encarnacion, L, LF (Fayetteville): 2-for-4, 1 R
Lorenzo, DH (Fayetteville): 2-for-3, 1 R, 1 2B, 1 RBI
Perez, H, LF (Carolina): 2-for-4, 1 RBI
Parra, 1B (Carolina): 1-for-4, 1 RBI
TOP PERFORMERS - PITCHERS:
Swanson (W, 2-2) (Fayetteville): 6 IP, 5 H, 1 R, 1 ER, 1 BB, 5 SO
Garcia, E (Fayetteville): 2.2 IP, 2 H, 1 R, 1 ER, 4 BB, 2 SO
Henderson (Carolina): 4.2 IP, 4 H, 1 R, 1 ER, 1 BB, 6 SO
SCORING:
Mudcats 2nd (Mudcats 1, Woodpeckers 0) -- Kay-Lan Nicasia strikes out swinging. Jadher Areinamo singles to shallow center field. Jheremy Vargas walks, Jadher Areinamo to 2nd. Jesus Parra singles to center field, Jadher Areinamo scores; Jheremy Vargas to 2nd. Blayberg Diaz pops out to Leosdany Molina on the infield fly rule. Gregory Barrios grounds into a force out, fielded by Leosdany Molina, Jesus Parra out at 2nd.
(1 Runs, 2 Hits, 0 Errors, 2 LOB)
Woodpeckers 4th (Woodpeckers 1, Mudcats 1) -- Ricardo Balogh lines out to Jace Avina. Narbe Cruz walks. Luis Encarnacion singles to right field, Narbe Cruz to 3rd. Dauri Lorenzo singles to right field, Narbe Cruz scores; Luis Encarnacion to 2nd. Luis Encarnacion caught stealing 3rd base, Blayberg Diaz to Luke Adams, Dauri Lorenzo to 2nd. Sandro Gaston lines out to Logan Henderson.
(1 Runs, 2 Hits, 0 Errors, 1 LOB)
Woodpeckers 6th (Woodpeckers 5, Mudcats 1) -- Ricardo Balogh singles to right field, Ricardo Balogh out at 2nd on the throw, Jace Avina to Gregory Barrios. Narbe Cruz singles to left-center field. Luis Encarnacion singles to center field, Narbe Cruz to 2nd. Dauri Lorenzo hit by pitch, Narbe Cruz to 3rd; Luis Encarnacion to 2nd. Sandro Gaston singles to deep second base, Narbe Cruz scores; Luis Encarnacion to 3rd; Dauri Lorenzo to 2nd. Leosdany Molina singles to center field, Luis Encarnacion scores; Dauri Lorenzo scores; Leosdany Molina to 2nd; throwing error by Kay-Lan Nicasia. Yamal Encarnacion flies into sacrifice double play, Kay-Lan Nicasia to Blayberg Diaz to Luke Adams, Sandro Gaston scores; Leosdany Molina out at 3rd.
(4 Runs, 5 Hits, 1 Errors, 0 LOB)
Woodpeckers 9th (Woodpeckers 6, Mudcats 1) -- Leosdany Molina grounds out, Gregory Barrios to Jesus Parra. Yamal Encarnacion lines out to Kay-Lan Nicasia. Zachary Cole walks. Jackson Loftin singles to shallow right field, Zachary Cole to 3rd. Ricardo Balogh singles to center field, Zachary Cole scores; Jackson Loftin to 3rd. Narbe Cruz lines out to Luke Adams.
(1 Runs, 2 Hits, 0 Errors, 2 LOB)
Mudcats 9th (Woodpeckers 6, Mudcats 2) -- Jheremy Vargas walks. Jesus Parra strikes out swinging. Blayberg Diaz flies out to Zachary Cole . Gregory Barrios walks, Jheremy Vargas to 2nd. Pitcher Change: Ian Foggo replaces Elvis Garcia. Hedbert Perez singles to right field, Jheremy Vargas scores; Gregory Barrios to 3rd.
(1 Runs, 1 Hits, 0 Errors, 2 LOB)