Win Streak Ends at Seven as Mudcats Fall 2-1
The first-place Mudcats fell a victory shy of a six-game sweep, but remained atop the North Division standings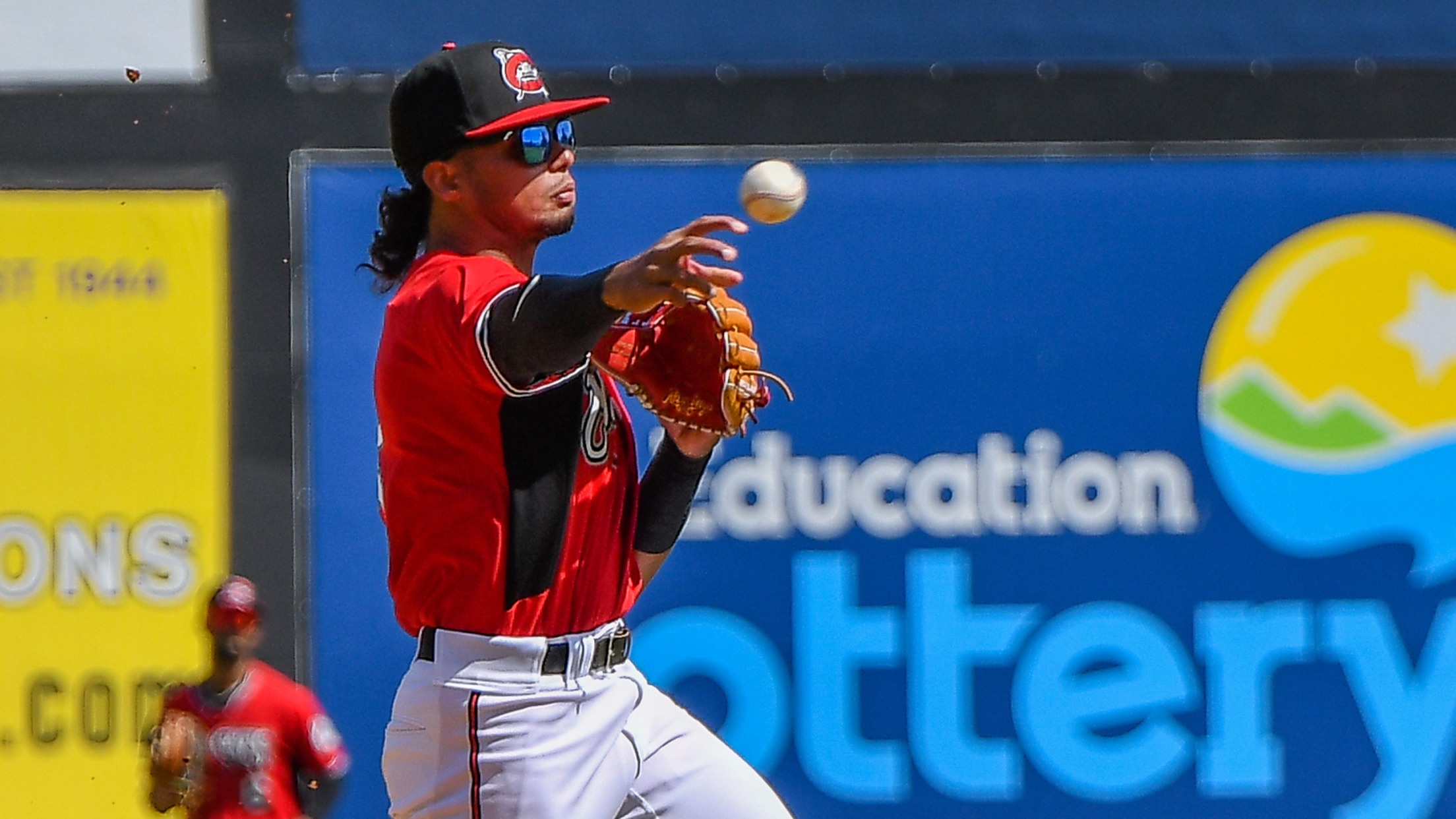 Jheremy Vargas - Carolina Mudcats (Credit: Neal Hock)
Carolina Mudcats 1 @ Lynchburg Hillcats 2 June 04, 2023 | Venue: Bank of the James Stadium | First pitch: 2:01 PM | T: 2:13 | Att: 1,355 | Box Score CAR: 0 0 0 0 0 0 0 0 1 1 5 0 LYN: 0 0 0 2 0
Carolina Mudcats 1 @ Lynchburg Hillcats 2
June 04, 2023 | Venue: Bank of the James Stadium | First pitch: 2:01 PM | T: 2:13 | Att: 1,355 | Box Score
CAR: 0 0 0 0 0 0 0 0 1 1 5 0
LYN: 0 0 0 2 0 0 0 0 x 2 2 3
WP: Alonzo Richardson (3 - 2) LP: Yujanyer Herrera (1 - 2) SV: Magnus Ellerts (5)
LYNCHBURG, Va. – Gregory Barrios had a RBI single in the ninth, but the Carolina Mudcats fell a run shy of a late comeback while falling to the Lynchburg Hillcats 2-1 on Sunday afternoon at Bank of the James Stadium in Lynchburg, Va. Jheremy Vargas paced the Carolina offense with two hits in the loss.
The Mudcats (29-19) had won seven straight games before Sunday's loss and ended up falling a win shy of completing their first series sweep of the season. Despite the loss the Mudcats won the series 5-1 and maintained a 0.5 game lead in the Carolina League North Division standings over the Down East Wood Ducks.
The Hillcats (23-28) led 2-0 going into the ninth before Barrios brought in Luke Adams with a RBI single, cutting the deficit to 2-1. Adams led off the ninth with a walk and moved to second on a groundout before scoring on the Barrios single. Vargas then singled to push Barrios to second, but Lynchburg's Magnus Ellerts escaped the final frame by getting Hedbert Perez to hit into a game-ending double play.
Ellerts (S, 5) worked the ninth and pitched around two hits and one run while finishing off Lynchburg's series finale victory. Alonzo Richardson started and went through six and 1/3 scoreless innings while earning the victory. Richardson (W, 3-2) scattered two hits, walked one and struck out six. Reliever Tomas Reyes pitched through an inning and 2/3 with a hit and a walk.
Lynchburg scored both of its runs in the fourth after rallying for two runs and two hits off Carolina starter Yujanyer Herrera. Herrera (L, 1-2) started the fourth by hitting Carson Tucker with a pitch before giving up a double to Angel Genao. Herrera was able to get Pres Cavenaugh to ground out, but Tucker would score to give Lynchburg a 1-0 lead. After a walk to Robert Lopez, Herrera then gave up a RBI single to Lexer Saduy and the Mudcats found themselves down 2-0.
Herrera went on to return for the fifth, but left with two outs after reaching 71 pitches (43 strikes). In all, Herrera allowed two runs, gave up just two hits, walked two and struck out four.
Reliever Miguel Guerrero finished the fifth and recorded a strikeout against his only batter faced. Jeison Pena worked a scoreless sixth with two walks and a strikeout. Yerlin Rodriguez walked two and struck out two over a scoreless seventh. Tanner Shears then finished the game with a scoreless ninth.
The Mudcats next return to Five County Stadium on Tuesday, June 6 for a seven-game homestand versus the Houston Astros affiliated Fayetteville Woodpeckers. The next homestand features fan-favorite promotions including Starry Taco Tuesday, a Winslow Homes Winning Wednesday doubleheader, Thirsty Thursday™, CBS 17 Friday Night Fireworks with a bonus souvenir t-shirt giveaway, Souvenir Saturday featuring a souvenir red Mudcats jersey, and WakeMed Five County Family Sunday with $7 box seat tickets and post-game catch.
TOP PERFORMERS - BATTERS:
Vargas, 2B (Carolina): 2-for-4
Cabrera, DH (Carolina): 1-for-3, 1 2B
Barrios, SS (Carolina): 1-for-4, 1 RBI
Genao, SS (Lynchburg): 1-for-1, 1 R, 1 2B
Saduy, CF (Lynchburg): 1-for-4, 1 RBI
TOP PERFORMERS - PITCHERS:
Pena, Je (Carolina): 1 IP, 0 H, 0 R, 0 ER, 2 BB, 1 SO
Rodriguez (Carolina): 1 IP, 0 H, 0 R, 0 ER, 2 BB, 2 SO
Shears (Carolina): 1 IP, 0 H, 0 R, 0 ER, 0 BB, 0 SO
Richardson (W, 3-2) (Lynchburg): 6.1 IP, 2 H, 0 R, 0 ER, 1 BB, 6 SO
Reyes, T (H, 3) (Lynchburg): 1.2 IP, 1 H, 0 R, 0 ER, 1 BB, 0 SO
Ellerts (S, 5) (Lynchburg): 1 IP, 2 H, 1 R, 1 ER, 1 BB, 0 SO
SCORING:
Hillcats 4th (Hillcats 2, Mudcats 0) -- Carson Tucker hit by pitch. Angel Genao doubles to left field, Carson Tucker to 3rd. Pres Cavenaugh grounds out to Luke Adams, Carson Tucker scores; Angel Genao to 3rd. Juan Benjamin strikes out swinging. Robert Lopez walks. Lexer Saduy singles to right field, Angel Genao scores; Robert Lopez to 2nd. Jordan Brown strikes out swinging.
(2 Runs, 2 Hits, 0 Errors, 2 LOB)
Mudcats 9th (Hillcats 2, Mudcats 1) -- Pitcher Change: Magnus Ellerts replaces Tomas Reyes. Luke Adams walks. Jace Avina grounds out, Juan Benjamin to Marc Filia, Luke Adams to 2nd. Gregory Barrios singles to left field, Luke Adams scores. Jheremy Vargas singles to shallow right field, Gregory Barrios to 2nd. Hedbert Perez grounds into double play, Tyresse Turner to Angel Genao to Marc Filia, Jheremy Vargas out at 2nd, Hedbert Perez out at 1st.
(1 Runs, 2 Hits, 0 Errors, 1 LOB)