The 2023 World Baseball Classic Bound Mudcats
A total of 18 former Carolina Mudcats including Miguel Cabrera, Devin Williams, Francisco Lindor, Joey Meneses, and Gio Urshela are set to appear in the 2023 World Baseball Classic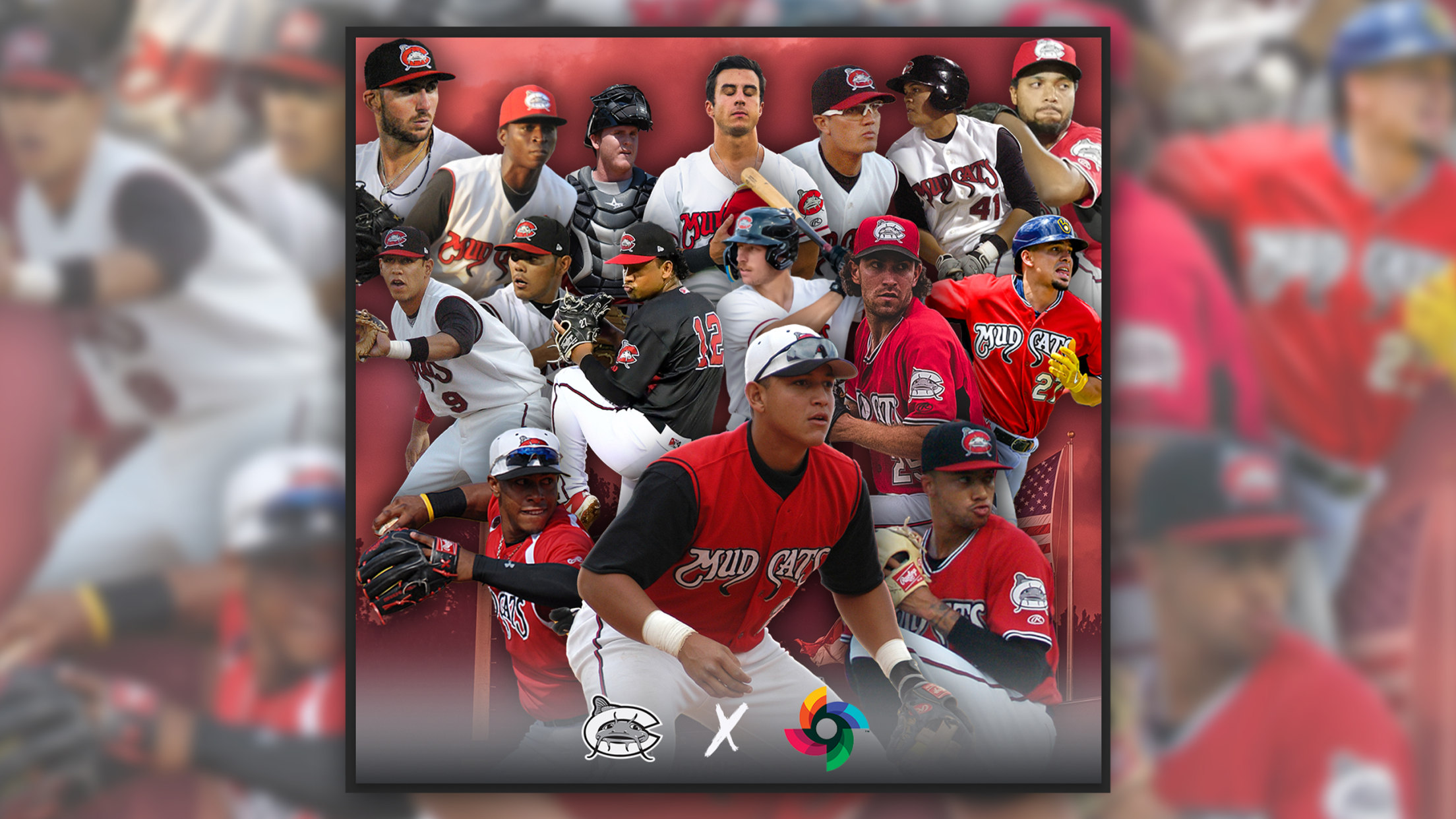 ZEBULON, N.C. - Full rosters for the 2023 World Baseball Classic were recently unveiled and a grand total of 18 former Carolina Mudcats players are set to appear in the international tournament beginning on March 7. A full breakdown of the former Mudcats currently scheduled to appear in this year's
ZEBULON, N.C. - Full rosters for the 2023 World Baseball Classic were recently unveiled and a grand total of 18 former Carolina Mudcats players are set to appear in the international tournament beginning on March 7. A full breakdown of the former Mudcats currently scheduled to appear in this year's WBC is listed below.
Jon Kennedy, Australia, 2016 Mudcats
Alex Hall, Australia, 2021/2022 Mudcats
Ryan Battaglia, Australia, 2013/2014 Mudcats
Gio Urshela, Colombia, 2012 Mudcats
Willy Adames, Dominican Republic, 2022 Mudcats
Michael Petersen, Great Britain, 2019 Mudcats
Michele Vassalotti, Italy, 2021/2022 Mudcats
Sal Frelick, Italy, 2021 Mudcats
Joey Meneses, Mexico, 2015/2016 Mudcats
Carlos Rodriguez, Nicaragua, 2022 Mudcats
Didi Gregorius, Kingdom of the Netherlands, 2011 Mudcats
Andy Otero, Panama, 2015 Mudcats
Matt Hardy, Panama, 2019 Mudcats
Francisco Lindor, Puerto Rico, 2013 Mudcats
Neftali Soto, Puerto Rico, 2011 Mudcats
Devin Williams, USA, 2018 Mudcats
Miguel Rojas, Venezuela, 2010/2011 Mudcats
Miguel Cabrera, Venezuela, 2003 Mudcats
Here's a closer look at some of this year's WBC bound Mudcats:
Devin Williams - 2018 Mudcats
Your National League Rookie of the Year is none other than 2018 Carolina Mudcats pitcher, @DTrainn_23.

Williams is the first Mudcats pitcher since @DTrainMLB to win the award.#MajorLeagueMudcats pic.twitter.com/Nza1T8XLAM

— Carolina Mudcats (@CarolinaMudcats) November 9, 2020
Willy Adames - 2022 Mudcats (MLB Rehab)
Welcome to Carolina @willya02! It's 3-2 Mudcats in the 3rd thanks to this Willy Adames 2-run homer. pic.twitter.com/YcyVDvnizr

— Carolina Mudcats (@CarolinaMudcats) May 29, 2022
Michael Petersen - 2019 Mudcats
LISTEN: Michael Petersen discusses his family history on the Mudcats Radio Network (2019 radio interview)
Sal Frelick - 2021 Mudcats
Sal Frelick DID THAT 🤯 pic.twitter.com/dylhxbx3Pq

— Carolina Mudcats (@CarolinaMudcats) August 25, 2021
Joey Meneses - 2015, 2016 Mudcats
#MajorLeagueMudcats

Congrats Joey Meneses! A home run in your first game in the Show!?! Wow, what a moment for this former 2015/16 Mudcats slugger. https://t.co/GaFehCdwnE pic.twitter.com/APE6XWrNtl

— Carolina Mudcats (@CarolinaMudcats) August 3, 2022
Carlos Rodriguez - 2022 Mudcats
Awards season is upon us!

The @Brewers announced their 2022 Robin Yount Performance Awards, naming Jackson Chourio as Minor League Player of the Year and Carlos Rodríguez as Minor League Pitcher of the Year. Jace Avina was named the 2022 Complex League Player of the Year. pic.twitter.com/URGILJiiRM

— Carolina Mudcats (@CarolinaMudcats) October 4, 2022
Didi Gregorius - 2011 Mudcats
Didi Gregorius played for the Mudcats during the club's final season as a Double-A affiliate of the Cincinnati Reds in 2011. Gregorius arrived with the Mudcats after being promoted in late July from High-A Bakersfield. He went on to play in 38 games with the Mudcats that season and totaled 40 hits, including six doubles, three triples and two home runs. Overall, he hit .270/.312/.392 during his time with the Mudcats.
Matt Hardy - 2019 Mudcats
Matt Hardy's grandfather Ossie Chavarria is a former Major Leaguer who became the thirteenth Panamanian born baseball player to make it to the majors when he made his debut with the Kansas City Athletics on April 14, 1966. He is additionally the nephew of former Carolina Mudcats' Pitching Coach Dave Chavarria (2017 season). Hardy was a Carolina League All-Star with the Mudcats in 2019.
Miguel Cabrera - 2003 Mudcats
Miguel Cabrera, Major League Baseball's Triple Crown Award winner in 2012 and two-time American League MVP, began the 2003 season with the Mudcats before quickly getting the call to the bigs later that same year. While with the Mudcats, Cabrera hit .365 with 10 home runs and 97 hits over 69 Southern League games. Cabrera began his thrilling, albeit short, run with the Mudcats by clubbing an Opening Night grand slam on April 3, 2003. He also put together a 15-game hit streak between April 22 and May 8, 2003. Cabrera would later be selected from Double-A Carolina on June 20, 2003 and went on to finish that same season batting .268 with 84 hits in 87 MLB games with the World Series Champion Marlins.
500 home runs ago, he was just a kid in Zebulon.

Congratulations, @MiguelCabrera! pic.twitter.com/60M0pzJANx

— Carolina Mudcats (@CarolinaMudcats) August 22, 2021
Carolina's 2023 season is set to begin on Friday, April 7 with the season opener in Fayetteville against the Woodpeckers. The first home game of the 2023 schedule is set for Tuesday, April 11 against the Salem Red Sox at Five County Stadium. The full schedule is available online at www.carolinamudcats.com/schedule.
Season ticket packages, single-game tickets, mini plans, group options, as well as luxury suite packages and DRB Homes Sky Lounge reservations in the US Foods Club Level are all available now by visiting www.carolinamudcats.com, by calling (919) 269-2287, and by visiting the Five County Stadium front office in Zebulon.
The Carolina Mudcats are the officially licensed Class-A affiliate of the Milwaukee Brewers. First established in 1991, the Mudcats have provided affordable family fun for over 30 years at Five County Stadium in Zebulon, N.C. Follow the Mudcats online at www.carolinamudcats.com, and on social media at facebook.com/carolinamudcats, twitter.com/carolinamudcats, tiktok.com/@carolinamudcats and instagram.com/carolinamudcats.
#