Rodriguez and Puello Allow One Hit in 1-0 Loss
The Mudcats fell into a tie for first in the first half standings with the loss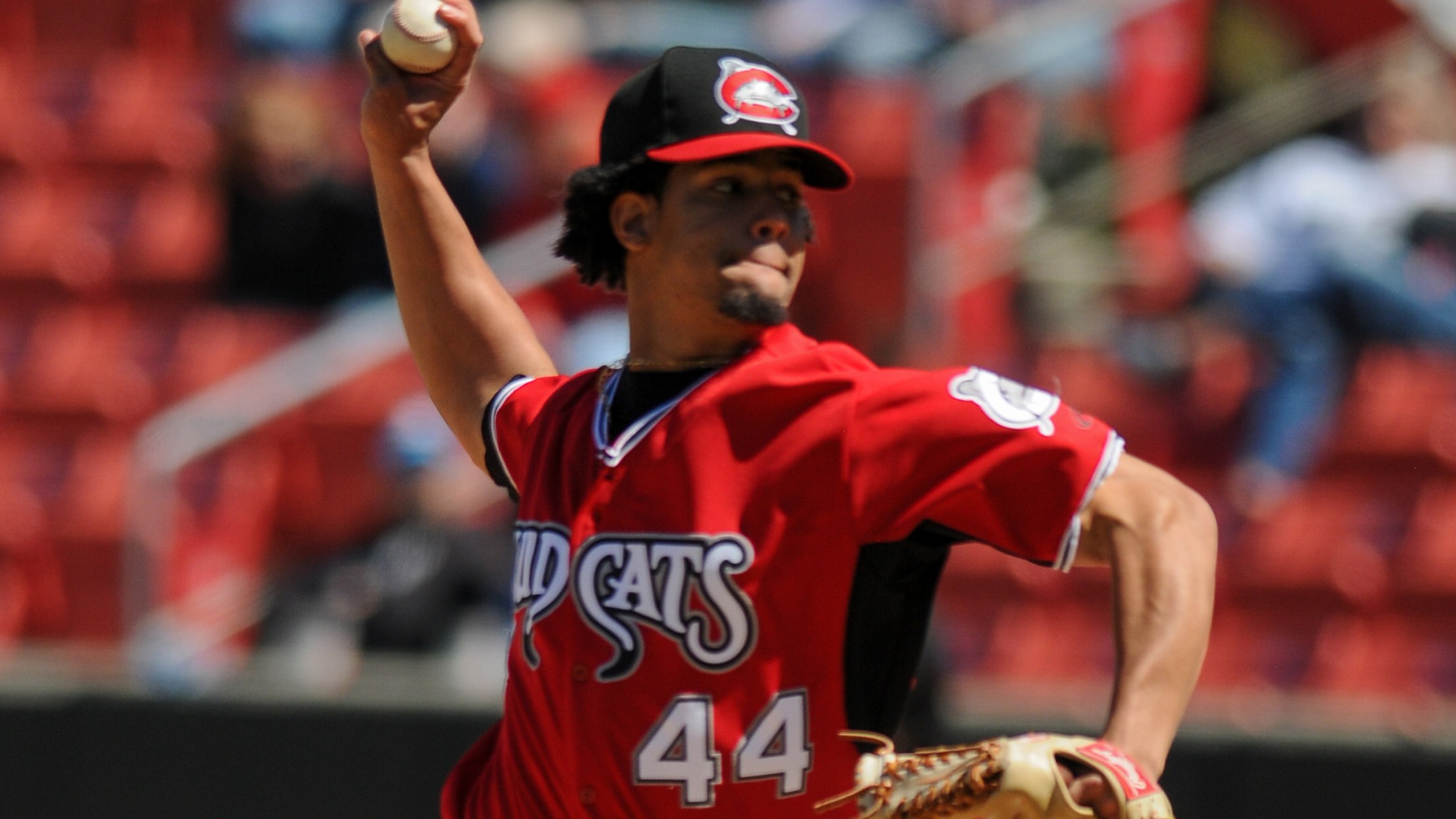 Israel Puello - Carolina Mudcats (NIKOLAUS)
Carolina 0 @ Down East 1 June 22, 2022 | Venue : Grainger Stadium | First pitch : 6:59 PM | Att : 1,060 | T : 1:48 CAR: 0 0 0 0 0 0 0 0 0 0 3 0 DE: 0 0 0 1 0 0 0 0
Carolina 0 @ Down East 1
June 22, 2022 | Venue : Grainger Stadium | First pitch : 6:59 PM | Att : 1,060 | T : 1:48
CAR: 0 0 0 0 0 0 0 0 0 0 3 0
DE: 0 0 0 1 0 0 0 0 x 1 1 0
WP: Emiliano Teodo (2 - 2) LP: Carlos Rodriguez (2 - 3) SV: Jose Corniell (2)
KINSTON – Pitchers Carlos Rodriguez and Israel Puello combined to allow just one hit, but that lone hit was a Daniel Mateo solo home run in the fourth as the Down East Wood Ducks shut out the Carolina Mudcats 1-0 on Wednesday night at Grainger Stadium in Kinston. The Mudcats were held to just three-hits in the shutout loss and fell into a tie for first with the Salem Red Sox in the Carolina League North standings.
Mateo's home run accounted for the only Down East (32-33) hit of the game and the only run for either team. The home run was also Mateo's seventh of the season and his second in as many games in the series. Mateo had four RBI in Tuesday's series opener and has now driven in five of Down East's six runs scored over the first two games of the series.
The Mudcats (34-31) were held to just three hits, including a two-out triple in the first from Eduardo Garcia, a single from Jose Sibrian in the third and a Hendry Mendez single in the fourth. Carolina would then be held without a hit and to just a couple of baserunners the rest of the way as Emiliano Teodo and Jose Corniell combined on a three-hit shutout.
Teodo (2-2) earned the win after holding the Mudcats scoreless over five innings pitched. Teodo also struck out six, walked two and gave up all three Carolina hits. Corniell (S, 2) earned his second save after totaling five strikeouts over the final four innings.
Rodriguez (2-3) ended up with the tough-luck loss after allowing just the one Down East run over four innings pitched. Rodriguez struck out four, walked two and allowed just the one hit. Puello followed with four scoreless frames with one walk. Puello also faced the minimum through four and struck out four.
With the loss, the Mudcats are now tied with Salem for first-place in the Carolina League North first half standings. The Lynchburg Hillcats were rained out on Wednesday and sit in second-place at just a 0.5 game behind Carolina and Salem. The Fredericksburg Nationals lost to Salem and fell to 1.0 game back. The first half schedule will end on Thursday night.
The game was played in one hour and 48 minutes, making it the fastest nine-inning game for the Mudcats this season.
HOME RUNS:
Down East: Mateo (6, 4th inning off Rodriguez, 0 on, 0 out).
TOP PERFORMERS - BATTERS:
Mateo, CF (Down East): 1-for-3, 1 R, 0 2B, 0 3B, 1 HR, 1 RBI
Garcia, E, SS (Carolina): 1-for-4, 0 R, 0 2B, 1 3B, 0 HR, 0 RBI
Mendez, RF (Carolina): 1-for-3, 0 R, 0 2B, 0 3B, 0 HR, 0 RBI
Sibrian, C (Carolina): 1-for-3, 0 R, 0 2B, 0 3B, 0 HR, 0 RBI
TOP PERFORMERS - PITCHERS:
Rodriguez (L, 2-3) (Carolina): 4 IP, 1 H, 1 R, 1 ER, 2 BB, 4 SO
Puello (Carolina): 4 IP, 0 H, 0 R, 0 ER, 1 BB, 4 SO
Teodo (W, 2-2) (Down East): 5 IP, 3 H, 0 R, 0 ER, 2 BB, 6 SO
Corniell (S, 2) (Down East): 4 IP, 0 H, 0 R, 0 ER, 0 BB, 5 SO
SCORING:
Wood Ducks 4th (Wood Ducks 1, Mudcats 0) -- Daniel Mateo hits a home run to left-center field on a 2-1 pitch. Marcus Smith strikes out swinging. Maximo Acosta strikes out swinging. Yosy Galan struck out looking.
(1 Runs, 1 Hits, 0 Errors, 0 LOB)