Perez Hits Walk-Off For First-Place Mudcats
Hedbert Perez used his first home run of the season to give the Mudcats their first walk-off win of 2023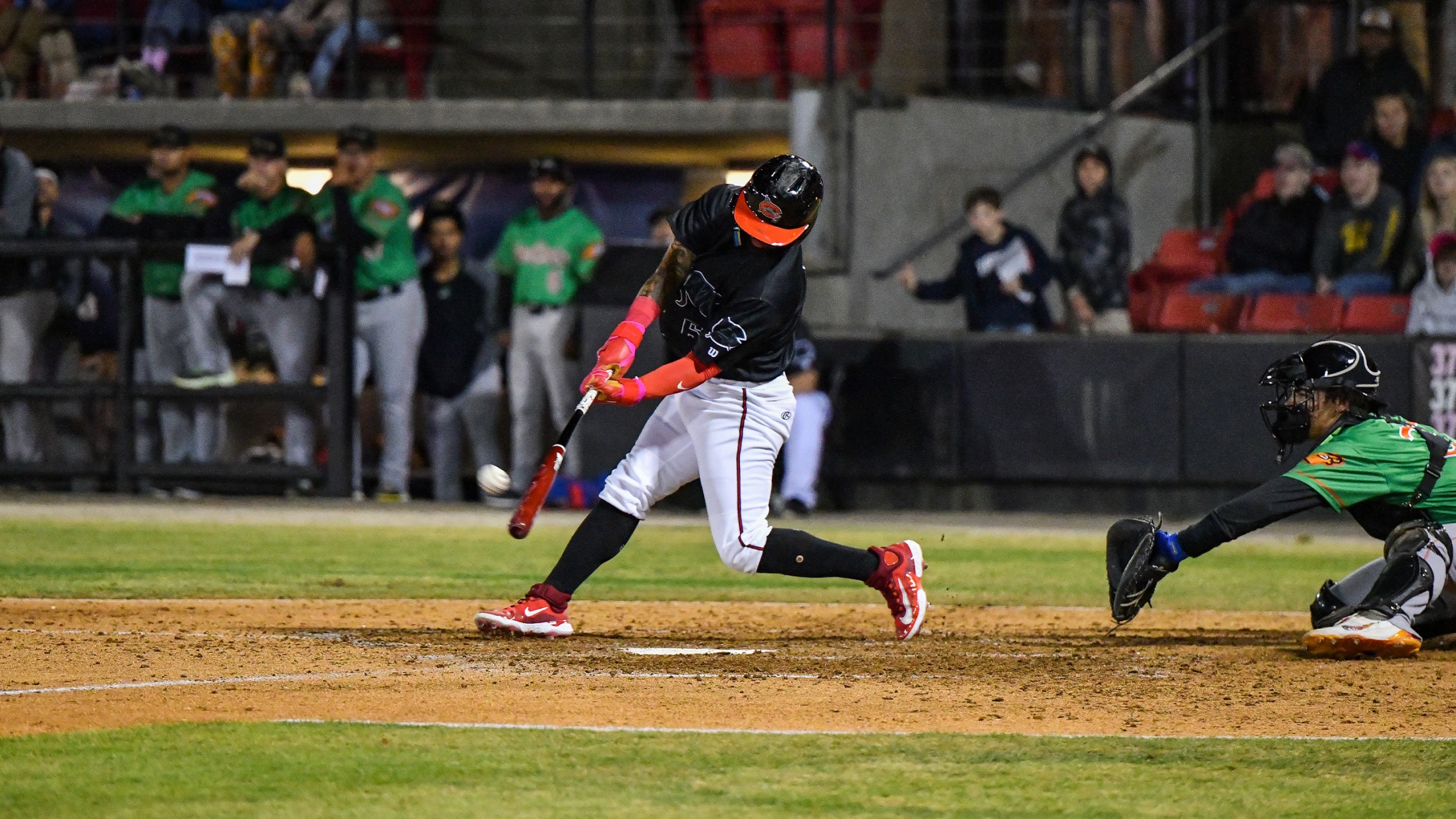 Hedbert Perez - Carolina Mudcats (Credit: Neal Hock)
Down East Wood Ducks 2 @ Carolina Mudcats 4 May 26, 2023 | Venue: Five County Stadium | First pitch: 7:01 PM | T: 2:20 | Att: 3,890 | Box Score DE: 0 1 0 1 0 0 0 0 0 2 5 0 CAR: 0 0 0 0 1
Down East Wood Ducks 2 @ Carolina Mudcats 4
May 26, 2023 | Venue: Five County Stadium | First pitch: 7:01 PM | T: 2:20 | Att: 3,890 | Box Score
DE: 0 1 0 1 0 0 0 0 0 2 5 0
CAR: 0 0 0 0 1 0 0 1 2 4 6 2
WP: Tyler Wehrle (3 - 2) LP: Jackson Leath (1 - 2)
Post-Game Interview: Manager Victor Estevez
ZEBULON, N.C. - Hedbert Perez broke a 2-2 tie in the ninth with a walk-off two-run home run as the Carolina Mudcats defeated the Down East Wood Ducks 4-2 on Friday night at Five County Stadium. The home run was both Perez's first of the season and accounted for Carolina's first walk-off win of the year.
With the victory, the Mudcats (24-18) moved back into first-place by a 0.5 game over the Wood Ducks (23-18) and evened the series with Down East at two games apiece.
Down East originally led 2-0 through the fourth after getting a solo home run from Yosy Galan in the second and a sac fly from Gleider Figuereo in the fourth. Starter Logan Henderson gave up both early runs, but worked through three and 2/3 with six strikeouts for Carolina.
Jesus Chirinos eventually got the Mudcats on the board in both the hits and run column in the fifth after singling to start the inning (accounting for Carolina's first hit of the game) and later scoring on a bases loaded walk from Alexander Perez. Carolina was down 2-1 after the fifth, but went on to tie the game when Chirinos forced in a run with a two-out, bases loaded walk in the eighth.
With Tyler Wehrle turning in his fourth straight scoreless frame, the Mudcats went on to break the 2-2 in the ninth with Perez's walk-off blast. Jackson Leath (L, 1-2) pitched the ninth for the Wood Ducks and allowed both a leadoff single to Jace Avina and Perez's home run on a 0-2 pitch.
Wehrle (W, 3-2) earned the win for the Mudcats after totaling a career-high seven strikeouts over four innings pitched. He followed Jeferson Figueroa who recorded four strikeouts over an inning and 1/3 in place of Henderson in the fourth. Henderson, Figueroa and Wehrle combined to total 17 strikeouts in Friday's game.
Brock Porter started for the Wood Ducks and worked through three perfect innings with four strikeouts. Porter, however, left the game early with an apparent injury during his warmup throws entering the fourth. Kai Wynyard replaced Porter and originally worked through a scoreless inning before allowing Chirinos's single and run in the fifth. Jacob Maton, like Wynyard, also walked (Chirinos) in a run in the eighth while pitching through two and 1/3.
HOME RUNS:
Down East: HR: Galan (6, 2nd inning off Henderson, 0 on, 2 out).
Carolina: HR: Perez, H (1, 9th inning off Leath, 1 on, 0 out).
TOP PERFORMERS - BATTERS:
Galan, LF (Down East): 1-for-4, 1 R, 1 HR, 1 RBI
Cueva, 2B (Down East): 1-for-4, 1 R, 1 2B
Perez, H, LF (Carolina): 1-for-4, 1 R, 1 HR, 2 RBI
Perez, A, 2B (Carolina): 1-for-2, 1 RBI
Chirinos, 1B (Carolina): 1-for-3, 1 R, 1 RBI
TOP PERFORMERS - PITCHERS:
Porter (Down East): 3 IP, 0 H, 0 R, 0 ER, 0 BB, 4 SO
Henderson (Carolina): 3.2 IP, 4 H, 2 R, 1 ER, 0 BB, 6 SO
Figueroa (Carolina): 1.1 IP, 0 H, 0 R, 0 ER, 1 BB, 4 SO
Wehrle (W, 3-2) (Carolina): 4 IP, 1 H, 0 R, 0 ER, 1 BB, 7 SO
SCORING:
Wood Ducks 2nd (Wood Ducks 1, Mudcats 0) -- Gleider Figuereo grounds out, Jheremy Vargas to Jesus Chirinos. Cameron Cauley grounds out, Jheremy Vargas to Jesus Chirinos. Yosy Galan hits a home run to left field on a 0-0 pitch. Jesus Moreno struck out looking.
(1 Runs, 1 Hits, 0 Errors, 0 LOB)
Wood Ducks 4th (Wood Ducks 2, Mudcats 0) -- Danyer Cueva doubles through the hole at shortstop. Ian Moller pops out to Jheremy Vargas. Throwing error by Logan Henderson on the pickoff attempt. Gleider Figuereo out on a sacrifice fly to Hedbert Perez, Danyer Cueva scores. Cameron Cauley singles to left-center field. Pitcher Change: Jeferson Figueroa replaces Logan Henderson. Throwing error by Jeferson Figueroa on the pickoff attempt. Yosy Galan strikes out swinging.
(1 Runs, 2 Hits, 2 Errors, 1 LOB)
Mudcats 5th (Wood Ducks 2, Mudcats 1) -- Jesus Chirinos singles to left-center field. Jesus Chirinos advances to 2nd on a balk. Jheremy Vargas strikes out swinging, Jesus Chirinos to 3rd; Jheremy Vargas to 1st;wild pitch by Kai Wynyard. Jace Avina walks, Jheremy Vargas to 2nd. Hedbert Perez strikes out swinging. Blayberg Diaz struck out looking. Alexander Perez walks, Jesus Chirinos scores; Jheremy Vargas to 3rd; Jace Avina to 2nd. Luis Lara flies out to Yosy Galan.
(1 Runs, 1 Hits, 0 Errors, 3 LOB)
Mudcats 8th (Wood Ducks 2, Mudcats 2) -- Blayberg Diaz flies out to Danyer Cueva. Alexander Perez singles to right-center field. Luis Lara singles to deep shortstop, Alexander Perez to 2nd. Jadher Areinamo singles to left field, Alexander Perez to 3rd; Luis Lara to 2nd. Kay-Lan Nicasia grounds into a force out, Jacob Maton to Ian Moller, Alexander Perez out at home, Luis Lara to 3rd; Jadher Areinamo to 2nd. Jesus Chirinos walks, Luis Lara scores; Jadher Areinamo to 3rd; Kay-Lan Nicasia to 2nd. Jheremy Vargas flies out to JoJo Blackmon.
(1 Runs, 3 Hits, 0 Errors, 3 LOB)
Mudcats 9th (Mudcats 4, Wood Ducks 2) -- Pitcher Change: Jackson Leath replaces Jacob Maton. Jace Avina singles to left-center field. Hedbert Perez hits a home run to right field on a 0-2 pitch, Jace Avina scores.
(2 Runs, 2 Hits, 0 Errors, 0 LOB)