Mudcats Win Sixth Straight 3-2 in Lynchburg
The first-place Mudcats won their sixth straight game while earning a series clinching victory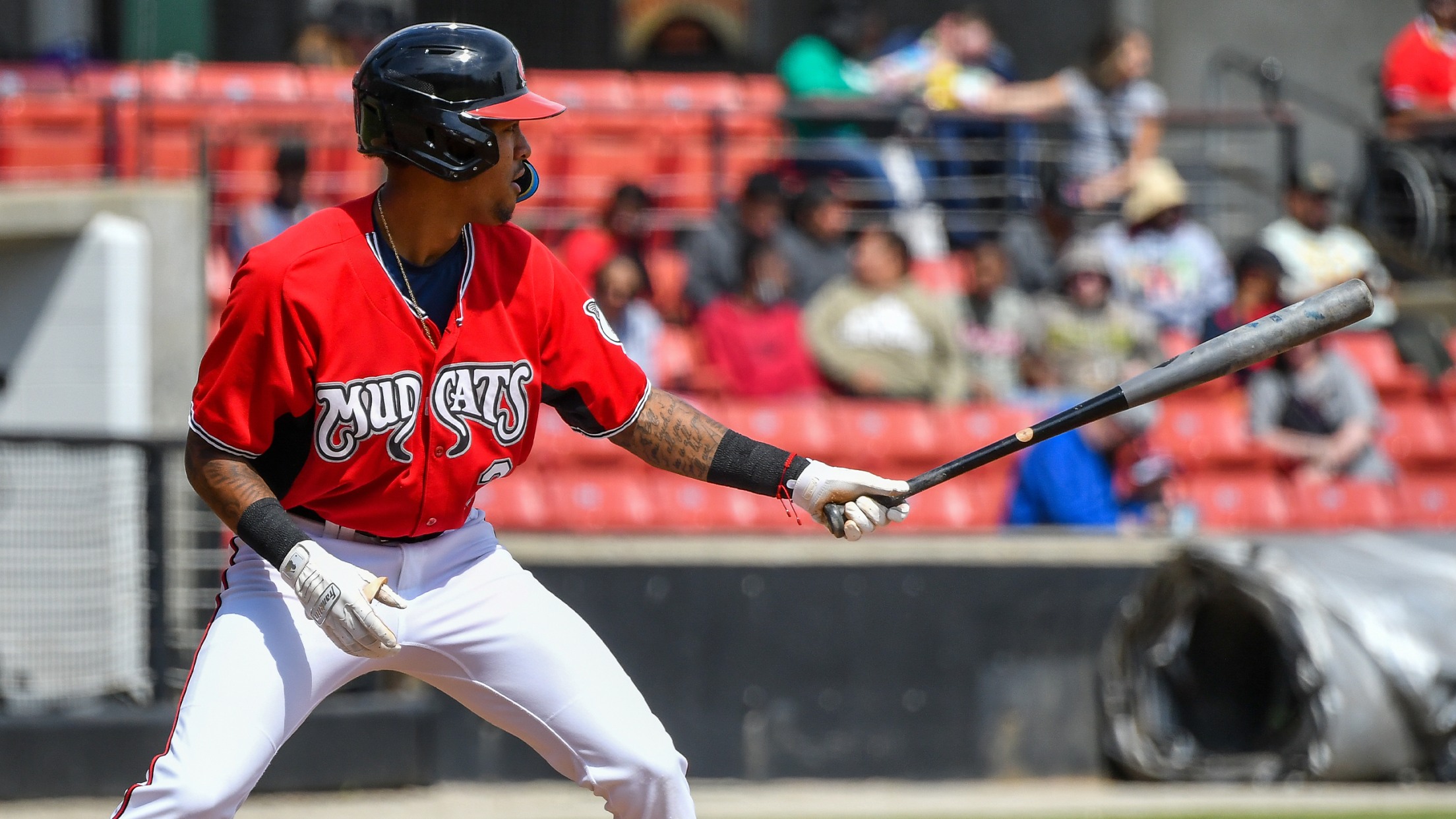 Kay-Lan Nicasia - Carolina Mudcats (Credit: Neal Hock)
Carolina Mudcats 3 @ Lynchburg Hillcats 2 June 02, 2023 | Venue: Bank of the James Stadium | First pitch: 6:32 PM | T: 2:20 | Att: 1,549 | Box Score CAR: 0 0 1 0 0 0 0 2 0 3 4 1 LYN: 0 1 0 0 0
Carolina Mudcats 3 @ Lynchburg Hillcats 2
June 02, 2023 | Venue: Bank of the James Stadium | First pitch: 6:32 PM | T: 2:20 | Att: 1,549 | Box Score
CAR: 0 0 1 0 0 0 0 2 0 3 4 1
LYN: 0 1 0 0 0 0 0 1 0 2 3 2
WP: Tyler Wehrle (4 - 2) LP: Yeury Gervacio (1 - 2) SV: Nick Merkel (2)
LYNCHBURG, Va. – Kay-Lan Nicasia had a RBI single in the third, Luke Adams forced in two late runs while reaching on a botched double play in the eighth and Gregory Barrios tripled while extending his hitting streak to 10 straight games as the first-place Carolina Mudcats won their sixth straight game 3-2 versus the Lynchburg Hillcats on Friday night at Bank of James Stadium in Lynchburg.
The Mudcats (28-18) were down 1-0 after the second, but went on to tie it at 1-1 when Nicasia drove in Jheremy Vargas with a single through short in the third. Nicasia went 1-for-3 with a walk and a RBI in the Carolina victory.
The game stayed locked at 1-1 from the third through the seventh before a costly Lynchburg (22-27) error plated two Carolina runs in the eighth. The error came on a slow roller to second from Adams that resulted in an out at second, but the ensuing throw to first sailed to score both Alexander Perez and Luis Lara.
Reliever Yeury Gervacio was charged with both eighth inning runs and ended up with the loss. In all, Gervacio (L, 1-2) held Carolina hitless, while walking four and allowing two runs (one earned).
Logan Henderson started for the Mudcats and pitched through the fourth with a run, one hit, two walks and three strikeouts. Tyler Wehrle worked through four complete and earned the victory allowing a run on two hits. Wehrle (W, 4-2) also struck out three and walked one. Nick Merkel (S, 2) then pitched around a walk while striking out the side in the ninth for the save.
With the Friday night road win, the Mudcats clinched a series victory while taking a 4-0 series lead and remained in first-place by a 0.5 game over the Down East Wood Ducks in the Carolina League North standings. The six-game series will continue on Saturday night at 6:30 p.m. in Lynchburg.
TOP PERFORMERS - BATTERS:
Lara, CF (Carolina): 1-for-3, 1 R
Nicasia, RF (Carolina): 1-for-3, 1 RBI
Barrios, DH (Carolina): 1-for-4, 1 3B
Diaz, C (Carolina): 1-for-4
Genao, SS (Lynchburg): 1-for-4
Cavenaugh, RF (Lynchburg): 1-for-3, 1 R, 1 RBI
TOP PERFORMERS - PITCHERS:
Henderson (Carolina): 4 IP, 1 H, 1 R, 1 ER, 2 BB, 3 SO
Wehrle (W, 4-2) (Carolina): 4 IP, 2 H, 1 R, 1 ER, 2 BB, 3 SO
Merkel (S, 2) (Carolina): 1 IP, 0 H, 0 R, 0 ER, 1 BB, 3 SO
Messick (Lynchburg): 6 IP, 3 H, 1 R, 1 ER, 1 BB, 5 SO
Gervacio (L, 1-2) (Lynchburg): 2 IP, 0 H, 2 R, 1 ER, 4 BB, 1 SO
Vasquez, S (Lynchburg): 1 IP, 1 H, 0 R, 0 ER, 0 BB, 1 SO
SCORING:
Hillcats 2nd (Hillcats 1, Mudcats 0) -- Pres Cavenaugh singles up the middle. Pres Cavenaugh steals 2nd base. Robert Lopez grounds out to Luke Adams, Pres Cavenaugh to 3rd. Jose Devers walks. Jose Devers steals 2nd base, Pres Cavenaugh steals home, Jose Devers advances to 3rd on throwing error by Jheremy Vargas. Lexer Saduy strikes out swinging. Zac Fascia strikes out swinging.
(1 Runs, 1 Hits, 1 Errors, 1 LOB)
Mudcats 3rd (Mudcats 1, Hillcats 1) -- Jheremy Vargas walks. Blayberg Diaz singles to right field, Jheremy Vargas to 2nd. Alexander Perez strikes out swinging. Luis Lara singles to center field, Jheremy Vargas to 3rd; Blayberg Diaz to 2nd. Kay-Lan Nicasia singles through the hole at shortstop, Jheremy Vargas scores; Blayberg Diaz to 3rd; Luis Lara to 2nd. Luke Adams strikes out swinging. Jace Avina strikes out swinging.
(1 Runs, 3 Hits, 0 Errors, 3 LOB)
Mudcats 8th (Mudcats 3, Hillcats 1) -- Blayberg Diaz grounds out, Angel Genao to Zac Fascia. Alexander Perez walks. Luis Lara walks, Alexander Perez to 2nd. Kay-Lan Nicasia walks, Alexander Perez to 3rd; Luis Lara to 2nd. Luke Adams grounds into a force out, Jose Pastrano to Angel Genao, Alexander Perez scores; Luis Lara scores; Kay-Lan Nicasia out at 2nd, throwing error by Angel Genao. Luke Adams steals 2nd base. throwing error by Robert Lopez. Jace Avina walks. Jace Avina steals 2nd base. Jadher Areinamo strikes out swinging.
(2 Runs, 0 Hits, 2 Errors, 2 LOB)
Hillcats 8th (Mudcats 3, Hillcats 2) -- Tyresse Turner hit by pitch. Angel Genao singles to center field, Tyresse Turner to 3rd. Wuilfredo Antunez pops out to Alexander Perez. Pres Cavenaugh out on a sacrifice fly to Jace Avina, Tyresse Turner scores. Robert Lopez flies out to Luis Lara.
(1 Runs, 1 Hits, 0 Errors, 1 LOB)