Mudcats Waste Early Lead in 9-5 Loss
Will Rudy struck out seven while giving the Mudcats another five-inning effort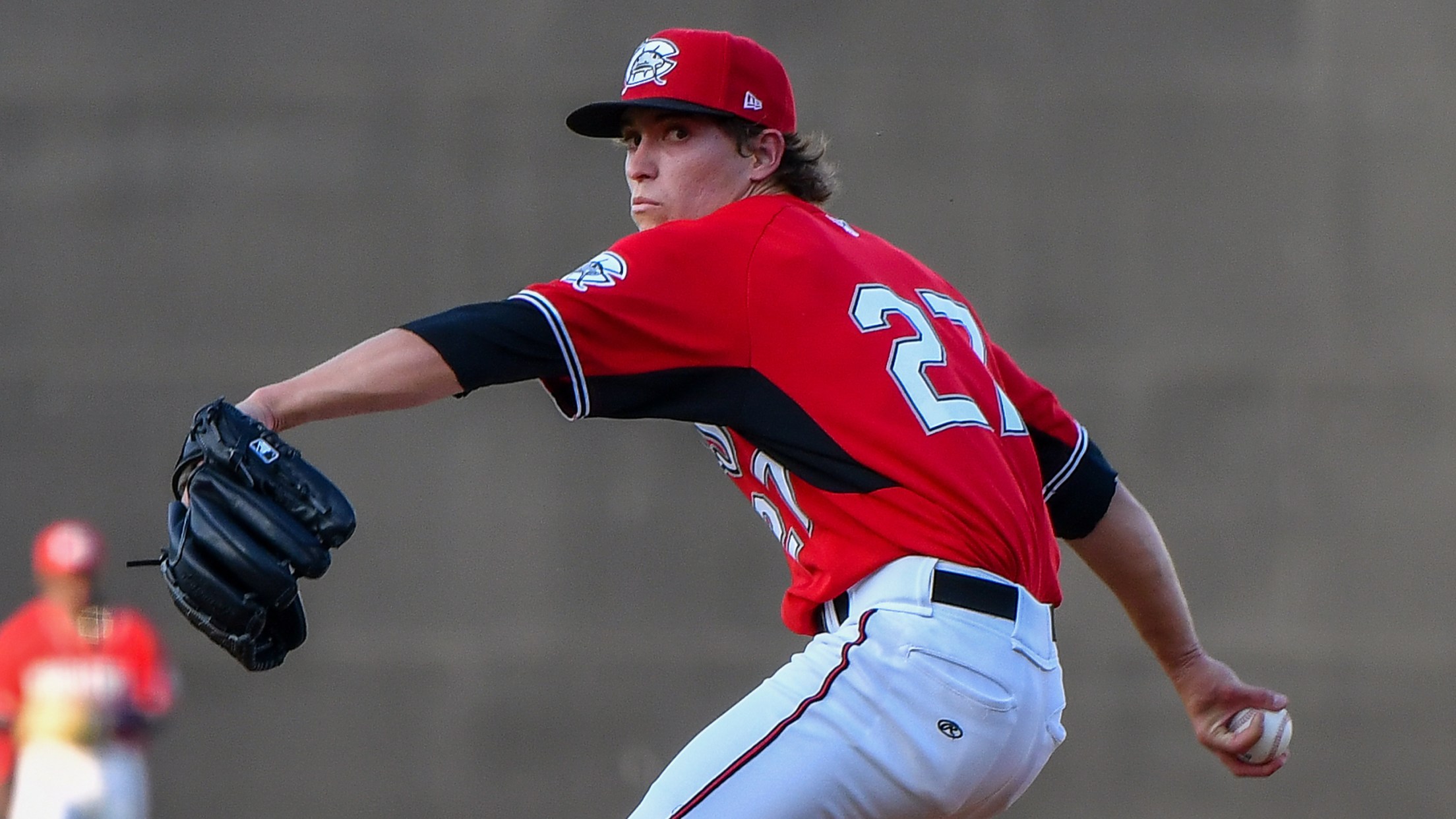 Will Rudy - Carolina Mudcats (Credit: Neal Hock)
Down East Wood Ducks 9 @ Carolina Mudcats 5 May 23, 2023 | Venue: Five County Stadium | First pitch: 7:00 PM | T: 2:45 | Att: 1,224 | Box Score DE : 0 0 0 0 0 2 0 6 1 9 12 0 CAR: 0 1 0 1
Down East Wood Ducks 9 @ Carolina Mudcats 5
May 23, 2023 | Venue: Five County Stadium | First pitch: 7:00 PM | T: 2:45 | Att: 1,224 | Box Score
DE : 0 0 0 0 0 2 0 6 1 9 12 0
CAR: 0 1 0 1 1 0 0 2 0 5 9 0
WP: Jacob Maton (1 - 0) LP: Miguel Guerrero (0 - 2)
ZEBULON, N.C. – Will Rudy started and pitched through five scoreless innings with seven strikeouts, Jheremy Vargas went 2-for-5 with two doubles and Gregory Barrios drove in two runs while going 1-for-4, but the Carolina Mudcats lost a 3-0 fifth inning lead in a series opening 9-5 loss to Down East Wood Ducks on Tuesday night at Five County Stadium.
The Mudcats (22-17) led 3-0 through the fifth before the Wood Ducks (22-16) came back with two runs in the sixth, six runs in the eighth and one more in the ninth. Relievers Miguel Guerrero and Yerlin Rodriguez combined to allow all nine late runs over the final four innings in Carolina's series opening loss to the Wood Ducks.
Guerrero (L, 0-2) allowed both runs in the sixth and three of the six in the eighth while taking the loss. He originally entered for the sixth with Carolina up 3-0, but would go on to allow a two-out, two-run home run to Gleider Figuereo in that same sixth inning. After working a scoreless seventh, Guerrero then lost Carolina's 3-2 lead in the eighth after allowing a game-tying double to Danyer Cueva. Reliever Yerlin Rodriguez followed, but would go on to allow two inherited runners to score and four more of his own in the eighth and ninth while pitching the final two innings for the Mudcats.
Cueva, Cam Cauley and Figuereo each had run-scoring hits in the eighth for Down East. Figuereo also had a RBI single in the ninth and would end up going 3-for-4 with two runs and four RBI for Down East. Cauley also had three hits and finished the game 3-for-4 with two runs and a RBI.
The loss dropped the Mudcats into second place by a 0.5 game behind the Carolina League North division leading Wood Ducks. The series will continue on Wednesday night with RHP Aidan Maldonado starting for the Mudcats.
HOME RUNS:
Down East: HR: Figuereo (3, 6th inning off Guerrero, 1 on, 2 out).
TOP PERFORMERS - BATTERS:
Figuereo, 3B (Down East): 3-for-4, 2 R, 1 HR, 4 RBI
Cauley, 2B (Down East): 3-for-4, 2 R, 1 2B, 1 RBI
Cueva, SS (Down East): 1-for-4, 1 R, 1 2B1 RBI
Vargas, 2B (Carolina): 2-for-5, 1 R, 2 2B
Nicasia, RF (Carolina): 2-for-3, 1 R, 1 RBI
Barrios, SS (Carolina): 1-for-4, 1 2B, 2 RBI
TOP PERFORMERS - PITCHERS:
McCarty, D (Down East): 3.2 IP, 3 H, 2 R, 2 ER, 3 BB, 6 SO
Sparks (Down East): 2.1 IP, 2 H, 1 R, 1 ER, 1 BB, 4 SO
Leath (Down East): 1 IP, 1 H, 0 R, 0 ER, 0 BB, 1 SO
Rudy (Carolina): 5 IP, 5 H, 0 R, 0 ER, 2 BB, 7 SO
SCORING:
Mudcats 2nd (Mudcats 1, Wood Ducks 0) -- Jace Avina walks. Kay-Lan Nicasia singles to right field, Jace Avina to 2nd. Gregory Barrios grounds into a force out, Danyer Cueva to Cameron Cauley, Jace Avina to 3rd; Kay-Lan Nicasia out at 2nd. Hedbert Perez strikes out swinging. Jose Sibrian singles to center field, Jace Avina scores; Gregory Barrios to 2nd. Luis Lara struck out looking.
(1 Runs, 2 Hits, 0 Errors, 2 LOB)
Mudcats 4th (Mudcats 2, Wood Ducks 0) -- Jace Avina flies out to Yeison Morrobel. Kay-Lan Nicasia walks. Kay-Lan Nicasia steals 2nd base. Gregory Barrios doubles to left field, Kay-Lan Nicasia scores. Hedbert Perez strikes out swinging. Pitcher Change: Wyatt Sparks replaces D.J. McCarty. Jose Sibrian walks. Luis Lara grounds out, Cameron Cauley to Yenci Pena.
(1 Runs, 1 Hits, 0 Errors, 2 LOB)
Mudcats 5th (Mudcats 3, Wood Ducks 0) -- Jheremy Vargas doubles to center field. Luke Adams doubles to left field, Jheremy Vargas scores. Jesus Chirinos struck out looking. Luke Adams caught stealing 3rd base, Wyatt Sparks to Gleider Figuereo. Jace Avina strikes out on foul tip.
(1 Runs, 2 Hits, 0 Errors, 0 LOB)
Wood Ducks 6th (Mudcats 3, Wood Ducks 2) -- Pitcher Change: Miguel Guerrero replaces Will Rudy. Danyer Cueva lines out to Luis Lara. Ian Moller flies out to Luis Lara. Cameron Cauley singles to deep second base. Cameron Cauley steals 2nd base. Gleider Figuereo hits a home run to right field on a 2-1 pitch, Cameron Cauley scores. Yenci Pena pops out to Gregory Barrios.
(2 Runs, 2 Hits, 0 Errors, 0 LOB)
Wood Ducks 8th (Wood Ducks 8, Mudcats 3) -- Yeison Morrobel singles through the hole at second base. Danyer Cueva doubles to left-center field, Yeison Morrobel scores. Ian Moller walks. Pitcher Change: Yerlin Rodriguez replaces Miguel Guerrero. Cameron Cauley doubles to left field, Danyer Cueva scores; Ian Moller to 3rd. Gleider Figuereo singles to center field, Ian Moller scores; Cameron Cauley to 3rd. Yenci Pena hit by pitch, Gleider Figuereo to 2nd. Andres Mesa grounds out, Jesus Parra to Jesus Chirinos, Cameron Cauley scores; Gleider Figuereo to 3rd; Yenci Pena to 2nd. JoJo Blackmon reaches on a fielder's choice, fielded by Jheremy Vargas, Gleider Figuereo scores; Yenci Pena to 3rd. Anthony Gutierrez grounds out, Jheremy Vargas to Jesus Chirinos, Yenci Pena scores; JoJo Blackmon to 2nd. Yeison Morrobel pops out to Jesus Parra in foul territory.
(6 Runs, 4 Hits, 0 Errors, 1 LOB)
Mudcats 8th (Wood Ducks 8, Mudcats 5) -- Jesus Parra walks. Jesus Chirinos doubles to center field, Jesus Parra to 3rd. Jace Avina strikes out swinging. Kay-Lan Nicasia singles to right-center field, Jesus Parra scores; Jesus Chirinos to 3rd; Kay-Lan Nicasia to 2nd. Gregory Barrios grounds out, Gleider Figuereo to Yenci Pena, Jesus Chirinos scores. Hedbert Perez struck out looking.
(2 Runs, 2 Hits, 0 Errors, 1 LOB)
Wood Ducks 9th (Wood Ducks 9, Mudcats 5) -- Danyer Cueva walks. Ian Moller grounds into a force out, Jesus Parra to Jheremy Vargas, Danyer Cueva out at 2nd. Cameron Cauley walks, Ian Moller to 2nd. Gleider Figuereo singles to right field, Ian Moller scores; Cameron Cauley to 2nd. Yenci Pena grounds into double play, Jesus Parra to Jheremy Vargas to Jesus Chirinos, Gleider Figuereo out at 2nd, Yenci Pena out at 1st.
(1 Runs, 1 Hits, 0 Errors, 1 LOB)