Mudcats Go Big, Win 12-6, Before Going Home
Luke Adams hit a three-run home run, Hedbert Perez had three hits, Jose Sibrian drove in three runs and Jheremy Vargas scored three runs in the finale victory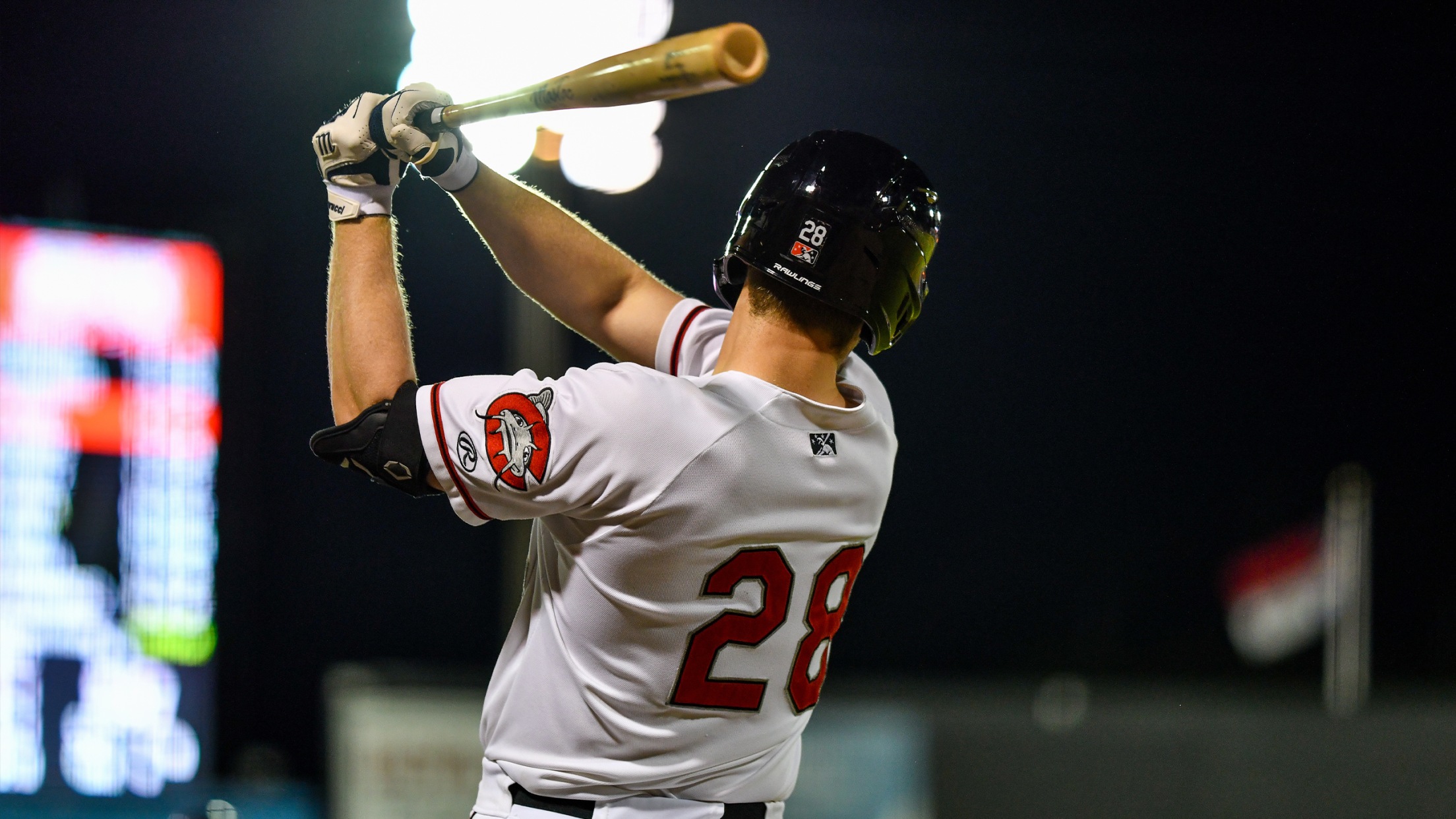 Luke Adams - Carolina Mudcats (Credit: Neal Hock)
Carolina Mudcats 12 @ Kannapolis Cannon Ballers 6 May 20, 2023 | Venue: Atrium Health Ballpark | First pitch: 1:01 PM | T: 3:09 | Att: 4,098 | Box Score CAR: 0 2 5 0 0 0 2 0 3 12 14 0 KAN: 0 3 0 0 0 3
Carolina Mudcats 12 @ Kannapolis Cannon Ballers 6
May 20, 2023 | Venue: Atrium Health Ballpark | First pitch: 1:01 PM | T: 3:09 | Att: 4,098 | Box Score
CAR: 0 2 5 0 0 0 2 0 3 12 14 0
KAN: 0 3 0 0 0 3 0 0 0 6 8 1
WP: Chase Costello (2 - 1) LP: Drew McDaniel (2 - 3)
KANNAPOLIS, N.C. – Luke Adams homered and drove in three runs, Jose Sibrian also drove in three while going 2-for-3 with two runs scored and Hedbert Perez, Luis Lara and Jheremy Vargas each drove in two as the Carolina Mudcats took the rubber-game of a seven-game series 12-6 versus the Kannapolis Cannon Ballers on Sunday afternoon at Atrium Health Ballpark.
Both Perez and Lara had RBI singles in the second to lift the Mudcats (22-16) to an early 2-0 lead. Kannapolis (21-17) answered back with a three run third against starter Yujanyer Herrera, but the Carolina third saw Vargas and Sibrian both brought in a run each before Adams connected on a three-run home run to lift the Mudcats to a 7-3 lead.
Drew McDaniel started for the Cannon Ballers and allowed all seven of Carolina's early runs over the second and third while taking the loss. Kannapolis did manage to score three in the sixth to cut the Carolina lead down to 7-6, but the Mudcats ran away with it late with two runs in the seventh off reliever Zach Cable and three in the ninth off reliever Billy Seidl.
Carolina's seventh included a RBI single from Perez and a sacrifice fly from Sibrian. The ninth included a RBI double from Vargas and a RBI single to from Lara.
In all, the Mudcats scored 12 runs on 14 hits while earning the series finale victory in Kannapolis. Those 12 runs ended up being more than enough to support Herrera and relievers Chase Costello, Jeison Pena, Tanner Shears and Shane Smith.
Herrera started and worked into the third with three runs allowed on two hits and three walks. Costello (W, 2-1) was the first man up out of the bullpen and earned the win after going an inning and 1/3 scoreless. Pena pitched the fifth and sixth and ended up allowing three runs on three hits over an inning and 2/3. Shears followed Pena and allowed two inherited runners to score, but went two and 1/3 overall with just two hits allowed and three strikeouts. Smith then finished it with a scoreless ninth where he struck out two of three batters faced.
The Mudcats ended up winning the road series after taking four of seven games scheduled during their trip through Kannapolis. Following Monday's off-day, the first-place Mudcats next return to Five County Stadium on Tuesday, May 23 with game one of a pivotal six game homestand versus the Down East Wood Ducks. The Mudcats lead the Wood Ducks by just 0.5 game in the Carolina League North Division standings.
Carolina's next homestand will feature Starry Taco Tuesday, Winslow Homes Winning Wednesday, Bark in the Park and Micro Brews Thirsty Thursday™, CBS 17 Friday Night Fireworks, AgCarolina Farm Credit Union Souvenir Saturday featuring a souvenir AgNight themed hat, and WakeMed Five County Family Sunday with $7.00 Box Seat tickets and on-field post-game catch.
HOME RUNS:
Carolina: HR: Adams (4, 3rd inning off McDaniel, 2 on, 2 out).
TOP PERFORMERS - BATTERS:
Perez, H, RF (Carolina): 3-for-4, 2 R, 2 RBI
Sibrian, C (Carolina): 2-for-3, 2 R, 3 RBI
Adams, 3B (Carolina): 2-for-5, 1 R, 1 HR, 3 RBI
Lara, DH (Carolina): 2-for-5, 2 RBI
Burke, DH (Kannapolis): 3-for-5, 1 R, 1 2B, 3 RBI
Elko, 1B (Kannapolis): 2-for-5, 1 2B, 2 RBI
Sanchez, W, SS (Kannapolis): 2-for-3, 2 R
TOP PERFORMERS - PITCHERS:
Costello (W, 2-1) (Carolina): 1.1 IP, 1 H, 0 R, 0 ER, 0 BB, 0 SO
Shears (H, 1) (Carolina): 2.1 IP, 2 H, 0 R, 0 ER, 1 BB, 3 SO
Smith (Carolina): 1 IP, 0 H, 0 R, 0 ER, 0 BB, 2 SO
Talavera (Kannapolis): 3.1 IP, 1 H, 0 R, 0 ER, 2 BB, 4 SO
Andujar (Kannapolis): 1.2 IP, 0 H, 0 R, 0 ER, 0 BB, 0 SO
SCORING:
Mudcats 2nd (Mudcats 2, Cannon Ballers 0) -- Gregory Barrios singles to left-center field. Jheremy Vargas flies out to Drake Logan. Gregory Barrios steals 2nd base. Hedbert Perez singles to right-center field, Gregory Barrios scores. Hedbert Perez steals 2nd base. Jose Sibrian walks. Luke Adams flies out to Drake Logan. Luis Lara singles up the middle, Hedbert Perez scores; Jose Sibrian to 2nd. Daniel Guilarte lines out to Mario Camilletti.
(2 Runs, 3 Hits, 0 Errors, 2 LOB)
Cannon Ballers 2nd (Cannon Ballers 3, Mudcats 2) -- Logan Glass flies out to Hedbert Perez. Luis Pineda grounds out, Gregory Barrios to Jesus Chirinos. Caberea Weaver singles to shallow center field. Wild pitch by Yujanyer Herrera, Caberea Weaver to 2nd. Drake Logan hit by pitch. Wilber Sanchez walks, Caberea Weaver to 3rd; Drake Logan to 2nd. Mario Camilletti walks, Caberea Weaver scores; Drake Logan to 3rd; Wilber Sanchez to 2nd. Jacob Burke doubles through the hole at shortstop, Drake Logan scores; Wilber Sanchez scores; Mario Camilletti to 3rd. Tim Elko lines out to Jheremy Vargas.
(3 Runs, 2 Hits, 0 Errors, 2 LOB)
Mudcats 3rd (Mudcats 7, Cannon Ballers 3) -- Jesus Chirinos doubles to right field. Jace Avina flies out to Caberea Weaver, Jesus Chirinos to 3rd. Gregory Barrios walks. Jheremy Vargas grounds into a force out, Mario Camilletti to Wilber Sanchez, Jesus Chirinos scores; Gregory Barrios out at 2nd. Hedbert Perez singles to right field, Jheremy Vargas to 3rd. Jose Sibrian singles to right-center field, Jheremy Vargas scores; Hedbert Perez to 3rd. Luke Adams hits a home run to left field on a 1-2 pitch, Hedbert Perez scores; Jose Sibrian scores. Pitcher Change: Emerson Talavera replaces Drew McDaniel. Luis Lara pops out to Bryce Willits in foul territory.
(5 Runs, 4 Hits, 0 Errors, 0 LOB)
Cannon Ballers 6th (Mudcats 7, Cannon Ballers 6) -- Caberea Weaver flies out to Jheremy Vargas. Drake Logan strikes out swinging. Wilber Sanchez singles up the middle. Mario Camilletti hit by pitch, Wilber Sanchez to 2nd. Jacob Burke singles through the hole at second base, Wilber Sanchez scores; Mario Camilletti to 3rd. Pitcher Change: Tanner Shears replaces Jeison Pena. Tim Elko doubles to left-center field, Mario Camilletti scores; Jacob Burke scores. Bryce Willits walks. Logan Glass strikes out swinging.
(3 Runs, 3 Hits, 0 Errors, 2 LOB)
Mudcats 7th (Mudcats 9, Cannon Ballers 6) -- Pitcher Change: Zach Cable replaces Emerson Talavera. Jace Avina walks. Wild pitch by Zach Cable, Jace Avina to 2nd. Gregory Barrios grounds out, Bryce Willits to Tim Elko. Jheremy Vargas walks. Hedbert Perez singles to right-center field, Jace Avina scores; Jheremy Vargas to 3rd. Pitcher Change: Horacio Andujar replaces Zach Cable. Jose Sibrian out on a sacrifice fly to Caberea Weaver, Jheremy Vargas scores. Luke Adams grounds out, Wilber Sanchez to Tim Elko.
(2 Runs, 1 Hits, 0 Errors, 1 LOB)
Mudcats 9th (Mudcats 12, Cannon Ballers 6) -- Pitcher Change: Billy Seidl replaces Horacio Andujar. Jace Avina hit by pitch. Gregory Barrios grounds out, Mario Camilletti to Tim Elko, Jace Avina to 2nd. Jheremy Vargas doubles to right-center field, Jace Avina scores. Hedbert Perez pops out to Logan Glass. Jose Sibrian singles to center field, Jheremy Vargas scores. Luke Adams singles to right field, fielding error by Drake Logan. Luis Lara singles to left field, Jose Sibrian scores; Luke Adams to 2nd. Pitcher Change: Pauly Milto replaces Billy Seidl. Daniel Guilarte hit by pitch, Luke Adams to 3rd; Luis Lara to 2nd. Jesus Chirinos strikes out swinging.
(3 Runs, 4 Hits, 1 Errors, 3 LOB)