Mudcats Bounce Back to Beat Ballers 5-3
The Mudcats recovered from the Game 1 no-hit loss with a 5-3 victory in Game 2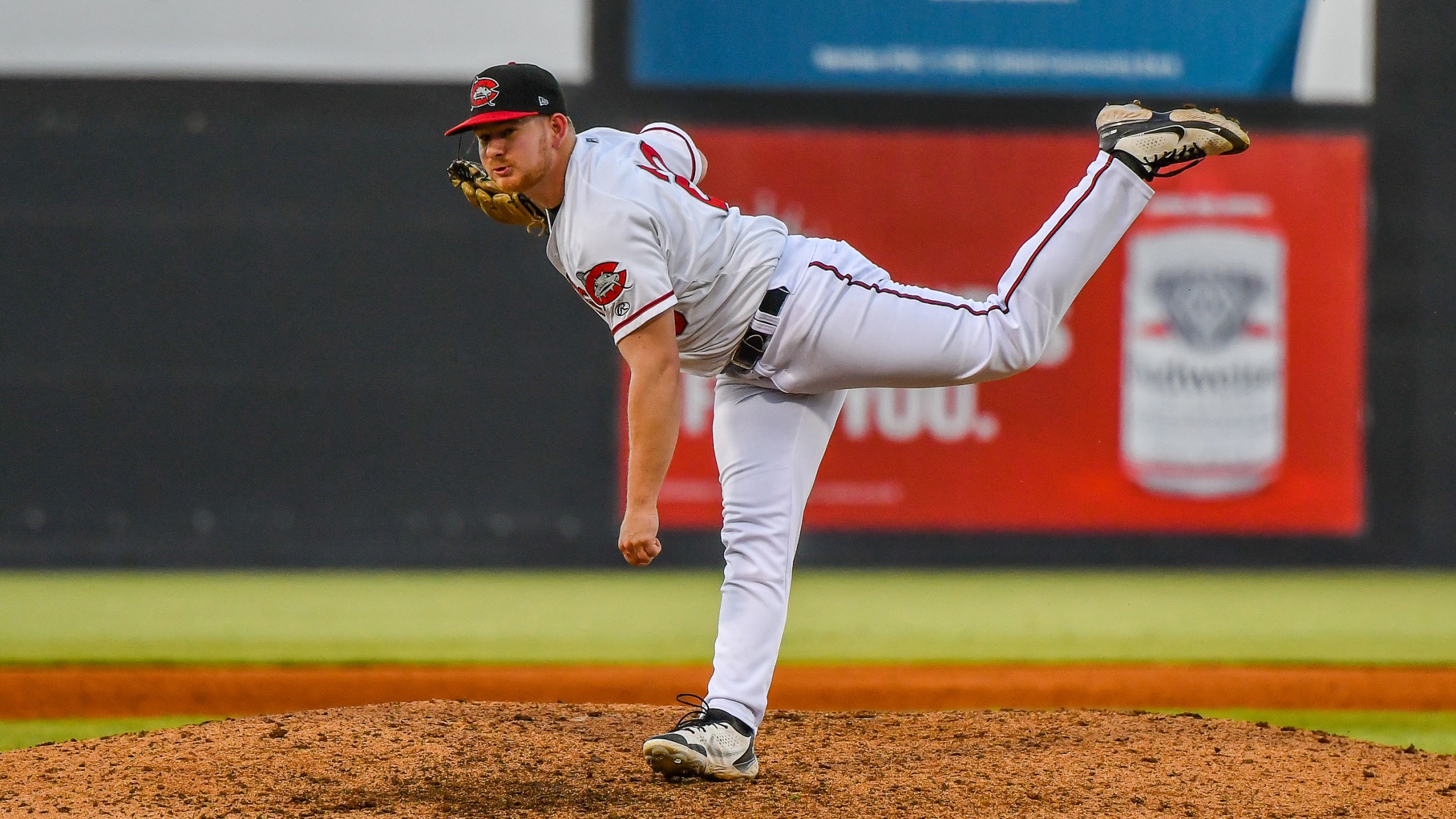 Nate Peterson - Carolina Mudcats (Credit: Neal Hock)
GAME 2 Kannapolis Cannon Ballers 3 @ Carolina Mudcats 5 May 18, 2023 | Venue: Atrium Health Ballpark | First pitch: 7:57 PM | T: 2:08 | Att: | Box Score KAN: 1 0 0 0 0 2 0 3 8 2 CAR: 0 1 3 0 0 1 x
GAME 2
Kannapolis Cannon Ballers 3 @ Carolina Mudcats 5
May 18, 2023 | Venue: Atrium Health Ballpark | First pitch: 7:57 PM | T: 2:08 | Att: | Box Score
KAN: 1 0 0 0 0 2 0 3 8 2
CAR: 0 1 3 0 0 1 x 5 8 0
WP: Nate Peterson (3 - 1) LP: Mason Adams (1 - 2) SV: Shane Smith (3)
KANNAPOLIS, N.C. - After being no-hit in Game 1, the Carolina Mudcats bounced back with eight hits, including two-hit games from Jadher Areinamo and Jheremy Vargas while defeating the Kannapolis Cannon Ballers 5-3 in Game 2 of a doubleheader on Thursday night at Atrium Health Ballpark in Kannapolis.
Nate Peterson (W, 3-1) started for the Mudcats (21-14) and pitched around a run in the first while working the fifth with four hits, one walk and six strikeouts. He also hit two batters, but limited Kannapolis (19-16) to just the lone early run while reaching 77 pitches (44 strikes).
Jeison Pena and Shane Smith finished the game in relief with Pena allowing two runs and four hits across the sixth and part of the seventh. Smith (S, 3) got the final out and stranded two inherited runners in the process while earning the save.
Kannapolis originally led 1-0 after the first, but the Mudcats came to tie the game with a RBI single from Jesus Parra in the second. The Mudcats then rallied for three runs in the third with a run-scoring hit-by-pitch for Jace Avina, a sac fly from Jesus Chirinos and a run-scoring wild pitch to score Areinamo. Kannapolis' Brooks Baldwin singled to drive in run in the sixth, but the Mudcats answered back with one more with help of an error in the seventh to go up 5-3.
Game 2 was the makeup the April 30 game that was postponed at Five County Stadium, making the Mudcats the home team in Kannapolis on Thursday night.
With the doubleheader split, the Mudcats now own a 3-1 lead in their current series in Kannapolis, and remained in first-place by 1.5 games over the Down East Wood Ducks.
The series will continue Thursday night with game five of the seven-game series on Friday night. Right-hander Jacob Misiorowski is scheduled to start Friday's game for the Mudcats.
The Mudcats next return home on Tuesday, May 23 when they begin a six-game homestand versus the Down East Wood Ducks at Five County Stadium. Carolina's next homestand will feature Starry Taco Tuesday, Winslow Homes Winning Wednesday, Bark in the Park and Micro Brews Thirsty Thursday™, CBS 17 Friday Night Fireworks, AgCarolina Farm Credit Union Souvenir Saturday featuring a souvenir AgNight themed hat, and WakeMed Five County Family Sunday with $7.00 Box Seat tickets and on-field post-game catch.
TOP PERFORMERS - BATTERS:
Burke, CF (Kannapolis): 2-for-4, 1 R, 1 3B, 1 RBI
Baldwin, PH (Kannapolis): 1-for-1, 2 RBI
Areinamo, 3B (Carolina): 2-for-3, 1 R
Vargas, 2B (Carolina): 2-for-3, 1 R
Chirinos, 1B (Carolina): 1-for-2, 1 R, 1 RBI
TOP PERFORMERS - PITCHERS:
Ramage (Kannapolis): 2 IP, 2 H, 1 R, 0 ER, 1 BB, 2 SO
Peterson (W, 3-1) (Carolina): 5 IP, 4 H, 1 R, 1 ER, 1 BB, 6 SO
Smith (S, 3) (Carolina): 0.1 IP, 0 H, 0 R, 0 ER, 0 BB, 1 SO
SCORING:
Cannon Ballers 1st (Cannon Ballers 1, Mudcats 0) -- Jordan Sprinkle flies out to Luis Lara. Mario Camilletti doubles to right field. Tim Elko strikes out swinging. Jacob Burke triples to center field, Mario Camilletti scores. Troy Claunch strikes out swinging.
(1 Runs, 2 Hits, 0 Errors, 1 LOB)
Mudcats 2nd (Cannon Ballers 1, Mudcats 1) -- Jesus Chirinos singles to left-center field. Kay-Lan Nicasia flies out to Jacob Burke. Gregory Barrios pops out to Wilber Sanchez. Jheremy Vargas reaches on fielding error by Mario Camilletti, Jesus Chirinos to 2nd. Jesus Parra singles to left-center field, Jesus Chirinos scores; Jheremy Vargas out at home on the throw, Johnabiell Laureano to Troy Claunch.
(1 Runs, 2 Hits, 1 Errors, 1 LOB)
Mudcats 3rd (Mudcats 4, Cannon Ballers 1) -- Blayberg Diaz singles to shallow center field. Luis Lara singles to right-center field, Blayberg Diaz to 2nd. Jadher Areinamo singles to deep shortstop, Blayberg Diaz to 3rd; Luis Lara to 2nd. Jace Avina hit by pitch, Blayberg Diaz scores; Luis Lara to 3rd; Jadher Areinamo to 2nd. Jesus Chirinos flies into sacrifice double play, Caberea Weaver to Jhoneiker Betancourt, Luis Lara scores; Jace Avina out at 1st. Wild pitch by Mason Adams, Jadher Areinamo to 3rd. Wild pitch by Mason Adams, Jadher Areinamo scores. Kay-Lan Nicasia strikes out swinging.
(3 Runs, 3 Hits, 0 Errors, 0 LOB)
Cannon Ballers 6th (Mudcats 4, Cannon Ballers 3) -- Pitcher Change: Jeison Pena replaces Nate Peterson. Tim Elko grounds out, Jadher Areinamo to Jesus Chirinos. Jacob Burke singles up the middle. Troy Claunch hit by pitch, Jacob Burke to 2nd. Jhoneiker Betancourt singles through the hole at shortstop, Jacob Burke to 3rd; Troy Claunch to 2nd. Johnabiell Laureano struck out looking. Offensive Substitution: Pinch hitter Brooks Baldwin replaces Caberea Weaver. Brooks Baldwin singles down the left-field line, Jacob Burke scores; Troy Claunch scores; Brooks Baldwin out at 2nd on the throw, Jace Avina to Jheremy Vargas, Jhoneiker Betancourt to 3rd.
(2 Runs, 3 Hits, 0 Errors, 1 LOB)
Mudcats 6th (Mudcats 5, Cannon Ballers 3) -- Defensive Substitution: Drake Logan replaces Brooks Baldwin, batting 8th, playing right field. Kay-Lan Nicasia strikes out swinging. Gregory Barrios flies out to Johnabiell Laureano. Jheremy Vargas singles to right field. Jheremy Vargas steals 2nd base. throwing error by Troy Claunch. Jesus Parra walks, Jheremy Vargas scores;wild pitch by Kole Ramage. Blayberg Diaz flies out to Jacob Burke.
(1 Runs, 1 Hits, 1 Errors, 1 LOB)