New Giveaway Items Added to 2023 Schedule
The Mudcats are adding two new souvenir giveaways with a Miguel Cabrera shirsey on June 9 and a camo themed Mudcats jersey on Saturday, June 24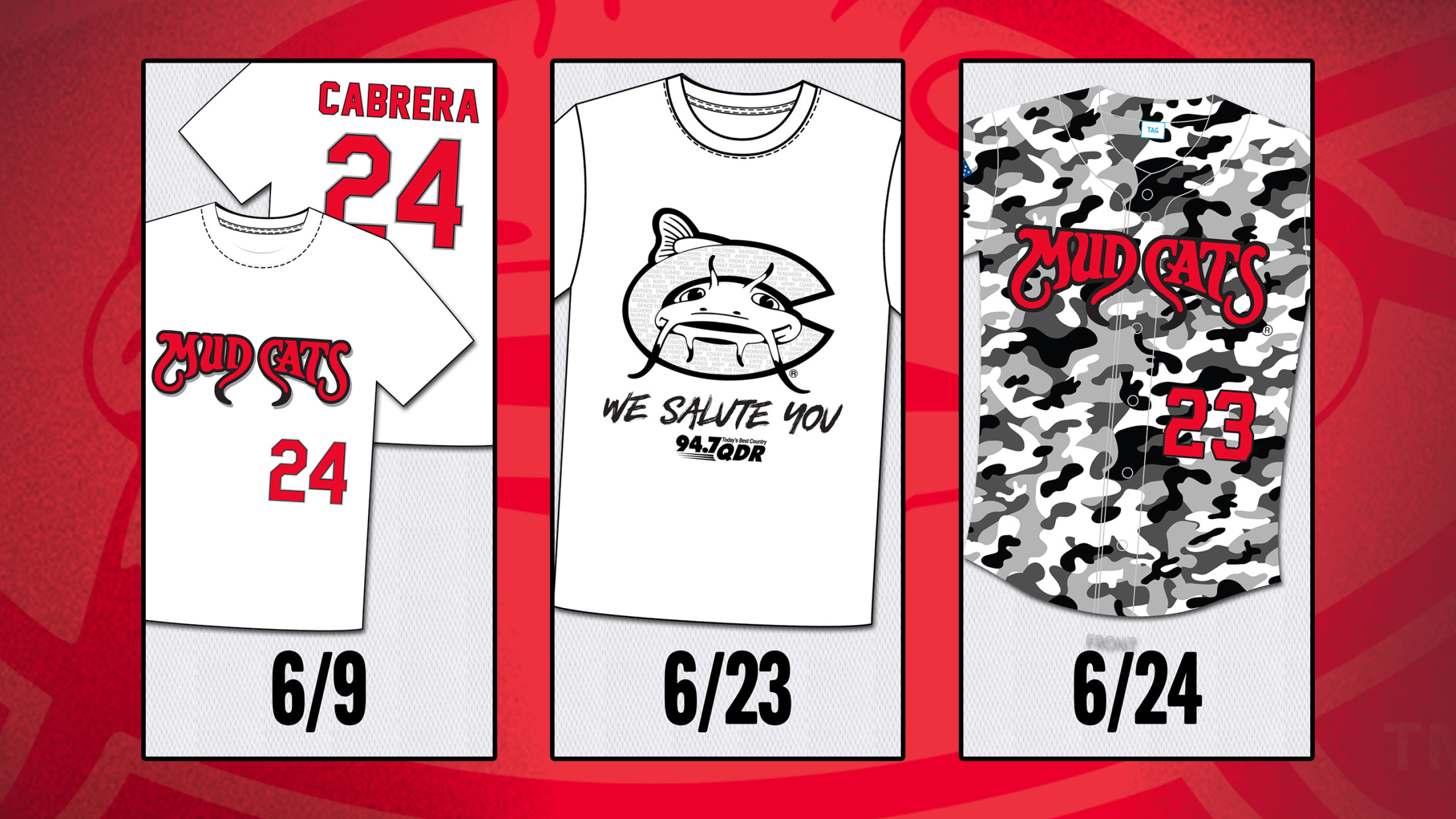 ZEBULON, N.C. – The Carolina Mudcats today announced two new souvenir giveaway nights for the 2023 season including a Miguel Cabrera souvenir shirsey on Friday, June 9 for Miguel Cabrera Tribute Night and a snow camouflage Mudcats jersey on Saturday, June 24 for Military Appreciation Night and "Mudcats Heroes Weekend"
ZEBULON, N.C. – The Carolina Mudcats today announced two new souvenir giveaway nights for the 2023 season including a Miguel Cabrera souvenir shirsey on Friday, June 9 for Miguel Cabrera Tribute Night and a snow camouflage Mudcats jersey on Saturday, June 24 for Military Appreciation Night and "Mudcats Heroes Weekend" presented by 94.7 QDR.
The newly announced souvenir giveaways items will be provided to the first 1,000 fans with paid admission on June 9 and June 24, respectively. Souvenir t-shirt and jersey sizes will range from adult small to adult 3XL.
With the addition of the snow camouflage jersey giveaway on June 24, the previously announced "Mudcats Heroes Weekend" souvenir t-shirt giveaway has been moved to Friday, June 23 for First Responders Night.
"Mudcats Heroes Weekend" is presented by 94.7 QDR, and features First Responders Night and a souvenir t-shirt giveaway on Friday, June 23, Military Appreciation Night with a souvenir jersey giveaway on Saturday, June 24, and Teacher Appreciation Day on Sunday, June 25.
Tickets for local heroes including first responders, non-active military and teachers start at just $5.00 throughout the Mudcats Heroes Weekend three-day event. Admission for active-duty military, as always, is free with proper identification. Tickets for family members of first responders, non-active military, active-duty military and teachers will start at just $7.00 throughout Mudcats Heroes Weekend. Mudcats Heroes Weekend tickets are available by calling (919) 269-2287.
The newly added souvenir shirsey event on Friday, June 9 honors former 2003 Mudcats star, and future Baseball Hall-of-Famer, Miguel Cabrera who is currently in his final MLB season with the Detroit Tigers. The Miguel Cabrera souvenir shirsey mimics Carolina's 2003 home jersey and includes Cabrera's name and No. 24 on the back.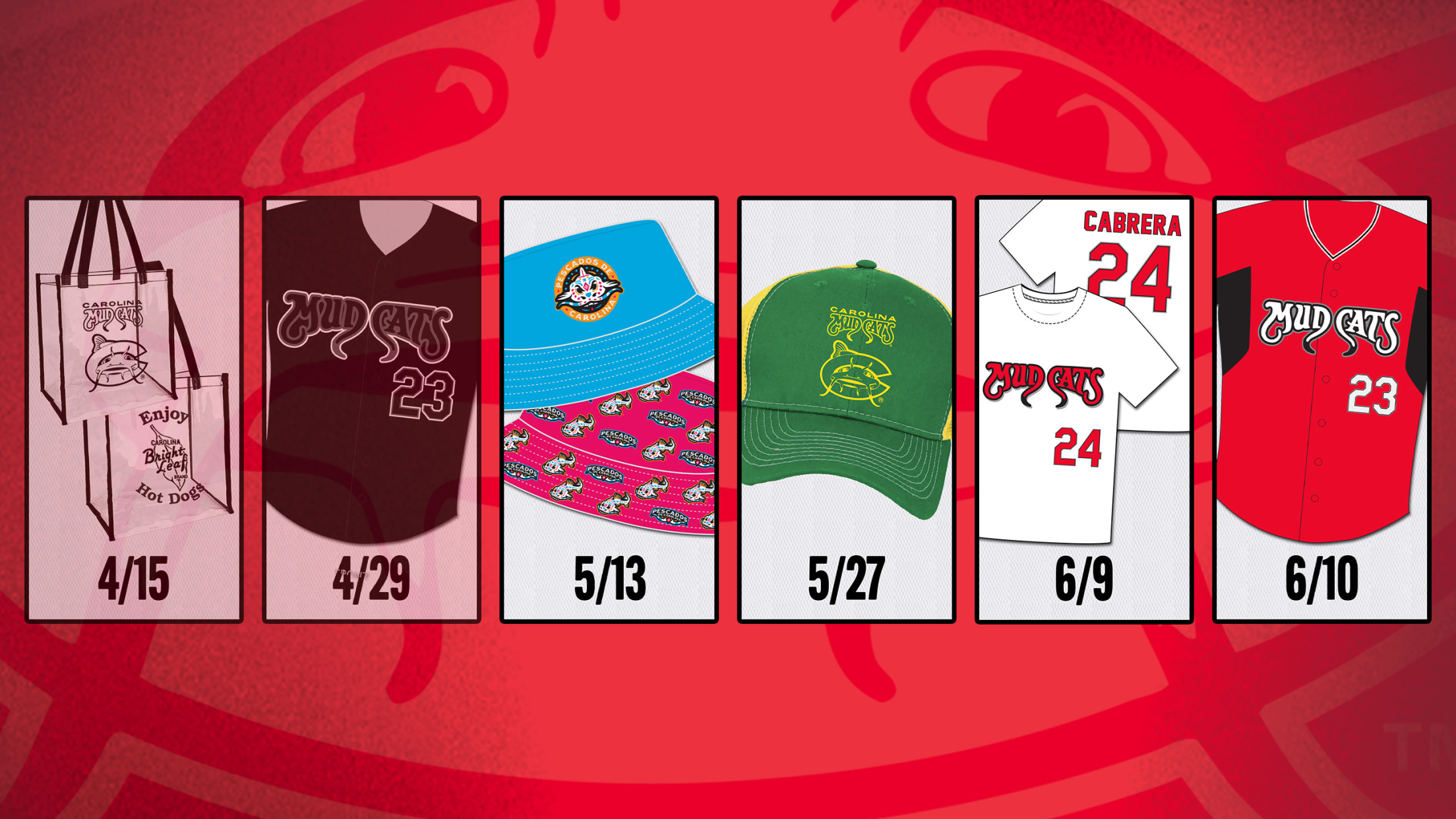 Single-game tickets, season ticket packages, mini plans, group options, as well as luxury suite packages and DRB Homes Sky Lounge reservations in the US Foods Club Level are all available now by visiting carolinamudcats.com, by calling (919) 269-2287, and by visiting the Five County Stadium front office in Zebulon.
The Carolina Mudcats are the officially licensed Class-A affiliate of the Milwaukee Brewers. First established in 1991, the Carolina Mudcats have provided affordable family fun for over 30 years at Five County Stadium in Zebulon, N.C. Follow the Mudcats online at www.carolinamudcats.com, and on social media at facebook.com/carolinamudcats, twitter.com/carolinamudcats, tiktok.com/@carolinamudcats and instagram.com/carolinamudcats.
#