Misiorowski's 9 Ks & Avina's Homer Lead to 5-0 Win
Carolina's pitchers combined to take a no-hitter into the ninth in Thursday's 5-0 victory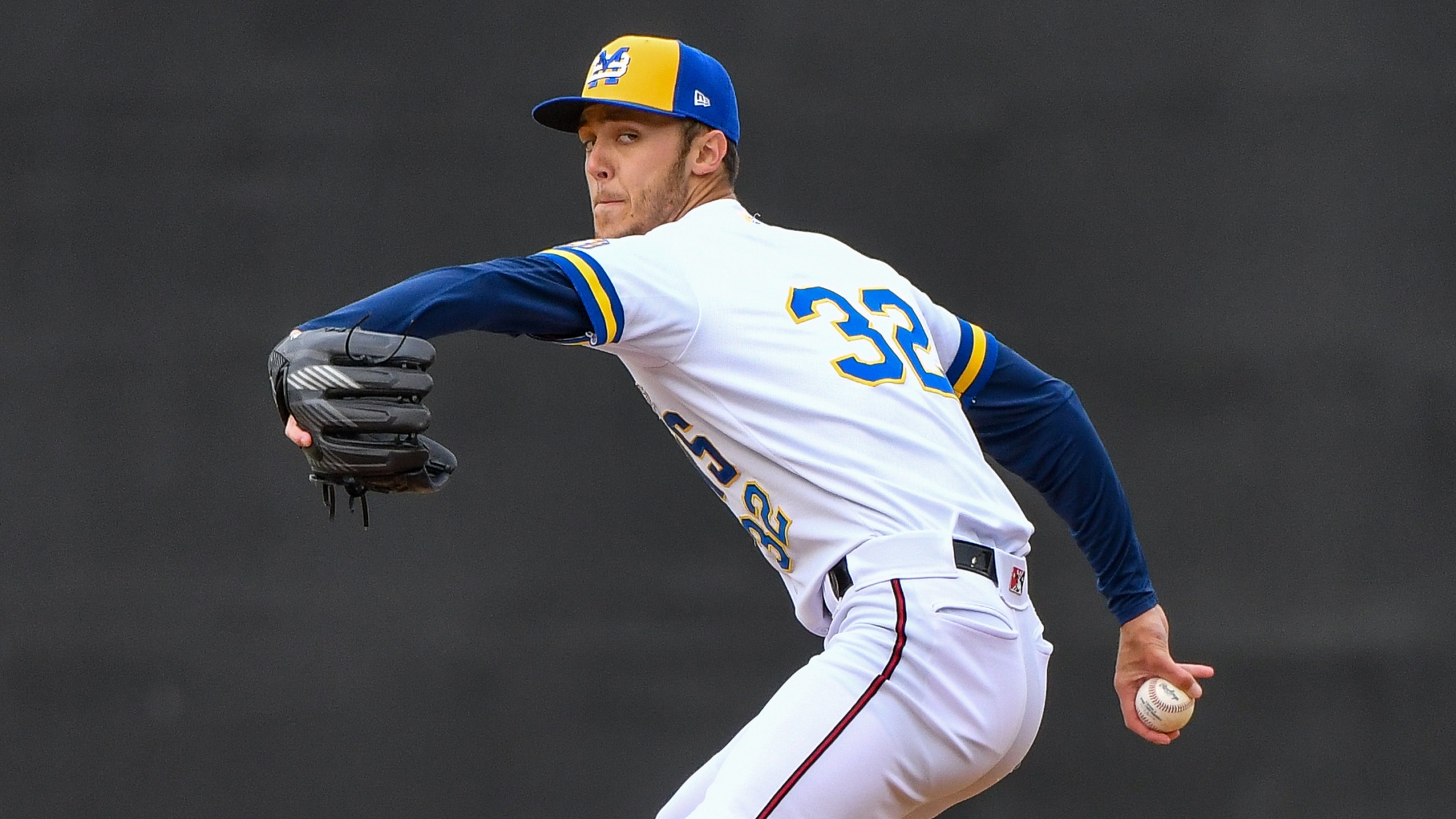 Jacob Misiorowski - Carolina Mudcats (Credit: Neal Hock)
Down East Wood Ducks 0 @ Carolina Mudcats 5 May 25, 2023 | Venue: Five County Stadium | First pitch: 7:00 PM | T: 2:24 | Att: 1,420 | Box Score DE: 0 0 0 0 0 0 0 0 0 0 2 1 CAR: 0 2 0 2 0
Down East Wood Ducks 0 @ Carolina Mudcats 5
May 25, 2023 | Venue: Five County Stadium | First pitch: 7:00 PM | T: 2:24 | Att: 1,420 | Box Score
DE: 0 0 0 0 0 0 0 0 0 0 2 1
CAR: 0 2 0 2 0 1 0 0 x 5 9 1
WP: Jacob Misiorowski (1 - 1) LP: Luis Ramirez (0 - 3)
Post-Game Interview: Manager Victor Estevez
ZEBULON, N.C. – Jacob Misiorowski, Jeison Pena, Nick Merkel and Tanner Shears took a no-hitter into the ninth while combining on a two-hit shutout in a 5-0 Carolina Mudcats victory versus the Down East Wood Ducks on Thursday night at Five County Stadium. Jace Avina led the way at the plate while going 2-for-3 with a two-run homer and three runs in the victory.
Misiorowski (W, 1-1) started and totaled a career-high nine strikeouts over a career-high five innings pitched for the Mudcats (23-18). He ended up facing just one over the minimum over his five-inning gem and earned his first career victory as the Mudcats, playing as the Micro Brews, cruised their way to the 5-0 victory. With the win the Mudcats moved within a 0.5 game of the first-place Wood Ducks (23-17) in the Carolina League North Division standings.
Pena followed Misiorowski and was the first man up out of the Carolina pen. He pitched the sixth and worked around a walk while holding the Wood Ducks without a run and without a hit.
Merkel then worked a scoreless seventh and eighth with three strikeouts while giving the Mudcats two more no-hit frames. He would see Cam Cauley reach on Jheremy Vargas fielding error in the seventh but ended up leaving him on while stranding two in the seventh.
Shears pitched the ninth and walked his first-batter faced before giving up the first hit of the game to Danyer Cueva. Ian Moller then reached on an infield single moments later as the Wood Ducks loaded the bases in the final frame. Shears eventually bounced back with two straight strikeouts before finishing the shutout victory with a groundout to second.
Avina went 2-for-3 with a two-run home run in the fourth and three runs scored spread across the second, fourth and sixth innings. Gregory Barrios scored the first run of the game in the second after coming on a balk charged to Down East starter Luis Ramirez (L, 0-3). Barrios also scored on Avina's home run in the fourth and went 1-for-3 with two runs overall. Blayberg Diaz added a RBI triple in the sixth and Kay-Lan Nicasia paced the Carolina offense with three hits while going 3-for-4.
HOME RUNS:
Carolina: HR: Avina (4, 4th inning off Ramirez, 1 on, 0 out).
TOP PERFORMERS - BATTERS:
Cueva, 2B (Down East): 1-for-4
Avina, LF (Carolina): 2-for-3, 3 R, 1 2B, 1 HR, 2 RBI
Nicasia, RF (Carolina): 3-for-4
Barrios, SS (Carolina): 1-for-3, 2 R
TOP PERFORMERS - PITCHERS:
Lockhart (Down East): 1 IP, 1 H, 0 R, 0 ER, 0 BB, 2 SO
Lopez (Down East): 3 IP, 2 H, 1 R, 1 ER, 3 BB, 1 SO
Misiorowski (W, 1-1) (Carolina): 5 IP, 0 H, 0 R, 0 ER, 0 BB, 9 SO
Pena, Je (Carolina): 1 IP, 0 H, 0 R, 0 ER, 1 BB, 0 SO
Merkel (Carolina): 2 IP, 0 H, 0 R, 0 ER, 0 BB, 3 SO
Shears (Carolina): 1 IP, 2 H, 0 R, 0 ER, 1 BB, 2 SO
SCORING:
Mudcats 2nd (Mudcats 2, Wood Ducks 0) -- Gregory Barrios walks. Jace Avina doubles to right-center field, Gregory Barrios to 3rd. Gregory Barrios scores on a balk; Jace Avina advances to 3rd on a balk. Jose Sibrian singles to right-center field, Jace Avina scores. Blayberg Diaz grounds into double play, Gleider Figuereo to Danyer Cueva to Yenci Pena, Jose Sibrian out at 2nd, Blayberg Diaz out at 1st. Alexander Perez strikes out swinging.
(2 Runs, 2 Hits, 0 Errors, 0 LOB)
Mudcats 4th (Mudcats 4, Wood Ducks 0) -- Gregory Barrios singles to deep shortstop. Gregory Barrios steals 2nd base. Jace Avina hits a home run to left field on a 2-2 pitch, Gregory Barrios scores. Jose Sibrian reaches on throwing error by Cameron Cauley. Blayberg Diaz strikes out swinging. Alexander Perez grounds into double play, Gleider Figuereo to Danyer Cueva to Yenci Pena, Jose Sibrian out at 2nd, Alexander Perez out at 1st.
(2 Runs, 2 Hits, 1 Errors, 0 LOB)
Mudcats 6th (Mudcats 5, Wood Ducks 0) -- Defensive Substitution: Andres Mesa replaces first baseman Yenci Pena, batting 7th, playing 1st. Pitcher Change: Leandro Lopez replaces Nick Lockhart. Gregory Barrios flies out to JoJo Blackmon. Jace Avina walks. Jose Sibrian strikes out swinging, Jace Avina steals 2nd base. Blayberg Diaz triples to right field, Jace Avina scores. Alexander Perez flies out to JoJo Blackmon.
(1 Runs, 1 Hits, 0 Errors, 1 LOB)