First-Place Mudcats Win Fifth Straight 11-5
The first-place Mudcats won their fifth straight while taking a 3-0 series lead in Lynchburg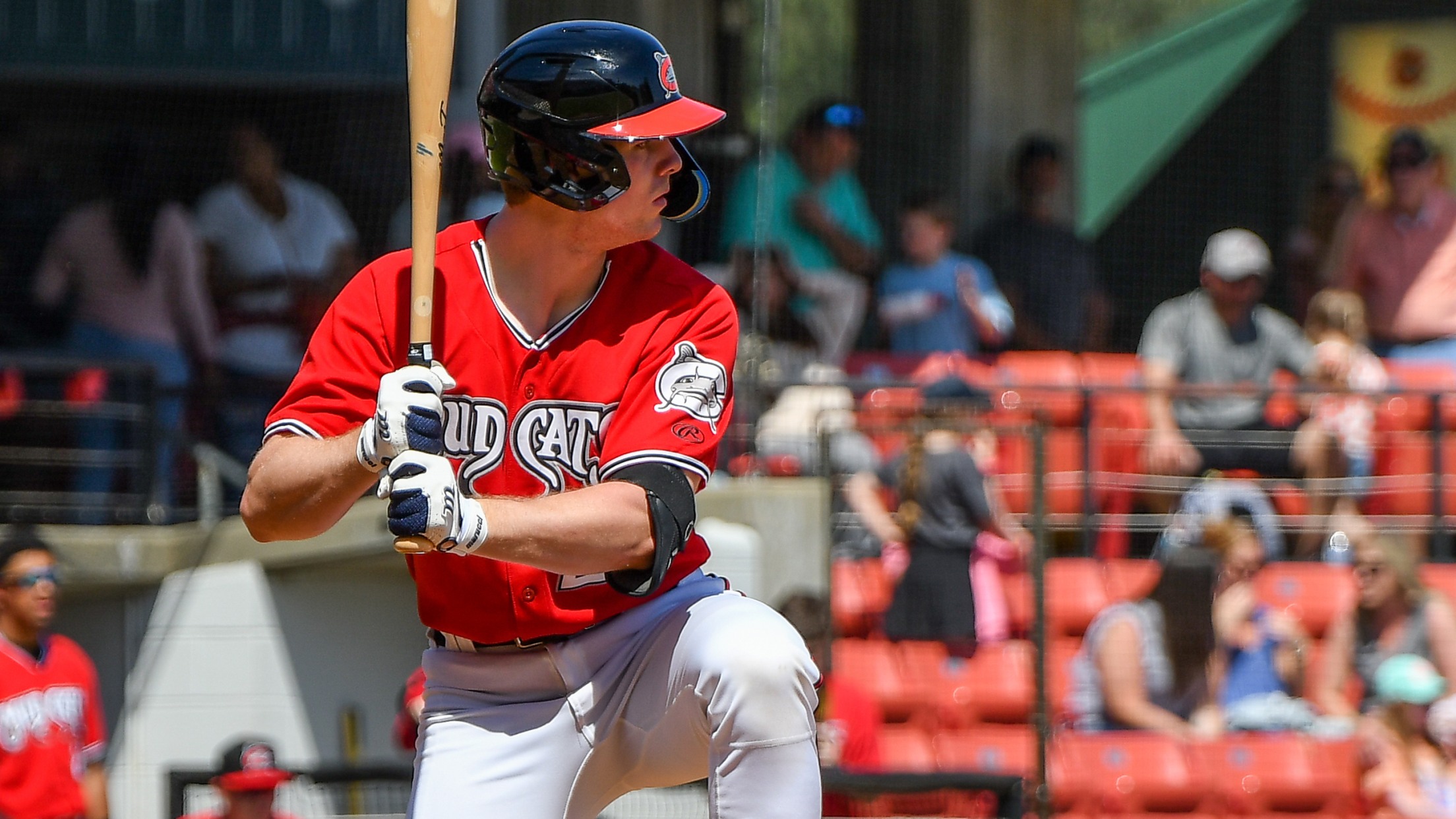 Luke Adams - Carolina Mudcats (Credit: Neal Hock)
Carolina Mudcats 11 @ Lynchburg Hillcats 5 June 01, 2023 | Venue: Bank of the James Stadium | First pitch: 6:31 PM | T: 2:53 (:02 delay) | Att: 1,373 | Box Score CAR: 1 0 0 2 4 4 0 0 0 11 15 1 LYN: 1 0 0
Carolina Mudcats 11 @ Lynchburg Hillcats 5
June 01, 2023 | Venue: Bank of the James Stadium | First pitch: 6:31 PM | T: 2:53 (:02 delay) | Att: 1,373 | Box Score
CAR: 1 0 0 2 4 4 0 0 0 11 15 1
LYN: 1 0 0 3 0 1 0 0 0 5 7 2
WP: Nate Peterson (4 - 1) LP: Wardquelin Vasquez (2 - 3)
LYNCHBURG, Va. - Luke Adams hit a go-ahead three-run home run in the fifth, Gregory Barrios went 3-for-5 with two RBI, Kay-Lan Nicasia scored three runs and Jadher Areinamo went 3-for-4 with two runs as the Carolina Mudcats won their fifth straight game 11-5 on Thursday night at Bank of James Stadium in Lynchburg.
The Mudcats (26-18) and Hillcats (22-25) traded runs in the first with Jesus Chirinos driving in Nicasia with a RBI single for Carolina and Maick Collado collecting a RBI single for Lynchburg. Chirinos went 2-for-2 with a RBI double, but was replaced by Jheremy Vargas in the fifth. Vargas went on to go 1-for-3 with a two-run single in the sixth.
Carolina broke the 1-1 tie while taking a 3-1 lead in the fourth with a RBI single from Barrios and a run-scoring wild pitch lost by starter Zach Jacobs. That 3-1 lead was short-lived though as the Hillcats answered with three in the same frame off reliever Nate Peterson to take a 4-3 lead.
Peterson (W, 4-1) went on to earn the win, but after giving up run-scoring hits to Pres Cavenaugh and Robert Lopez in the fourth. He also saw a run score on an error in the fourth and walked in a run in the sixth. Peterson allowed four runs on five hits over four innings in the victory.
Quinton Low started and allowed just one run over one inning in first game back from the injured list. Relievers Miguel Guerrero, Shane Smith and Tanners Shears combined for four scoreless frames and four strikeouts. Guerrero pitched the second, Smith worked the seventh and eighth and Shears pitched the ninth.
Trailing 4-3 after four, the Mudcats flipped the game around for good in the fifth after getting a go-ahead three-run home run from Adams and run from Barrios after he scored on a throwing error. Adams' home run in the fifth was his team-leading sixth of the season and stretched Carolina's team homer streak to six straight games.
If you didn't know already, @Lukeadams_99 loves hitting in Lynchburg!

Adams goes deep for the second time in three games and gives the Mudcats the lead back in the 5th! pic.twitter.com/oHrUKl0A7O

— Carolina Mudcats (@CarolinaMudcats) June 1, 2023
Carolina then broke the game wide open in the sixth a RBI single from Nicasia, Vargas' two-run hit, and a RBI single from Barrios. Barrios totaled three hits in the game while stretching his hitting streak to nine straight games.
With the victory, the Mudcats took a 3-0 series lead in Lynchburg and remained in first-place by a 0.5 game over the Down East Wood Ducks in the Carolina League North standings. The six-game series will continue on Friday night at 6:30 p.m. in Lynchburg.
HOME RUNS:
Carolina: HR: Adams (6, 5th inning off Vasquez, W, 2 on, 1 out).
TOP PERFORMERS - BATTERS:
Areinamo, 2B (Carolina): 3-for-4, 2 R, 1 2B
Barrios, SS (Carolina): 3-for-5, 2 RBI
Nicasia, RF (Carolina): 2-for-4, 3 R, 1 2B, 1 RBI
Adams, 3B (Carolina): 1-for-4, 2 R, 1 HR, 3 RBI
Cavenaugh, LF (Lynchburg): 1-for-3, 2 R, 1 RBI
Lopez, C (Lynchburg): 2-for-4, 1 R, 2 2B, 1 RBI
TOP PERFORMERS - PITCHERS:
Low (Carolina): 1 IP, 2 H, 1 R, 1 ER, 0 BB, 2 SO
Guerrero (Carolina): 1 IP, 0 H, 0 R, 0 ER, 0 BB, 1 SO
Smith (Carolina): 2 IP, 0 H, 0 R, 0 ER, 1 BB, 1 SO
Shears (Carolina): 1 IP, 0 H, 0 R, 0 ER, 1 BB, 2 SO
Ellerts (Lynchburg): 2.2 IP, 3 H, 0 R, 0 ER, 0 BB, 4 SO
Reyes, T (Lynchburg): 0.1 IP, 0 H, 0 R, 0 ER, 0 BB, 0 SO
SCORING:
Mudcats 1st (Mudcats 1, Hillcats 0) -- Luis Lara grounds out, Juan Benjamin to Marc Filia. Kay-Lan Nicasia doubles to left-center field. Luke Adams grounds out, Tyresse Turner to Marc Filia, Kay-Lan Nicasia to 3rd. Jesus Chirinos singles to left-center field, Kay-Lan Nicasia scores. Jadher Areinamo grounds out, Jose Pastrano to Marc Filia.
(1 Runs, 2 Hits, 0 Errors, 1 LOB)
Hillcats 1st (Mudcats 1, Hillcats 1) -- Guy Lipscomb singles up the middle. Tyresse Turner strikes out swinging, Guy Lipscomb steals 2nd base. Passed ball by Jose Sibrian, Guy Lipscomb to 3rd. Juan Benjamin strikes out swinging. Maick Collado singles to shallow center field, Guy Lipscomb scores. Pres Cavenaugh grounds out, Jadher Areinamo to Jesus Chirinos.
(1 Runs, 2 Hits, 0 Errors, 1 LOB)
Mudcats 4th (Mudcats 3, Hillcats 1) -- Luke Adams struck out looking. Jesus Chirinos doubles to right field. Jadher Areinamo singles to right field, Jesus Chirinos to 3rd. Gregory Barrios singles to right field, Jesus Chirinos scores; Jadher Areinamo to 2nd. Jesus Parra flies out to Pres Cavenaugh, Jadher Areinamo to 3rd; Gregory Barrios to 2nd. Wild pitch by Zach Jacobs, Jadher Areinamo scores; Gregory Barrios to 3rd. Jose Sibrian grounds out, Tyresse Turner to Marc Filia.
(2 Runs, 3 Hits, 0 Errors, 1 LOB)
Hillcats 4th (Hillcats 4, Mudcats 3) -- Juan Benjamin singles to right-center field. Maick Collado grounds out, Nate Peterson to Jadher Areinamo to Jesus Chirinos, Juan Benjamin to 2nd. Pres Cavenaugh singles to center field, Juan Benjamin scores; Pres Cavenaugh to 2nd. Pres Cavenaugh advances to 3rd on a balk. Robert Lopez doubles to left field, Pres Cavenaugh scores. Jordan Brown grounds out, Gregory Barrios to Jesus Chirinos. Marc Filia reaches on throwing error by Luke Adams, Robert Lopez scores; Marc Filia to 2nd. Jose Pastrano strikes out swinging.
(3 Runs, 3 Hits, 1 Errors, 1 LOB)
Mudcats 5th (Mudcats 7, Hillcats 4) -- Hedbert Perez struck out looking. Luis Lara singles to deep shortstop. Pitcher Change: Wardquelin Vasquez replaces Zach Jacobs. Kay-Lan Nicasia walks, Luis Lara to 2nd. Luke Adams hits a home run to left field on a 3-1 pitch, Luis Lara scores; Kay-Lan Nicasia scores. Offensive Substitution: Pinch hitter Jheremy Vargas replaces Jesus Chirinos. Jheremy Vargas strikes out swinging. Jadher Areinamo doubles down the left-field line. Gregory Barrios reaches on throwing error by Jose Pastrano, Jadher Areinamo scores; Gregory Barrios to 2nd. Jesus Parra flies out to Jordan Brown.
(4 Runs, 3 Hits, 1 Errors, 1 LOB)
Mudcats 6th (Mudcats 11, Hillcats 4) -- Jose Sibrian pops out to Juan Benjamin. Hedbert Perez flies out to Jordan Brown. Luis Lara reaches on fielding error by Jose Pastrano. Passed ball by Robert Lopez, Luis Lara to 2nd. Kay-Lan Nicasia singles to center field, Luis Lara scores. Kay-Lan Nicasia steals 2nd base. Luke Adams walks. Kay-Lan Nicasia advances to 3rd on a balk; Luke Adams advances to 2nd on a balk. Jheremy Vargas singles to center field, Kay-Lan Nicasia scores; Luke Adams scores; Jheremy Vargas to 2nd. Jadher Areinamo walks. Gregory Barrios singles through the hole at second base, Jheremy Vargas scores; Jadher Areinamo to 2nd. Jesus Parra grounds into a force out, fielded by Juan Benjamin, Gregory Barrios out at 2nd.
(4 Runs, 3 Hits, 1 Errors, 2 LOB)
Hillcats 6th (Mudcats 11, Hillcats 5) -- Pres Cavenaugh walks. Robert Lopez doubles to right field, Pres Cavenaugh to 3rd. Jordan Brown flies out to Hedbert Perez. Marc Filia pops out to Jadher Areinamo. Jose Pastrano walks. Guy Lipscomb walks, Pres Cavenaugh scores; Robert Lopez to 3rd; Jose Pastrano to 2nd. Tyresse Turner flies out to Kay-Lan Nicasia.
(1 Runs, 1 Hits, 0 Errors, 3 LOB)