Early Error Proves Costly in 5-4 Loss to Down East
Jose Sibrian hit his first home run of the season in the loss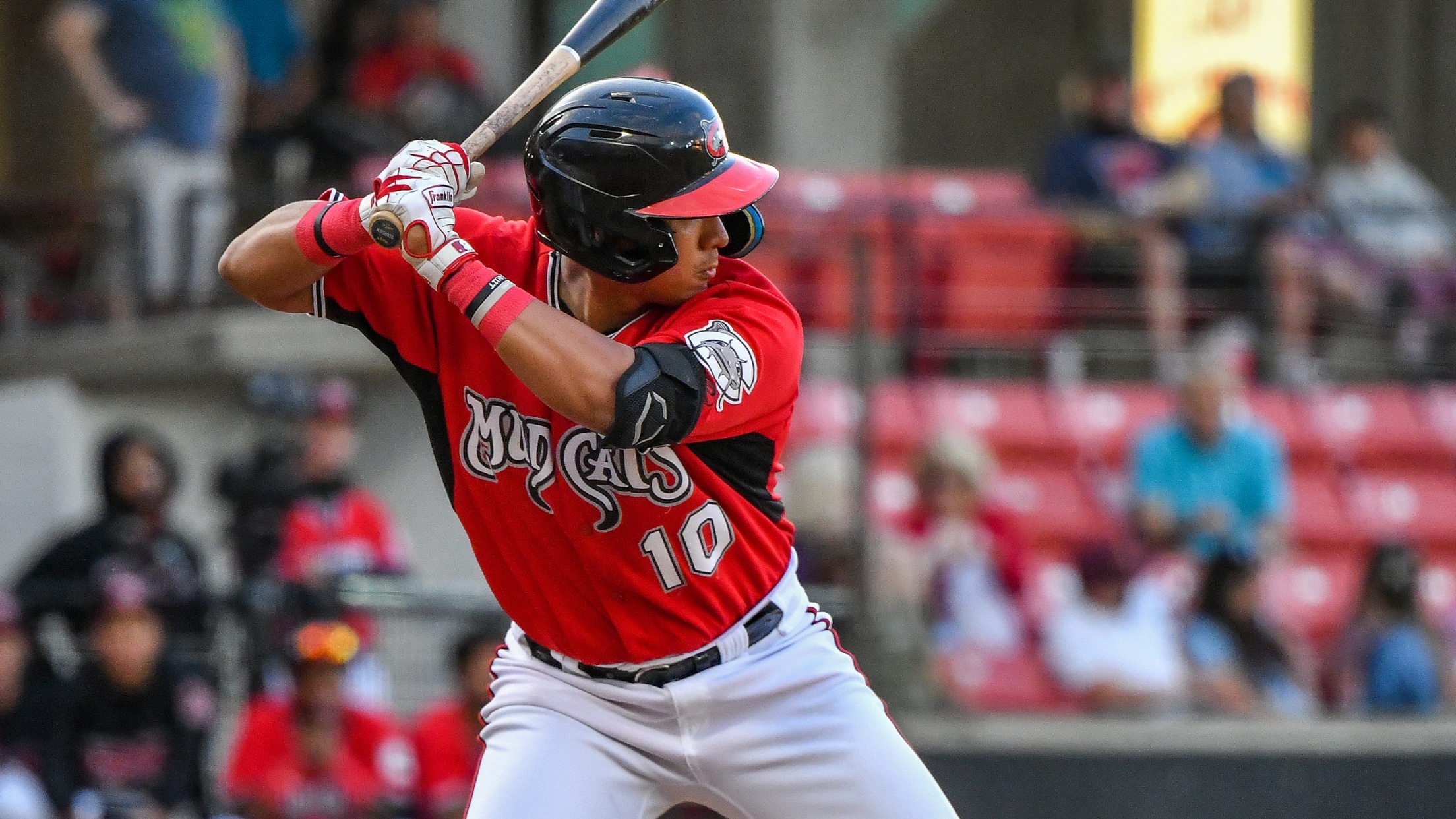 Jose Sibrian - Carolina Mudcats (Credit: Neal Hock)
Down East Wood Ducks 5 @ Carolina Mudcats 4 May 24, 2023 | Venue: Five County Stadium | First pitch: 6:58 PM | T: 2:41 | Att: 1,590 | Box Score DE: 0 3 0 0 1 0 0 1 0 5 11 2 CAR: 0 0 0 0 0
Down East Wood Ducks 5 @ Carolina Mudcats 4
May 24, 2023 | Venue: Five County Stadium | First pitch: 6:58 PM | T: 2:41 | Att: 1,590 | Box Score
DE: 0 3 0 0 1 0 0 1 0 5 11 2
CAR: 0 0 0 0 0 2 1 1 0 4 10 1
WP: Joseph Montalvo (3 - 0) LP: Aidan Maldonado (0 - 4) SV: Adrian Rodriguez (5)
ZEBULON, N.C. – Jose Sibrian hit his first home run of the season, Luis Lara went 2-for-4 with a RBI single in the eighth and Gregory Barrios went 2-for-5, but the Carolina Mudcats failed to overcome a costly error in the second, leading to three unearned runs, as they fell to the Down East Wood Ducks 5-4 on Wednesday night at Five County Stadium.
The loss was Carolina's second straight and moved them to 1.5 games back of the first-place Wood Ducks (23-16) in the Carolina League North first half standings. The victory lifted the Wood Ducks to a 2-0 series lead and was their fourth straight overall.
The Mudcats (22-18) fell behind early and trailed the rest of the way after seeing the Wood Ducks rally for three unearned runs following a two-out fielding error by third baseman Jesus Parra in the second. That error came on a groundball hit by Yosy Galan and allowed Cam Cauley to score from third. It was then followed by a JoJo Blackmon RBI double and a run-scoring wild pitch that scored Galan from third by Carolina starter Aidan Maldonado.
Maldonado (L, 0-4) ended up working through the fifth with five strikeouts, one walk and three unearned runs while taking the tough luck loss. He was eventually replaced by reliever Nate Peterson who went on to record six strikeouts over four innings. Peterson, however, also allowed two runs including one in the fifth and one in the eighth.
Down East led 3-0 after the second and later took a 4-0 lead in the fifth after getting a two-out RBI single from Ian Moller. The Mudcats came back with two in the sixth with Parra bringing in one with a groundout and Sibrian delivering the other with a home run to left.
Sibrian's home run came off reliever Damien Mendoza and trimmed the deficit to 4-2. Carolina eventually pulled within one of the lead with a RBI single in the seventh from Jesus Chirinos, but the Wood Ducks answered right back with a Gleider Figuereo sac fly in the eighth while taking a 5-3 lead. Lara later came through with a RBI single with two outs in the eighth, but the Mudcats would fail to score again while falling shy of tying the game in the 5-4 loss.
Joseph Montalvo started and went through five scoreless with five strikeouts while earning the victory. Mendoza, meanwhile, allowed three runs on four hits four two innings. Adrian Rodriguez (S, 5) then finished it while working the eighth and ninth with one unearned run allowed on two hits.
Shane Smith pitched the ninth for the Mudcats and worked through a scoreless frame while striking out two. He also escaped a bases loaded jam with help of a 2-5-2-6 rundown that caught Galan off third for the inning's second out.
The series will continue with Bark in the Park and Micro Brews Thirsty Thursday™ on Thursday night at Five County Stadium. Carolina's current homestand will also include CBS 17 Friday Night Fireworks, AgCarolina Farm Credit Union Souvenir Saturday featuring a souvenir AgNight themed hat, and WakeMed Five County Family Sunday with $7.00 Box Seat tickets and on-field post-game catch.
HOME RUNS:
Carolina: HR: Sibrian (1, 6th inning off Mendoza, D, 0 on, 2 out).
TOP PERFORMERS - BATTERS:
Moller, C (Down East): 2-for-4, 1 2B, 1 RBI
Cauley, SS (Down East): 1-for-4, 1 R, 1 2B
Blackmon, LF (Down East): 2-for-4, 1 2B, 1 RBI
Sibrian, DH (Carolina): 1-for-4, 1 R, 1 HR, 1 RBI
Lara, CF (Carolina): 2-for-4, 1 R, 1 2B, 1 RBI
Barrios, SS (Carolina): 2-for-5, 1 R
TOP PERFORMERS - PITCHERS:
Montalvo (W, 3-0) (Down East): 5 IP, 4 H, 0 R, 0 ER, 1 BB, 5 SO
Rodriguez, A (S, 5) (Down East): 2 IP, 2 H, 1 R, 0 ER, 1 BB, 0 SO
Maldonado, A (L, 0-4) (Carolina): 4 IP, 5 H, 3 R, 0 ER, 1 BB, 3 SO
Peterson (Carolina): 4 IP, 4 H, 2 R, 2 ER, 0 BB, 6 SO
Smith (Carolina): 1 IP, 2 H, 0 R, 0 ER, 1 BB, 2 SO
SCORING:
Wood Ducks 2nd (Wood Ducks 3, Mudcats 0) -- Ian Moller flies out to Hedbert Perez. Cameron Cauley doubles to left-center field. Gleider Figuereo singles to left-center field, Cameron Cauley to 3rd. Yenci Pena strikes out swinging. Yosy Galan reaches on fielding error by Jesus Parra, Cameron Cauley scores; Gleider Figuereo to 2nd. JoJo Blackmon doubles to right field, Gleider Figuereo scores; Yosy Galan to 3rd. Wild pitch by Aidan Maldonado, Yosy Galan scores; JoJo Blackmon to 3rd. Anthony Gutierrez grounds out, Jesus Parra to Jesus Chirinos.
(3 Runs, 3 Hits, 1 Errors, 1 LOB)
Wood Ducks 5th (Wood Ducks 4, Mudcats 0) -- Pitcher Change: Nate Peterson replaces Aidan Maldonado. Anthony Gutierrez strikes out swinging, Blayberg Diaz to Jesus Chirinos. Yeison Morrobel singles to left field. Danyer Cueva struck out looking. Ian Moller singles to left-center field, Yeison Morrobel scores; Ian Moller to 2nd. Cameron Cauley strikes out swinging.
(1 Runs, 2 Hits, 0 Errors, 1 LOB)
Mudcats 6th (Wood Ducks 4, Mudcats 2) -- Pitcher Change: Damian Mendoza replaces Joseph Montalvo. Gregory Barrios singles through the hole at shortstop. Wild pitch by Damian Mendoza, Gregory Barrios to 2nd. Hedbert Perez flies out to Anthony Gutierrez, Gregory Barrios to 3rd. Jesus Parra grounds out, Gleider Figuereo to Yenci Pena, Gregory Barrios scores. Jose Sibrian hits a home run to left-center field on a 0-2 pitch. Blayberg Diaz grounds out, Cameron Cauley to Yenci Pena.
(2 Runs, 2 Hits, 0 Errors, 0 LOB)
Mudcats 7th (Wood Ducks 4, Mudcats 3) -- Luis Lara walks. Jheremy Vargas strikes out swinging. Kay-Lan Nicasia struck out looking. Wild pitch by Damian Mendoza, Luis Lara to 3rd. Jesus Chirinos singles to left-center field, Luis Lara scores. Gregory Barrios singles to left-center field, Jesus Chirinos to 2nd. Hedbert Perez grounds out, Damian Mendoza to Yenci Pena.
(1 Runs, 2 Hits, 0 Errors, 2 LOB)
Wood Ducks 8th (Wood Ducks 5, Mudcats 3) -- Danyer Cueva singles to right-center field. Ian Moller doubles to left field, Danyer Cueva to 3rd. Cameron Cauley strikes out swinging. Gleider Figuereo out on a sacrifice fly to Kay-Lan Nicasia, Danyer Cueva scores; Ian Moller to 3rd. Yenci Pena strikes out swinging, Blayberg Diaz to Jesus Chirinos.
(1 Runs, 2 Hits, 0 Errors, 1 LOB)
Mudcats 8th (Wood Ducks 5, Mudcats 4) -- Pitcher Change: Adrian Rodriguez replaces Damian Mendoza. Jesus Parra singles to right-center field. Jose Sibrian flies out to Anthony Gutierrez. Passed ball by Ian Moller, Jesus Parra to 2nd. Blayberg Diaz grounds out, Adrian Rodriguez to Yenci Pena. Luis Lara singles to right-center field, Jesus Parra scores. Adrian Rodriguez picks off Luis Lara at on throw to Yenci Pena.
(1 Runs, 2 Hits, 0 Errors, 0 LOB)