Diaz & Parra Help Mudcats Hammer Hillcats 9-1
The first-place Mudcats won their fourth straight while taking a 2-0 series lead in Lynchburg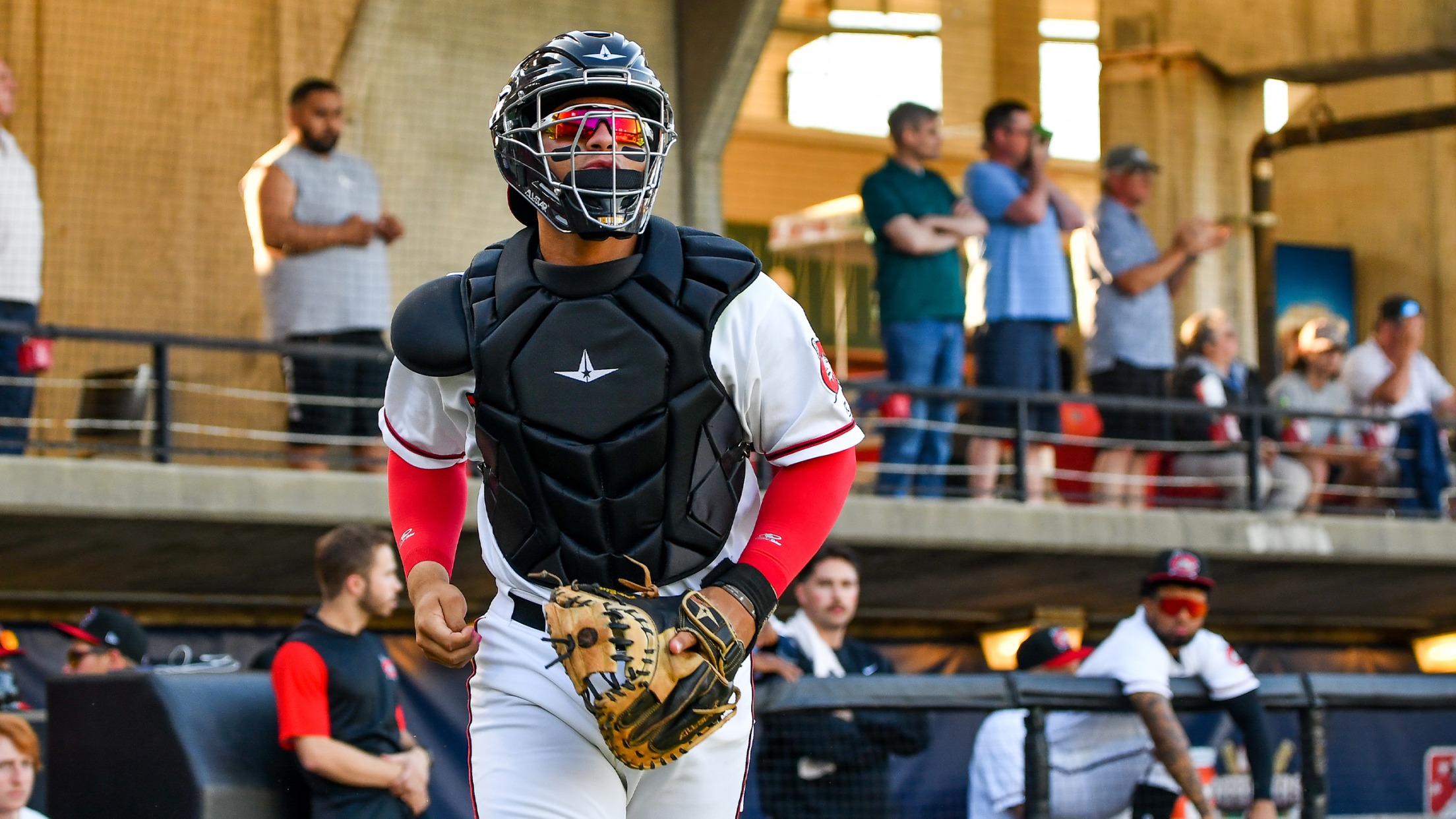 Blayberg Diaz - Carolina Mudcats (Credit: Neal Hock)
Carolina Mudcats 9 @ Lynchburg Hillcats 1 May 31, 2023 | Venue: Bank of the James Stadium | First pitch: 6:30 PM | T: 2:44 | Att: 1,451 | Box Score CAR: 0 3 0 4 2 0 0 0 0 9 13 0 LYN: 1 0 0 0 0
Carolina Mudcats 9 @ Lynchburg Hillcats 1
May 31, 2023 | Venue: Bank of the James Stadium | First pitch: 6:30 PM | T: 2:44 | Att: 1,451 | Box Score
CAR: 0 3 0 4 2 0 0 0 0 9 13 0
LYN: 1 0 0 0 0 0 0 0 0 1 3 3
WP: Aidan Maldonado (1 - 4) LP: Adam Tulloch (2 - 2)
LYNCHBURG, Va. – Blayberg Diaz went 3-for-5 with three runs and two RBI, Jesus Parra went 2-for-5 with a two-run home run, Jheremy Vargas scored twice while going 2-for-4 and Luke Adams went 2-for-5 with a RBI double as the Carolina Mudcats trounced the Lynchburg Hillcats 9-1 in the second game of a six game series on Wednesday night at Bank of James Stadium. Jacob Misiorowski started and struck out five over four innings. Aidan Maldonado earned the win after going three scoreless with three strikeouts in relief.
The Hillcats (22-25) originally led 1-0 after getting a run across in the first on a Maick Collado sacrifice fly. Guy Lipscomb scored on that sac fly after starting the Lynchburg half of the first with a walk. Misiorowski ended up walking one in the first and three overall in his four inning start. He also yielded just one hit and struck out five.
The Mudcats (26-18) answered the lone first inning run and took a 3-1 lead with a two-run single from Diaz and a Kay-Lan Nicasia sacrifice fly in the second. Diaz matched a career-high with three hits and scored a new career-best three runs in the victory.
Fueled by Parra's two-run home run, the Mudcats opened things up with four runs and five hits in the fourth while running the lead up to 7-1. Diaz started the fourth with a single and Parra followed with his two-run homer. Luis Lara, Nicasia and Luke Adams followed with consecutive hits with Adams' knock being a RBI double to score Lara. Nicasia scored moments later on a groundout from Jace Avina.
The Mudcats later took a 9-1 lead in the fifth after getting consecutive singles from Jheremy Vargas and Diaz to start the frame. Both later scored on a sac fly and error respectively.
Carolina was in full control when Maldonado (W, 1-4) entered the game for the fifth in place of Misiorowski. Maldonado went on hold the Hillcats scoreless and just one hit over the fifth, sixth and seventh. Yerlin Rodriguez followed and allowed a hit while working a scoreless eighth. Jeison Pena then finished it with a scoreless ninth. Carolina's pitchers allowed just three hits and one run in the victory.
Adam Tulloch and Braunny Munoz combined to allow all nine Carolina runs over the first four and 2/3 of Wednesday's game. Tulloch (L, 2-2) allowed three runs (two earned) on four hits over and inning and 2/3. Munoz then gave up seven hits and six runs over the next three innings pitched.
With the victory, the Mudcats took a 2-0 series lead and remained in first-place by a 0.5 game over the Down East Wood Ducks in the Carolina League North standings. The six game series will continue on Thursday night at 6:30 p.m. in Lynchburg.
HOME RUNS:
Carolina: HR: Parra (1, 4th inning off Munoz, 1 on, 0 out).
TOP PERFORMERS - BATTERS:
Diaz, C (Carolina): 3-for-5, 3 R, 2 RBI
Parra, 1B (Carolina): 2-for-5, 1 R, 1 HR, 2 RBI
Adams, DH (Carolina): 2-for-5, 1 2B, 1 RBI
Vargas, 3B (Carolina): 2-for-4, 2 R, 1 2B
Collado, 1B (Lynchburg): 1-for-3, 1 RBI
TOP PERFORMERS - PITCHERS:
Misiorowski (Carolina): 4 IP, 1 H, 1 R, 1 ER, 3 BB, 5 SO
Maldonado, A (W, 1-4) (Carolina): 3 IP, 1 H, 0 R, 0 ER, 2 BB, 3 SO
Rodriguez (Carolina): 1 IP, 1 H, 0 R, 0 ER, 0 BB, 0 SO
Pena, Je (Carolina): 1 IP, 0 H, 0 R, 0 ER, 1 BB, 0 SO
Vinicio (Lynchburg): 2.1 IP, 1 H, 0 R, 0 ER, 1 BB, 3 SO
Almonte (Lynchburg): 2 IP, 1 H, 0 R, 0 ER, 1 BB, 4 SO
SCORING:
Hillcats 1st (Hillcats 1, Mudcats 0) -- Guy Lipscomb walks. Juan Benjamin walks, Guy Lipscomb to 2nd. Guy Lipscomb steals 3rd base, Juan Benjamin steals 2nd base. Angel Genao strikes out on foul tip. Maick Collado out on a sacrifice fly to Jace Avina, Guy Lipscomb scores; Juan Benjamin to 3rd. Wuilfredo Antunez grounds out to Jesus Parra.
(1 Runs, 0 Hits, 0 Errors, 1 LOB)
Mudcats 2nd (Mudcats 3, Hillcats 1) -- Gregory Barrios walks. Jheremy Vargas doubles down the right-field line, Gregory Barrios to 3rd. Blayberg Diaz singles through the hole at second base, Gregory Barrios scores; Jheremy Vargas scores. Jesus Parra singles to right-center field, Blayberg Diaz to 2nd. Alexander Perez strikes out swinging. Luis Lara reaches on a fielder's choice, fielded by Juan Benjamin, Blayberg Diaz to 3rd; fielding error by Juan Benjamin. Kay-Lan Nicasia out on a sacrifice fly to Guy Lipscomb, Blayberg Diaz scores. Pitcher Change: Braunny Munoz replaces Adam Tulloch. Luke Adams flies out to Wuilfredo Antunez.
(3 Runs, 3 Hits, 1 Errors, 2 LOB)
Mudcats 4th (Mudcats 7, Hillcats 1) -- Blayberg Diaz singles to shallow right field. Jesus Parra hits a home run to left field on a 2-2 pitch, Blayberg Diaz scores. Alexander Perez pops out to Juan Benjamin. Luis Lara singles to right-center field. Kay-Lan Nicasia singles to right-center field, Luis Lara to 2nd. Luke Adams doubles to left field, Luis Lara scores; Kay-Lan Nicasia to 3rd. Jace Avina grounds out, Angel Genao to Maick Collado, Kay-Lan Nicasia scores. Gregory Barrios pops out to Maick Collado in foul territory.
(4 Runs, 5 Hits, 0 Errors, 1 LOB)
Mudcats 5th (Mudcats 9, Hillcats 1) -- Jheremy Vargas singles to right-center field. Blayberg Diaz singles to right field, Jheremy Vargas to 3rd; Blayberg Diaz advances to 2nd on fielding error by Wuilfredo Antunez. Jesus Parra grounds out, Jose Devers to Maick Collado. Alexander Perez out on a sacrifice fly to Wuilfredo Antunez, Jheremy Vargas scores; Blayberg Diaz to 3rd. Luis Lara walks. Kay-Lan Nicasia walks, Luis Lara to 2nd. Luke Adams reaches on fielding error by Jose Devers, Blayberg Diaz scores; Luis Lara to 3rd; Kay-Lan Nicasia to 2nd. Pitcher Change: Miguel Vinicio replaces Braunny Munoz. Jace Avina struck out looking.
(2 Runs, 2 Hits, 2 Errors, 3 LOB)