Adams and Sibrian Power Mudcats to 5-1 Victory
Pitchers Will Rudy and Yujanyer Herrera combined to scatter six hits and just one run in the victory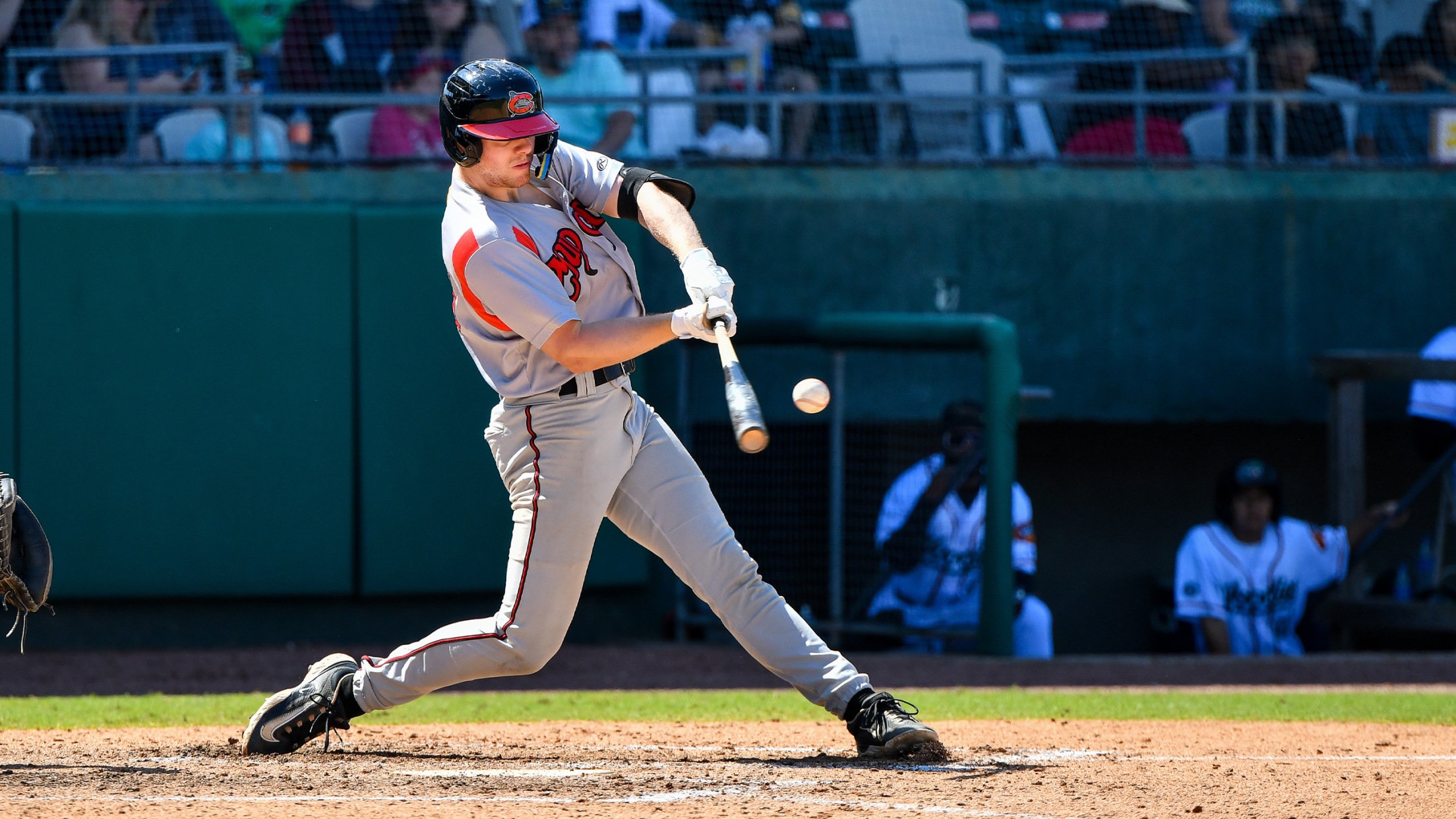 Luke Adams - Carolina Mudcats (Credit: Neal Hock)
Carolina Mudcats 5 @ Lynchburg Hillcats 1 May 30, 2023 | Venue: Bank of the James Stadium | First pitch: 6:33 PM | T: 2:08 | Att: 1,101 | Box Score CAR: 1 3 1 0 0 0 0 0 0 5 6 1 LYN: 0 0 0 0 0
Carolina Mudcats 5 @ Lynchburg Hillcats 1
May 30, 2023 | Venue: Bank of the James Stadium | First pitch: 6:33 PM | T: 2:08 | Att: 1,101 | Box Score
CAR: 1 3 1 0 0 0 0 0 0 5 6 1
LYN: 0 0 0 0 0 0 0 0 1 1 6 0
WP: Will Rudy (3 - 0) LP: Alonzo Richardson (2 - 2) SV: Yujanyer Herrera (1)
LYNCHBURG, Va. – Luke Adams hit a solo home run in the first, Jose Sibrian hit a three-run blast in the second and starter Will Rudy pitched through five scoreless innings with five strikeouts as the Carolina Mudcats defeated the Lynchburg Hillcats 5-1 in Tuesday's series opener at Bank of James Stadium in Lynchburg, Va.
Adams got the Mudcats (25-18) going early with a two-out solo home run off Hillcats (22-24) starter Alonzo Richardson in the first. The home run was his fifth of the season and came in what was his first game back after missing four games with an injury. The home run also extended Carolina's homer streak to four straight games.
Just one inning later, Sibrian connected on a three-run blast to lift Carolina to a 4-0 lead in the second. The home run was his second of the season and his second in his last three games.
Gregory Barrios singled and scored on Sibrian's homer in the second. He also drove in a run with a single in the third while stretching his hitting to seven straight games and lifting the Carolina lead to 5-0.
Rudy (W, 3-0) scattered three hits, walked a couple and struck out five while pitching through the fifth for the fourth straight time. Reliever Yujanyer Herrera came in for the sixth and took it the rest of the way while earning his first career save. Herrera (S, 1) worked around three walks, allowed a three hits and struck out one over four innings pitched.
Richardson (L, 2-2) pitched through three innings in his start and allowed all five Carolina runs while taking the loss. Relievers Jack Jasiak and Samuel Vasquez followed and combined to hold the Mudcats scoreless and to just two hits the rest of the way.
With the victory, the Mudcats took a 1-0 series lead and remained in first-place by a 0.5 game over the Down East Wood Ducks. The six-game series will continue on Wednesday night at 6:30 p.m. in Lynchburg with RHP Jacob Misiorowski scheduled to start for Carolina.
HOME RUNS:
Carolina: HR: Adams (5, 1st inning off Richardson, 0 on, 2 out); Sibrian (2, 2nd inning off Richardson, 2 on, 1 out).
TOP PERFORMERS - BATTERS:
Sibrian, C (Carolina): 1-for-3, 1 R, 1 HR, 3 RBI
Adams, 3B (Carolina): 1-for-4, 1 R, 1 HR, 1 RBI
Barrios, SS (Carolina): 2-for-4, 1 R, 1 RBI
Collado, 1B (Lynchburg): 2-for-4
TOP PERFORMERS - PITCHERS:
Rudy (W, 3-0) (Carolina): 5 IP, 3 H, 0 R, 0 ER, 2 BB, 5 SO
Herrera (S, 1) (Carolina): 4 IP, 3 H, 1 R, 0 ER, 4 BB, 2 SO
Jasiak (Lynchburg): 4 IP, 1 H, 0 R, 0 ER, 0 BB, 1 SO
Vasquez, S (Lynchburg): 2 IP, 1 H, 0 R, 0 ER, 0 BB, 1 SO
SCORING:
Mudcats 1st (Mudcats 1, Hillcats 0) -- Luis Lara flies out to Guy Lipscomb. Kay-Lan Nicasia strikes out swinging. Luke Adams hits a home run to left field on a 2-2 pitch. Jesus Chirinos walks. Jadher Areinamo grounds out, Tyresse Turner to Maick Collado.
(1 Runs, 1 Hits, 0 Errors, 1 LOB)
Mudcats 2nd (Mudcats 4, Hillcats 0) -- Jace Avina flies out to Wuilfredo Antunez. Gregory Barrios singles to shallow center field. Gregory Barrios steals 2nd base. Hedbert Perez walks. Gregory Barrios advances to 3rd on a balk; Hedbert Perez advances to 2nd on a balk. Jose Sibrian hits a home run to left-center field on a 1-0 pitch, Gregory Barrios scores; Hedbert Perez scores. Luis Lara grounds out, Tyresse Turner to Maick Collado. Kay-Lan Nicasia struck out looking.
(3 Runs, 2 Hits, 0 Errors, 0 LOB)
Mudcats 3rd (Mudcats 5, Hillcats 0) -- Luke Adams grounds out, Jose Devers to Maick Collado. Jesus Chirinos walks. Jadher Areinamo flies out to Wuilfredo Antunez. Jace Avina walks, Jesus Chirinos to 2nd. Gregory Barrios singles to center field, Jesus Chirinos scores; Jace Avina to 2nd. Hedbert Perez grounds out, Maick Collado to Alonzo Richardson.
(1 Runs, 1 Hits, 0 Errors, 2 LOB)
Hillcats 9th (Mudcats 5, Hillcats 1) -- Angel Genao reaches on fielding error by Luke Adams. Maick Collado singles to left field, Angel Genao to 2nd. Wuilfredo Antunez flies out to Kay-Lan Nicasia, Angel Genao to 3rd. Jose Devers grounds out, Luke Adams to Jesus Chirinos, Angel Genao scores; Maick Collado to 2nd. Pres Cavenaugh walks.
(1 Runs, 1 Hits, 1 Errors, 2 LOB)