Cyclones Win Game One Over Aberdeen, 8-1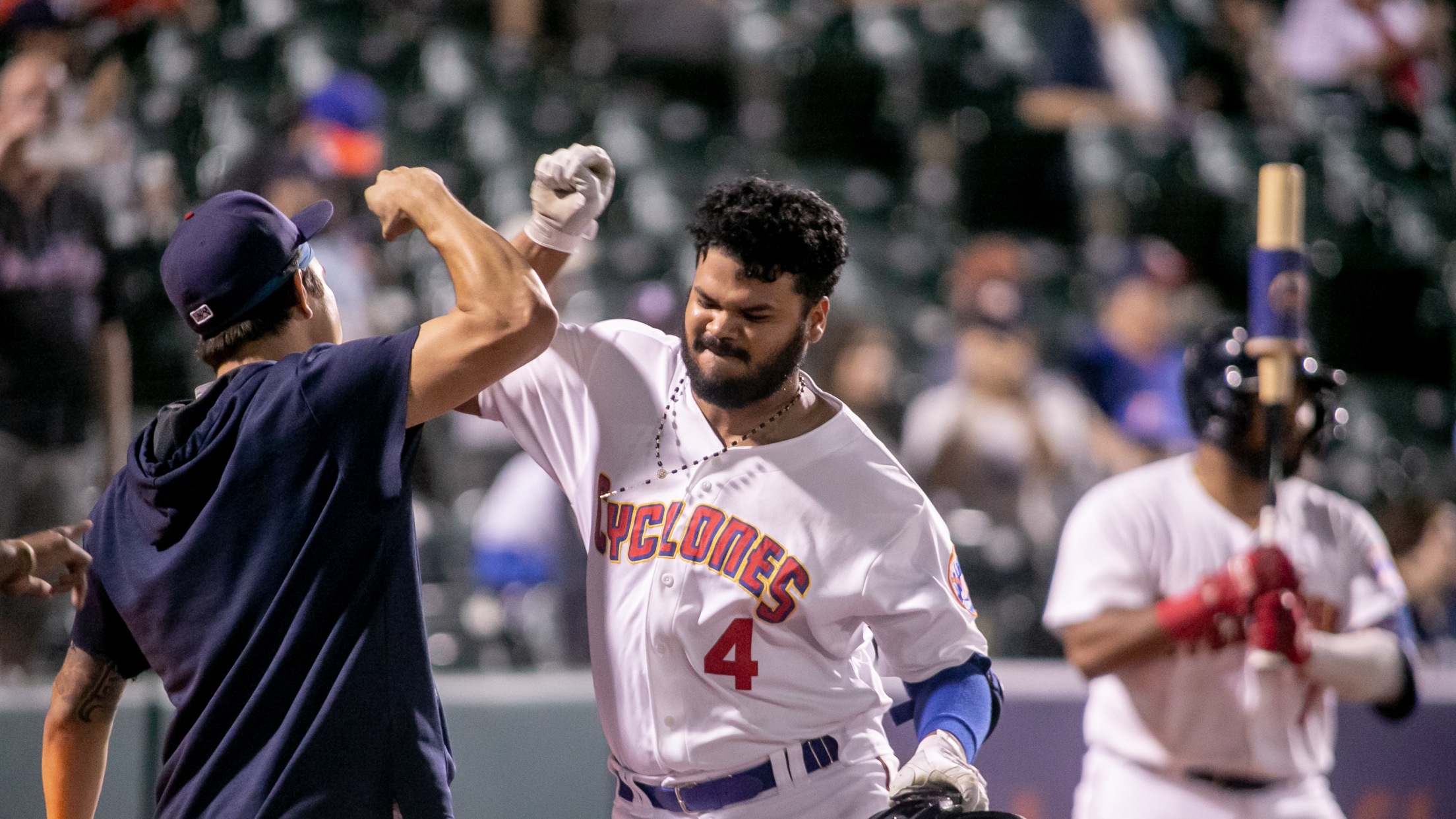 BOX SCORE Win: Luis Moreno (1-0) Loss: Jean Pinto (0-1) Save: None Home Runs: ABD – Fabian (1) / BRK – Suozzi (1), Rudick (1), Peroza (1) Time of Game: 2:08 Brooklyn, NY (September 13, 2022) – The Cyclones defeated the Aberdeen IronBirds by the score of 8-1 on Tuesday
Win: Luis Moreno (1-0)
Loss: Jean Pinto (0-1)
Save: None
Home Runs: ABD – Fabian (1) / BRK – Suozzi (1), Rudick (1), Peroza (1)
Time of Game: 2:08
Brooklyn, NY (September 13, 2022) – The Cyclones defeated the Aberdeen IronBirds by the score of 8-1 on Tuesday Night in Game One of the South Atlantic League Northern Division Championship Series. Luis Moreno (1-0) tossed 6.0 solid innings, allowing just one run on five hits and a walk while striking out seven to get the win. Offensively, Jose Peroza went 3-for-3 with a run scored, home run, and three RBI to lead the charge.
Brooklyn broke the ice in the bottom of the first after Alex Ramirez had a one-out single and advanced to second on a ground-out from JT Schwartz. Jose Peroza – who has been the hottest player in the South Atlantic League since early July – continued his scorching second half with an RBI single to give Brooklyn a 1-0 lead.
The lead was short-lived, however, as Jud Fabian started the top of the 2nd for Aberdeen with a rainbow home run that cleared the left field wall for a solo blast that knotted things up at 1-1.
In the bottom of the frame, Brooklyn used the long ball to jump back in front as Joe Suozzi hit a laser over the left field wall to give the 'Clones a 2-1 lead and they would never look back.
The hits kept coming for the Cyclones in the bottom of the third when Stanley Consuegra lined a perfectly placed single between third and short to plate Alex Ramirez and extend the lead to 3-1.
With Moreno cruising on the mound, the lead appeared to be more than enough, but the Cyclones blew the game open in the bottom of the fifth. LHP Antonio Velez came on in relief for the IronBirds and was immediately greeted with thunder from Matt Rudick – who's solo shot cleared the right field fence for a solo blast to make it 4-1. Alex Ramirez then reached on an error and two batters laser Jose Peroza went yard to push the Brooklyn lead to 6-1.
That's how it would stay until the bottom of the eighth when Brooklyn tacked on a pair thanks to the electric Joe Suozzi. William Lugo worked a leadoff walk to start the frame and then Suozzi ripped a line drive into the right-center-field gap that allowed the Long Island native to circle all the way around the bases. It was ruled a triple and an error – but it's an inside-the-park home run in our hearts – and the Cyclones extended their lead to 8-1.
Justin Courtney tossed 2.0 shutout frames and Daison Acosta tossed a scoreless ninth to close out the win for the Cyclones.
After a travel day on Wednesday, the Cyclones will take on Aberdeen in Game Two of the series on Thursday night where a win will advance Brooklyn to the South Atlantic League Finals.