Parada Propels Cyclones to Walk-Off Win
Kevin hits go-ahead home run in 7th; walk-off single in 9th to power Brooklyn to victory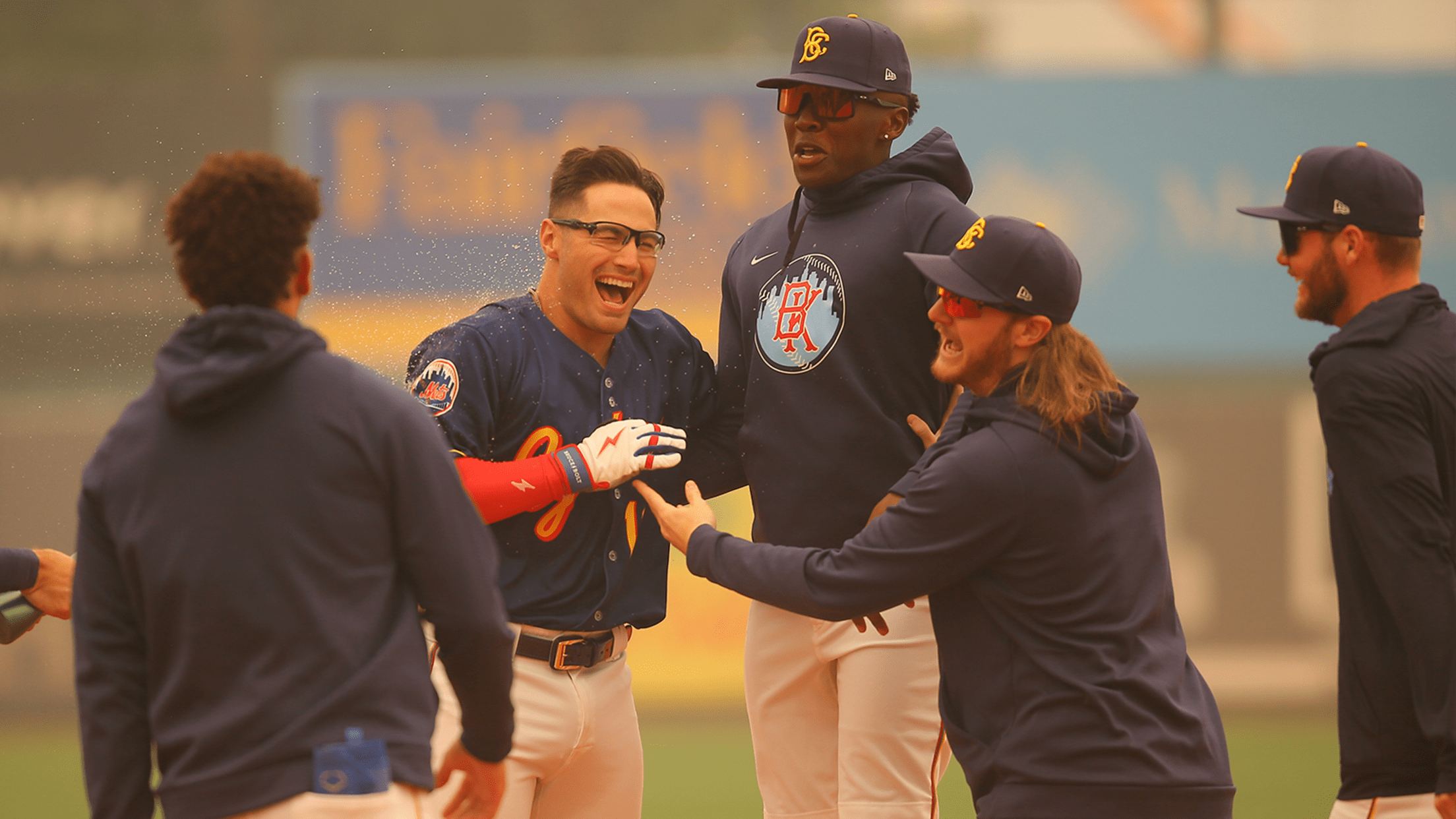 BOX SCORE
PLAY-BY-PLAY BROOKLYN, N.Y. (June 7, 2023) - The Brooklyn Cyclones walked off the Greenville Drive Wednesday afternoon at Maimonides Park by a final score of 7-6. DH Kevin Parada was the man of the hour. He slugged the go-ahead home run in the bottom of the
BROOKLYN, N.Y. (June 7, 2023) - The Brooklyn Cyclones walked off the Greenville Drive Wednesday afternoon at Maimonides Park by a final score of 7-6. DH Kevin Parada was the man of the hour. He slugged the go-ahead home run in the bottom of the seventh, and later came up clutch with a walk-off base hit to end the game in the ninth.
Brooklyn struck first in the bottom of the first, when RF Omar De Los Santos singled home CF Alex Ramírez to give Brooklyn the lead. The Cyclones doubled their lead in the third, when SS William Lugo also plated Ramírez on an RBI single.
Greenville's response came in the top of the fourth, and it came in a big way. With men on the corners and one out, RHP Joander Suárez was called for a balk, allowing RF Bryan González to score Greenville's first run of the game. Things would spiral from there, when LF Nick Decker doubled home a run to tie the game at two.
The Drive were far from done in the frame, though. After 2B Max Ferguson struck out swinging, a throwing error by C Drake Osborn on a back pick try to third base trickled into the outfield and allowed a run to score. SS Eddinson Paulino delivered the final blow of the frame - a two-RBI double to right field to balloon Greenville's lead to 5-2.
Things took a turn for the better for the 'Clones in the home sixth, when C Drake Osborn scorched a three-run home run over the left field fence to tie the game. One frame later, Parada gave Brooklyn the lead with a solo shot, his fourth long ball of the year. Greenville pulled even in the eighth on a sacrifice fly from C Alex Erro.
In the bottom of the ninth with the score tied up at six apiece, Greenville failed to register an out. The Cyclones notched four consecutive singles, capped by Parada's walk-off base knock.
Brooklyn returns to action at 7:00 p.m. on Thursday at Maimonides Park. RHP Jeffrey Colón (1-2, 6.37 ERA) is expected to make the start for Brooklyn, where he'll oppose RHP Hunter Dobbins (3-1, 3.21 ERA).