Renova Roofing and Shuckers Announce New Naming Rights Partnership
Third-Base Hospitality Deck Will Now Be The Renova Roofing Party Deck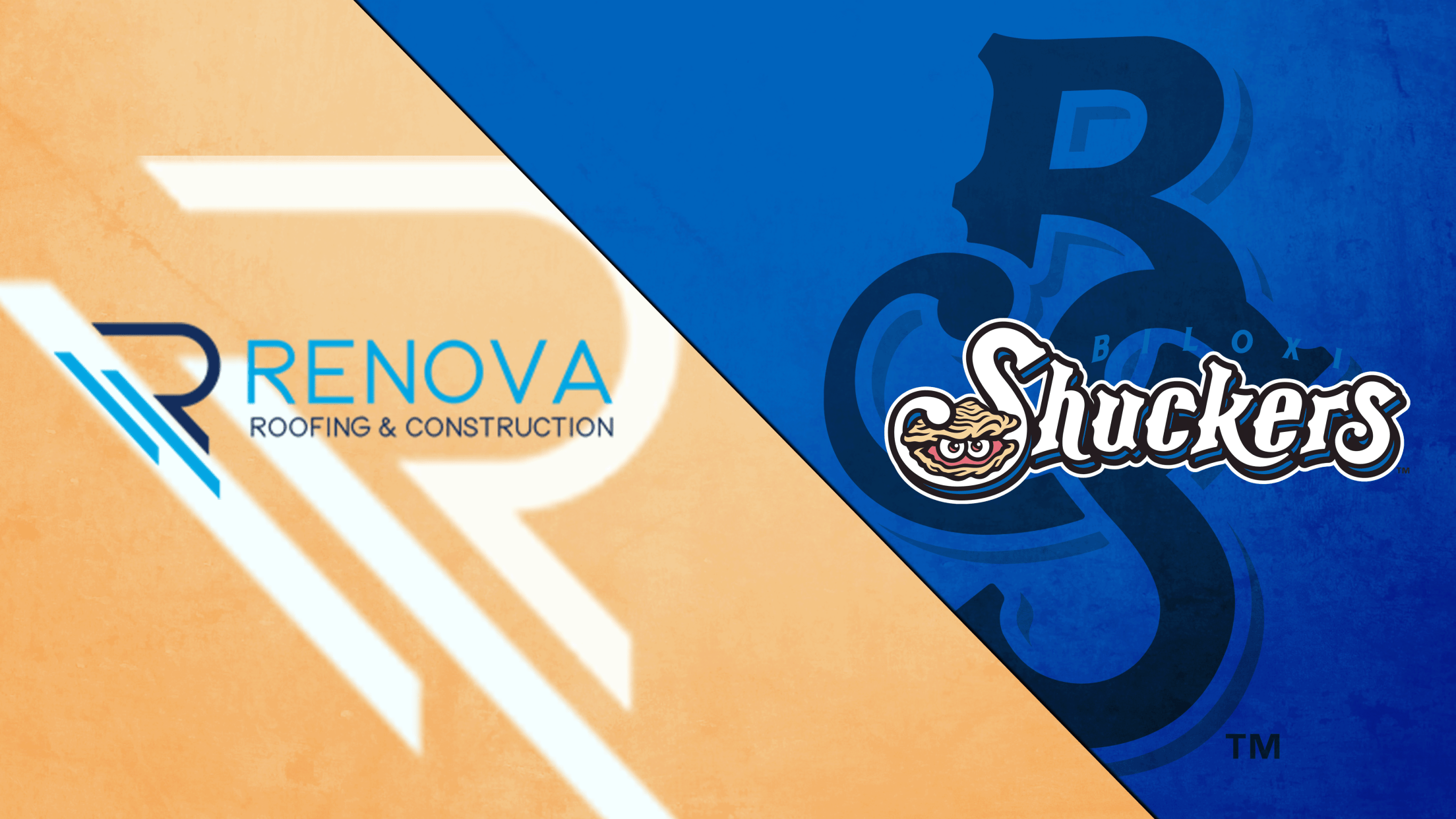 The Biloxi Shuckers are excited to announce a new partnership with Renova Roofing & Construction that includes the naming rights for the party deck on the third-base side of MGM Park. The deck will now be the 'Renova Roofing Party Deck' for 2023 and 2024. "We are thrilled to establish
The Biloxi Shuckers are excited to announce a new partnership with Renova Roofing & Construction that includes the naming rights for the party deck on the third-base side of MGM Park. The deck will now be the 'Renova Roofing Party Deck' for 2023 and 2024.
"We are thrilled to establish this naming rights partnership with a Mississippi-based company that truly cares about everyone in the communities they serve," said Shuckers' Corporate Partnership Coordinator Chris Pharis. "Renova Roofing & Construction represents so many of our shared characteristics, including providing a fun, family friendly environment at MGM Park and bringing a positive impact to our community. We are confident that this partnership will represent these qualities for years to come."
Renova Roofing & Construction is a commercial and residential contractor with a mission to make their projects more functional, more beautiful and more cost-effective for building owners, property managers, and homeowners throughout Mississippi, Louisiana, and Alabama. With expertise in insurance claim restoration, Renova Roofing & Construction offers the industry knowledge to quickly get your property back up and running after a major storm event.
"We are extremely excited to be involved in the Mississippi Gulf Coast community by supporting the Biloxi Shuckers," said Renova Roofing & Construction Vice President Jonathan Chander. "It offers an environment where you can bring the whole family to have fun and safe entertainment. That's what we strive to do at Renova; we want to put a solid roof over your head to give you a safe place to run your business or give your home the protection it deserves."
Situated on the third-base side of MGM Park, the Renova Roofing Party Deck offers an incredible view of Shuckers' games while also providing breathtaking sights of the Mississippi Sound. The deck is available for reservation for groups of at least 28 people and includes a rotating menu of food and non-alcoholic drinks, with options to add snack and alcohol packages. Group outings on the Renova Roofing Party Deck can be booked by calling (228) 233-3465 and selecting option 3.
Individual tickets, group outings, Shuck Nation memberships and Flex Plans for the 2023 Biloxi Shuckers season are available now by calling (228) 233-3465 or visiting biloxishuckers.com. The Shuckers begin the 2023 season on April 7 at Trustmark Park against the Mississippi Braves before their home opener on April 11 at 6:35 pm against the Pensacola Blue Wahoos at MGM Park.
Prior to the start of the 2023 Shuckers' season, MGM Park will host the Hancock Whitney Classic as Mississippi State matches up with Nicholls State on Tuesday, March 14, and the University of Louisiana on Wednesday, March 15. Tickets are available now through Ticketmaster or at the MGM Park Box Office during normal business hours.
ABOUT THE BILOXI SHUCKERS:
The Biloxi Shuckers are the Double-A Affiliate of the Milwaukee Brewers. The Shuckers are members of the Southern League and play at MGM Park in Biloxi, Mississippi. For more information please visit biloxishuckers.com and follow us on Twitter @biloxishuckers and at facebook.com/biloxishuckers.
ABOUT SHUCKERS BASEBALL, LLC:
Shuckers Baseball, LLC is a MS entity owned and operated by John Tracy. Shuckers Baseball operates the Biloxi Shuckers baseball franchise, including operating MGM Park for Biloxi Shuckers minor league baseball games and other entertainment and recreational events.