Shuckers Pitching Sets Single-Game Franchise Record with 19 Strikeouts in Extra-Innings Loss
Biscuits defeat the Shuckers, 4-3, in 11 innings in Montgomery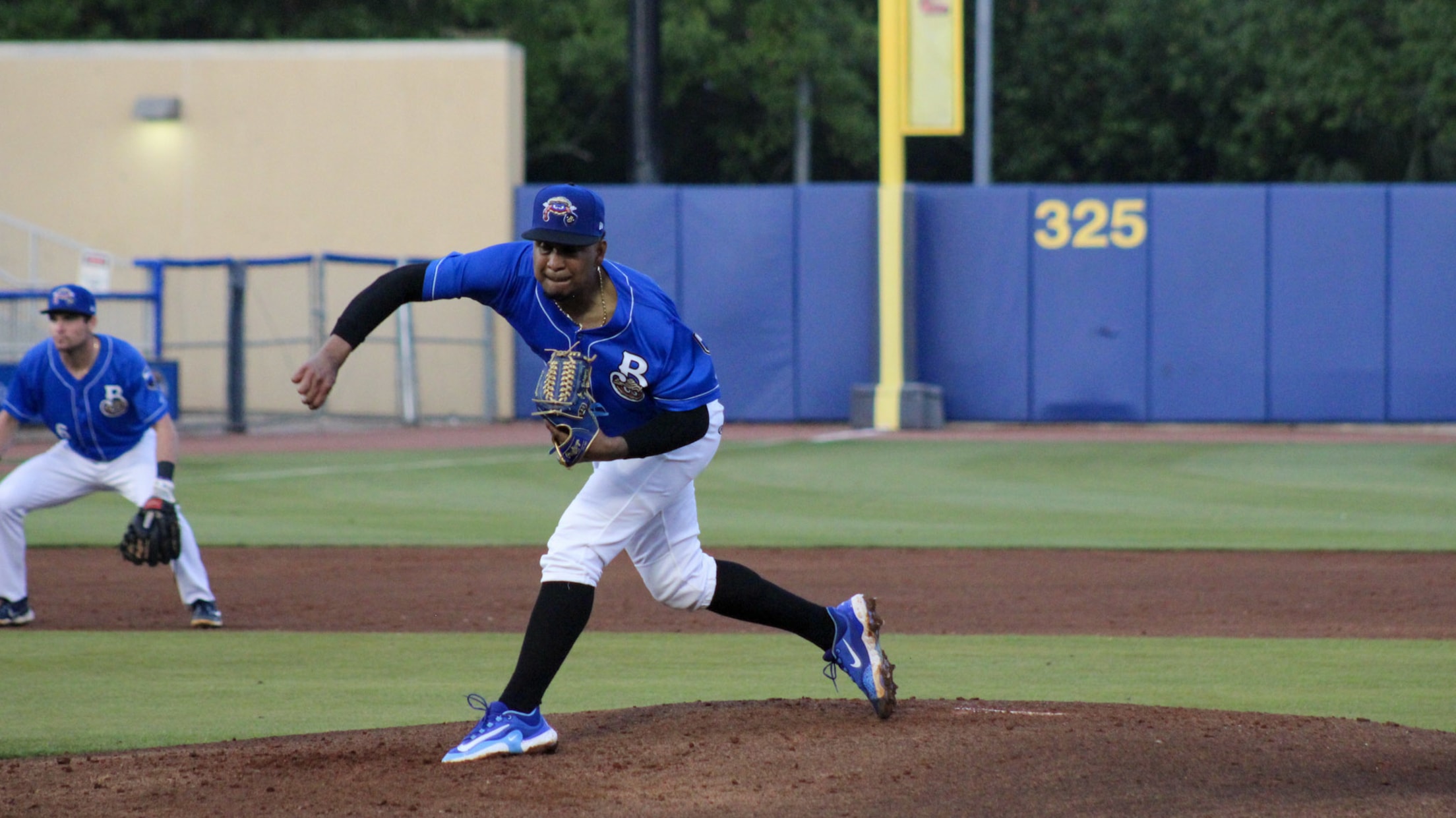 (Joshua Sumrall)
MONTGOMERY, AL – Despite a single-game franchise record 19 strikeouts from the Biloxi Shuckers pitching staff, a two-RBI single from Diego Infante in the 11th inning gave the Montgomery Biscuits a 4-3 walk-off win at Riverwalk Stadium. The Shuckers loss combined with a win for the Pensacola Blue Wahoos over
MONTGOMERY, AL – Despite a single-game franchise record 19 strikeouts from the Biloxi Shuckers pitching staff, a two-RBI single from Diego Infante in the 11th inning gave the Montgomery Biscuits a 4-3 walk-off win at Riverwalk Stadium. The Shuckers loss combined with a win for the Pensacola Blue Wahoos over the Mississippi Braves puts the Shuckers and Blue Wahoos in a tie for first in the South Division at 13-10.
On the mound, Carlos Rodriguez dazzled in a 10-strikeout effort over 5.2 innings. Rodriguez's 10 strikeouts were a new career-high, and he lowered his season ERA to 1.99. Biscuits starter Sean Hunley allowed one run over six innings, lowering his ERA to 1.13.
The Biscuits scored first in the second when an error allowed Logan Driscoll to reach third, and a sacrifice fly from Blake Hunt drove him in for the 1-0 lead. In the fifth, the Biscuits used a groundout from Alexander Ovalles to increase the lead to 2-0.
The Shuckers fought back in the sixth with a solo shot from Noah Campbell, his second of the year. Then in the eighth, a fielder's choice from Tyler Black allowed Freddy Zamora to cross home and tie the game at two.
The teams entered extras tied at two after Abner Uribe maneuvered his way out of a runner in scoring position in the bottom half of the ninth. The teams traded zeros in the 10th before the Shuckers took the lead on a bases-loaded walk to Nick Kahle.
With the lead at 3-2, a hit batter and a sacrifice bunt put runners at second and third with one out for the Biscuits. Infante then lined a single to left to give the Biscuits a 4-3 win.
Carlos Garcia (3-0) earned the win while James Meeker (0-2) took the loss. The two teams will meet in the third game of their six-game series at Riverwalk Stadium on Thursday night at 6:35.
Individual tickets, group outings, Shuck Nation memberships and Flex Plans for the 2023 Biloxi Shuckers season are available now by calling (228) 233-3465 or visiting biloxishuckers.com. The Shuckers will return to MGM Park for a six-game series against the Rocket City Trash Pandas beginning on Tuesday, May 9.
ABOUT THE BILOXI SHUCKERS:
The Biloxi Shuckers are the Double-A Affiliate of the Milwaukee Brewers. The Shuckers are members of the Southern League and play at MGM Park in Biloxi, Mississippi. For more information please visit biloxishuckers.com and follow us on Twitter @biloxishuckers and at facebook.com/biloxishuckers.
ABOUT SHUCKERS BASEBALL, LLC:
Shuckers Baseball, LLC is a MS entity owned and operated by John Tracy. Shuckers Baseball operates the Biloxi Shuckers baseball franchise, including operating MGM Park for Biloxi Shuckers minor league baseball games and other entertainment and recreational events.