Shuckers Pitching Strikes Out 13 in 2-0 Loss to Lookouts
Justin Jarvis strikes out nine, Nick Bennet strikes out four over two perfect innings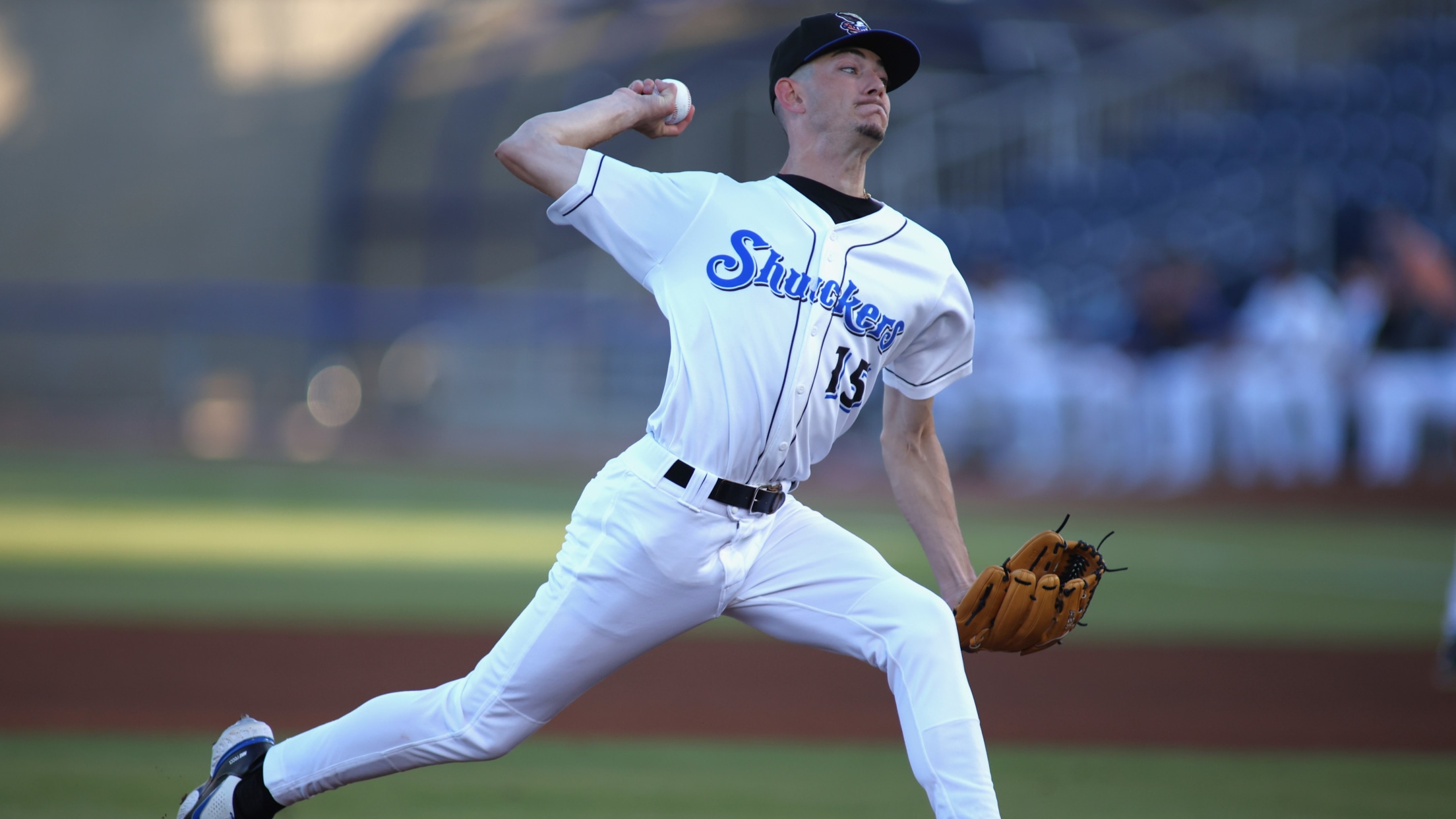 (Mike Krebs)
CHATTANOOGA, TN – The Biloxi Shuckers (19-17) pitching staff allowed two runs and struck out 13, but were outdueled by the Chattanooga Lookouts (17-18) in a 2-0 Shuckers loss at AT&T Field on Thursday night. The loss saw the Lookouts extend their winning streak at AT&T Field to six straight
CHATTANOOGA, TN – The Biloxi Shuckers (19-17) pitching staff allowed two runs and struck out 13, but were outdueled by the Chattanooga Lookouts (17-18) in a 2-0 Shuckers loss at AT&T Field on Thursday night. The loss saw the Lookouts extend their winning streak at AT&T Field to six straight and saw the Shuckers drop their fifth in a row.
The Lookouts scored first for the third straight game in the series with back-to-back triples from James Free and Alex McGarry in the first inning, with McGarry's bringing home the first run of the game.
From there, Shuckers starter Justin Jarvis (4-2) settled in and didn't allow a hit over the next 13 batters, striking out six over the span. After Jeferson Quero caught Allan Cerda trying to steal second, Noelvi Marte lined a home run to left-center that gave the Lookouts a 2-0 lead. Jarvis finished his outing with two more strikeouts in the sixth. His six innings marked the fourth outing this year where he's thrown at least six, and his second of the year with at least nine strikeouts. Jarvis earned the tough-luck loss, his second of the year.
For the Lookouts, starter Christian Roa (1-3) held the Shuckers hitless after Zavier Warren led off the second with a double, stranding four runners over six scoreless innings. Roa took the win for the Lookouts, his first of the season.
Nick Bennett took the ball for Biloxi in the seventh and finished the night with two perfect innings with four strikeouts. A trio of Manuel Cachutt, Andy Fisher and Evan Kravetz finished the night for Chattanooga. Kravetz earned his first save of the year with a perfect ninth inning.
The Lookouts held Biloxi to 0-7 with runners in scoring position, posting a shutout for the second consecutive game.
Biloxi is set to send Tobias Myers (3-0, 3.27) to the mound tomorrow while Lyon Richardson (0-2, 2.61) will go for the Lookouts. First pitch is scheduled for 7:15 p.m. ET/6:15 p.m. CT.
Individual tickets, group outings, Shuck Nation memberships and Flex Plans for the 2023 Biloxi Shuckers season are available now by calling (228) 233-3465 or visiting biloxishuckers.com.
ABOUT THE BILOXI SHUCKERS:
The Biloxi Shuckers are the Double-A Affiliate of the Milwaukee Brewers. The Shuckers are members of the Southern League and play at MGM Park in Biloxi, Mississippi. For more information please visit biloxishuckers.com and follow us on Twitter @biloxishuckers and at facebook.com/biloxishuckers.
ABOUT SHUCKERS BASEBALL, LLC:
Shuckers Baseball, LLC is a MS entity owned and operated by John Tracy. Shuckers Baseball operates the Biloxi Shuckers baseball franchise, including operating MGM Park for Biloxi Shuckers minor league baseball games and other entertainment and recreational events.