Seminaris Ties Career-High with Seven Innings, Shuckers Fall to Lookouts, 2-0
Adam Seminaris sets new career-high with 101 pitches, Shuckers draw 11 walks in loss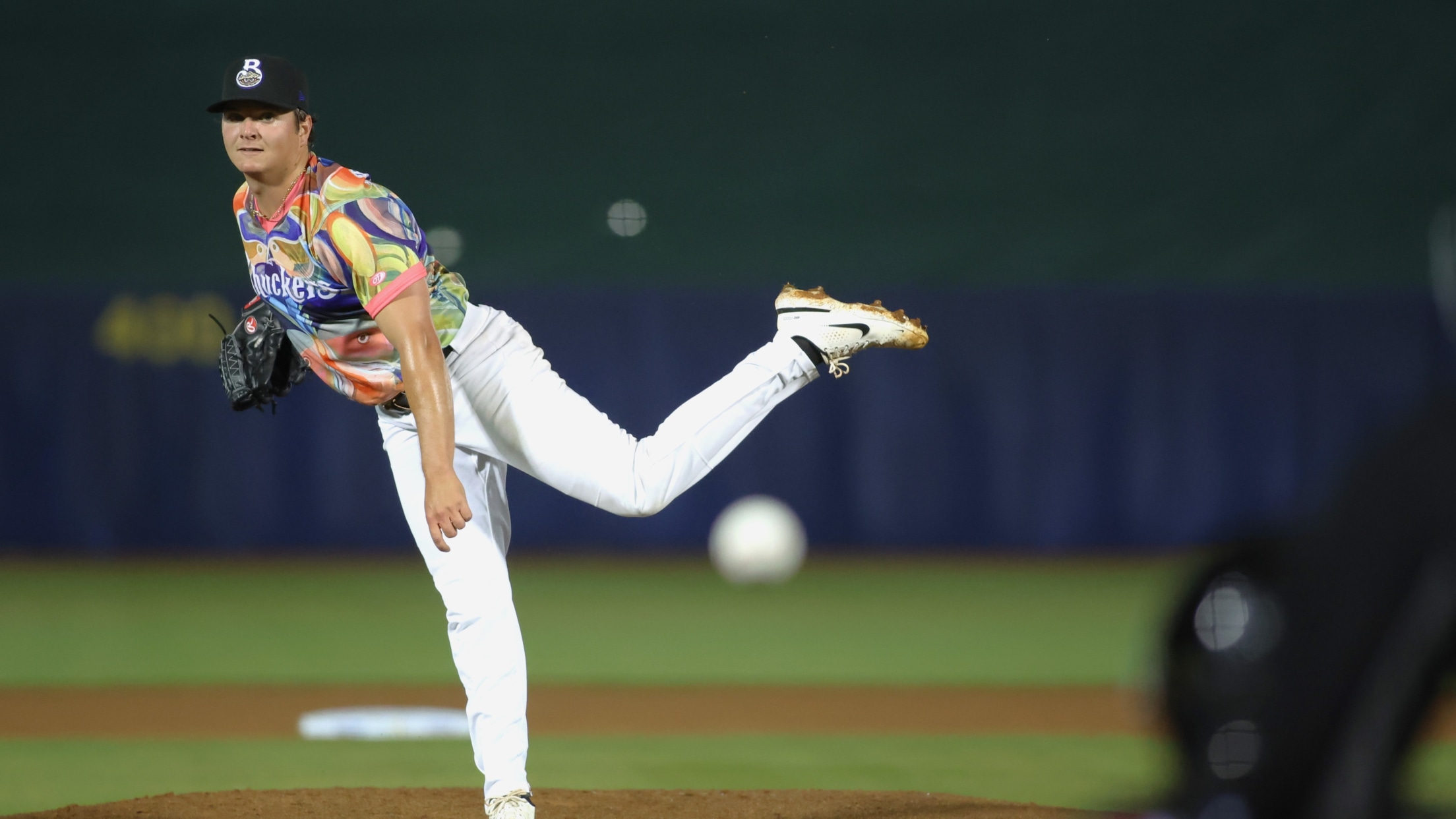 (Mike Krebs)
CHATTANOOGA, TN – The Biloxi Shuckers (19-16) drew 11 walks and Adam Seminaris dazzled on the mound over seven innings, but the Chattanooga Lookouts (16-18) held the Shuckers at bay as Biloxi fell, 2-0, at AT&T Field on Wednesday afternoon. Seminaris (2-4), the Shuckers starter, was tagged with the tough-luck
CHATTANOOGA, TN – The Biloxi Shuckers (19-16) drew 11 walks and Adam Seminaris dazzled on the mound over seven innings, but the Chattanooga Lookouts (16-18) held the Shuckers at bay as Biloxi fell, 2-0, at AT&T Field on Wednesday afternoon.
Seminaris (2-4), the Shuckers starter, was tagged with the tough-luck loss, but he tied a career-high with seven innings. He became the first Shuckers pitcher to complete seven innings this year and became the first to throw more than 100 pitches, throwing 101, a career-high.
The Lookouts first run came in the third inning when Noelvi Marte lined a double down the left field line to score Nick Northcut from first, and Chattanooga extended the lead in the fourth with a sacrifice fly that brought home Rece Hinds after a triple.
With the Lookouts up 2-0, Seminaris held them scoreless over the next three innings, but the Chattanooga staff matched him. Lookouts starter Joe Boyle (2-3) walked the line through his five innings, including nine walks and seeing the bases loaded in the third, fourth and fifth innings. However, Boyle worked out of every jam and earned the win. Between the Lookouts' four pitchers, they combined to strand 13 Shuckers baserunners.
Spencer Stockton and Donovan Benoit combined to strike out four and allow one hit over the sixth, seventh and eighth innings to keep the scoreless stretch. In the eighth, Shuckers reliever Cam Robinson retired three straight batters, including two strikeouts in a scoreless inning.
The Shuckers had two runners reach in the ninth, but Andy Fisher earned his first save of the year with back-to-back strikeouts. The loss marks the fourth straight for Biloxi and the first time they've been shutout this year.
Justin Jarvis is set to start for Biloxi in game three of the series on Thursday night against right-handed pitcher Christian Roa. First pitch is scheduled for 7:15 ET/6:15 CT at AT&T Field.
Individual tickets, group outings, Shuck Nation memberships and Flex Plans for the 2023 Biloxi Shuckers season are available now by calling (228) 233-3465 or visiting biloxishuckers.com.
ABOUT THE BILOXI SHUCKERS:
The Biloxi Shuckers are the Double-A Affiliate of the Milwaukee Brewers. The Shuckers are members of the Southern League and play at MGM Park in Biloxi, Mississippi. For more information please visit biloxishuckers.com and follow us on Twitter @biloxishuckers and at facebook.com/biloxishuckers.
ABOUT SHUCKERS BASEBALL, LLC:
Shuckers Baseball, LLC is a MS entity owned and operated by John Tracy. Shuckers Baseball operates the Biloxi Shuckers baseball franchise, including operating MGM Park for Biloxi Shuckers minor league baseball games and other entertainment and recreational events.