WHATA COMEBACK, SODDIES SCORE SIX IN 9TH
Six Run Deficit Matches The Largest Overcome This Season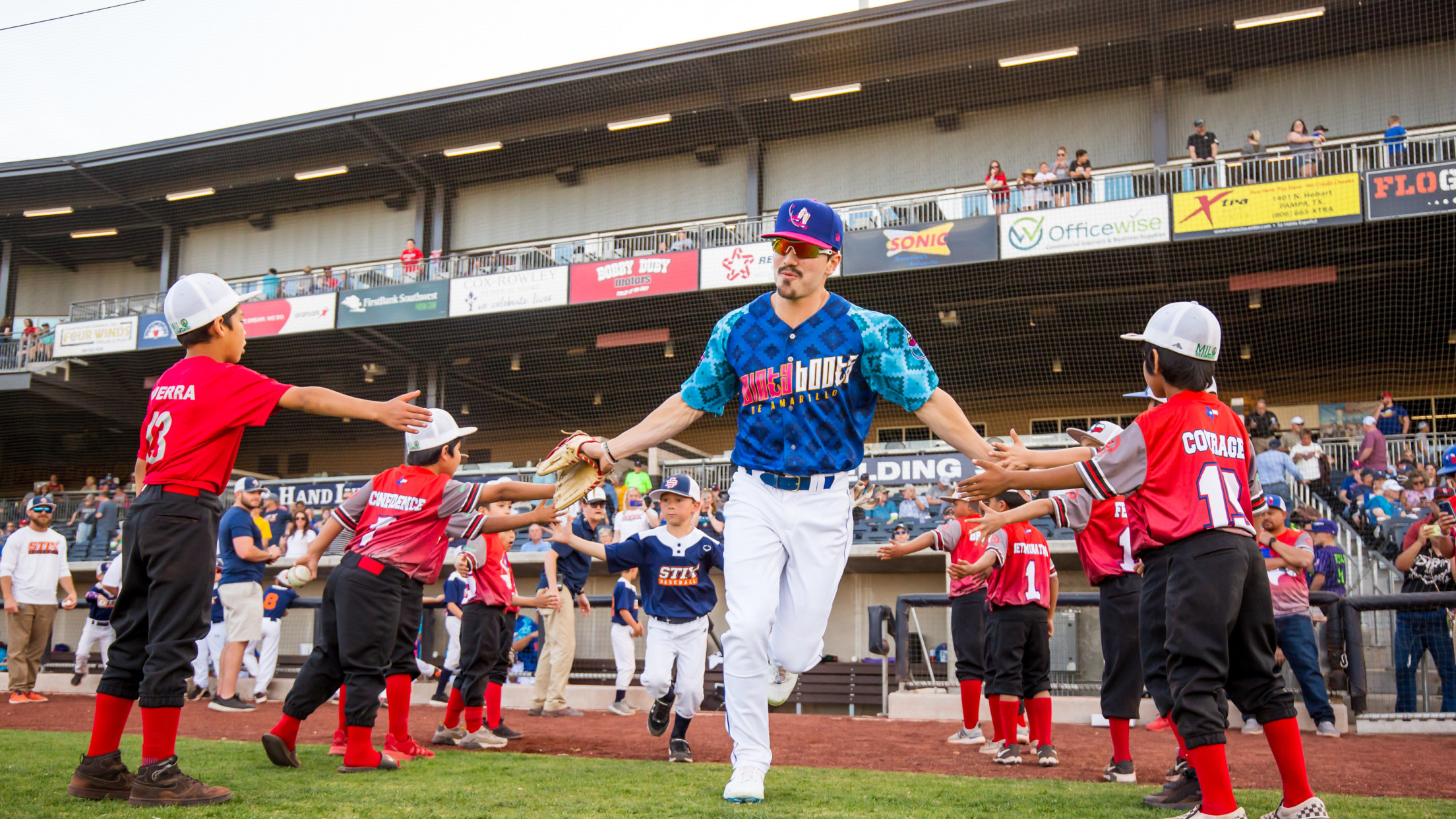 (John Moore)
Corpus Christi, TX – The Amarillo Sod Poodles trailed 9-4 entering the 9th inning on Tuesday night, but a six-run explosion in a late comeback effort secured the win in game one against the Corpus Christi Hooks at Whataburger Field. Bryce Jarvis tossed five innings of two-run ball and earned
Corpus Christi, TX – The Amarillo Sod Poodles trailed 9-4 entering the 9th inning on Tuesday night, but a six-run explosion in a late comeback effort secured the win in game one against the Corpus Christi Hooks at Whataburger Field.
Bryce Jarvis tossed five innings of two-run ball and earned a no-decision for the Soddies. The Hooks jumped ahead with seven runs in the bottom of the 6th, and Amarillo responded with seven runs of their own across the 8th and 9th.
Amarillo went down in order to open up the game, but Leandro Cedeño reached on a fielding error to kick off the 2nd. The next two batters were retired, but Juan Centeno put runners at the corners with two outs. Drew Stankiewicz drew a walk to load the bases, and Nick Dalesandro drew a four-pitch walk to drive home a run.
Wild pitching put the Sod Poodles up 2-0 in the 4th after five batters in a row reached without getting a hit. Ti'Quan Forbes led off the frame with a walk and Juan Centeno was hit by a pitch. Forbes was picked off at second, but the next two batters walked to load the bases. Centeno scored on a wild pitch and Carroll drew a walk to re-load the bases with just one out, but the next two batters were retired.
Jarvis busted out of his rocky road trip with four scoreless innings to start the game. He issued two walks and two doubles through the first four frames, but the Hooks were able to tie the game on a two-run homer in the 5th.
Amarillo quickly re-took the lead with a run in the 6th. Stankiewicz doubled and advanced to third on a bunt-single from Dalesandro, and scored on a bang-bang play at the plate on a fielder's choice off Carroll's bat. Dalesandro and Carroll each stole a bag as well and Jorge Barrosa was intentionally walked, but the Sod Poodles failed to score with one out and the bases loaded, for a second time.
Jarvis exited in line for the win after five innings of work. He allowed only four hits, but the long bomb was enough to give the Hooks life. Arizona's No. 7 prospect ended his night at 5.0 IP, 4 H, 2 R, 2 ER, 3 BB, and 4 K on 85 pitches before handing the ball to Yorvin Pantoja.
Corpus Christi immediately jumped on the pitching change and scored seven runs in the bottom of the 6th. The first three batters reached on a HBP, single, and a walk, and one scored on an RBI single. Pantoja was then relieved before recording an out.
Josh Green entered the game with the bases loaded, but Corpus Christi kept rolling. Two more singles made it 5-3 Hooks, and a bases-loaded walk made it 6-3. A sacrifice fly and a two-out, two-RBI single put Corpus Christi up by six after six, 9-3.
Corbin Carroll cut into the deficit with a two-out solo home run in the top of the 8th. The dinger was his team-leading 16th of the year, his second in the last three games, and cut the Hooks lead to five. The run would prove to be a big one, as it helped propel the Soddies to a one-one victory.
Another @corbin_carroll HR on the year..It's the 16th for the D-backs' No, 1 rated prospect. pic.twitter.com/q7VWga5mxc

— Amarillo Sod Poodles (@sodpoodles) June 22, 2022
Ti Tice struck out two in a perfect the 7th and Liu Fuenmayor retired the side in the 8th, setting up Amarillo for a late-inning comeback in the 9th.
The Sod Poodles roared back with a six-run 9th to retake the lead, 10-9. The first five batters of the inning reached: Eduardo Diaz led it off with a walk and four straight singles from Cedeño, Blaze Alexander, Forbes, and Yerzy plated three runs.
After a pitching change, Stankiewicz re-loaded the bases with a single, and Dalesandro added one more with a sac fly. Carroll tied the game with an RBI single, and Jorge Barrosa loaded the bases once again by drawing a walk. The Sod Poodles took their 10-9 lead on a balk that scored Stankiewicz from third.
All told, Amarillo scored six runs in the top of the 9th and erased a six-run deficit to come back and win. Blake Rogers came on in a newly-minted save situation and struck out two in a perfect frame to secure the win.
The Sod Poodles out-hit the Hooks 11-9 and drew nine walks. They scored well in the clutch, but left 12 runners on base and batted 7-for-15 with runners in scoring position. Corbin Carroll led the way for Amarillo with two hits and three RBI, and Dalesandro added two RBI as well. Every batter but one recorded a hit for the Soddies.
Amarillo will look to keep the momentum going in game two tomorrow, Wednesday, June 22, with first pitch at 6:35 PM from Whataburger Field. The Sod Poodles will have Deyni Olivero (0-4, 7.42 ERA) on the mound to face Misael Tamarez (1-3, 4.50) for Corpus Christi.
(•_•)
<) )╯ALL
/ \

\(•_•)
( (> TIED
/ \

(•_•)
<) )> UP
/ \@corbin_carroll drives in his third of the game and we've plated five in the 9th with one out and two on still.. pic.twitter.com/lHE79wejO0

— Amarillo Sod Poodles (@sodpoodles) June 22, 2022
Notes:
WHATAcomeback: The Sod Poodles came back to win after facing a six-run deficit in the 7th inning, tied for their largest comeback of the season. They came back from a half-dozen runs on April 19 against the San Antonio Missions earlier this year, and the franchise record is an eight-run comeback on May 26, 2019 against Midland. The 9th inning tonight saw six runs scored off of six hits, tied for their second-most hits in an inning this season and their seventh time scoring 6+ in a frame this year.
Walk For Sight: Amarillo drew nine walks tonight, just one free pass short of their season-high 10 walks on June 2 against Midland. Jorge Barrosa, Drew Stankiewicz and Nick Dalesandro each drew two walks and three more Soddies added one.
Another Game, Another Note About Corbin Carroll: Arizona's No. 1 prospect continues to perform well against Double-A pitching in his first season at this level. He went 2-for-5 tonight with three RBI and a solo home run. It was his sixth game with three or more RBI this season, and his 23rd multi-hit game. On the year, the 21-year-old Seattle native leads the Sod Poodles with 70 hits, 16 HR, 7 3B, 20 SB, and a 1.097 OPS, while slashing .323/.438/659 through 217 at-bats.
Stranded: Despite the win, the Sod Poodles left 12 runners on base and batted 7-for-15 with runners in scoring position. It was just one baserunner shy of their season-high 13 runners left stranded on April 22 against San Antonio. They left the bases loaded twice, both times going scoreless with the bases juiced and one out. They made up for it with the six-run explosion in the 9th, scoring with the bases loaded four times. On the year, Amarillo is slashing .322/.401/541 with runners in scoring position.
*Roger, Roger: *RHP Blake Rogers secured his fifth save of the season with a perfect 9th inning. Rogers is now 5-for-5 in save opportunities this season and owns the lowest ERA on the team, 3.33. The seven-year pro is putting together one of the best seasons of his career in his third year as a Sod Poodle. He owns a 4.74 career ERA, but currently has his lowest season ERA since his 2.83 mark over 28.2 innings of rookie ball in 2015.