Drey Jameson Debuts For Diamondbacks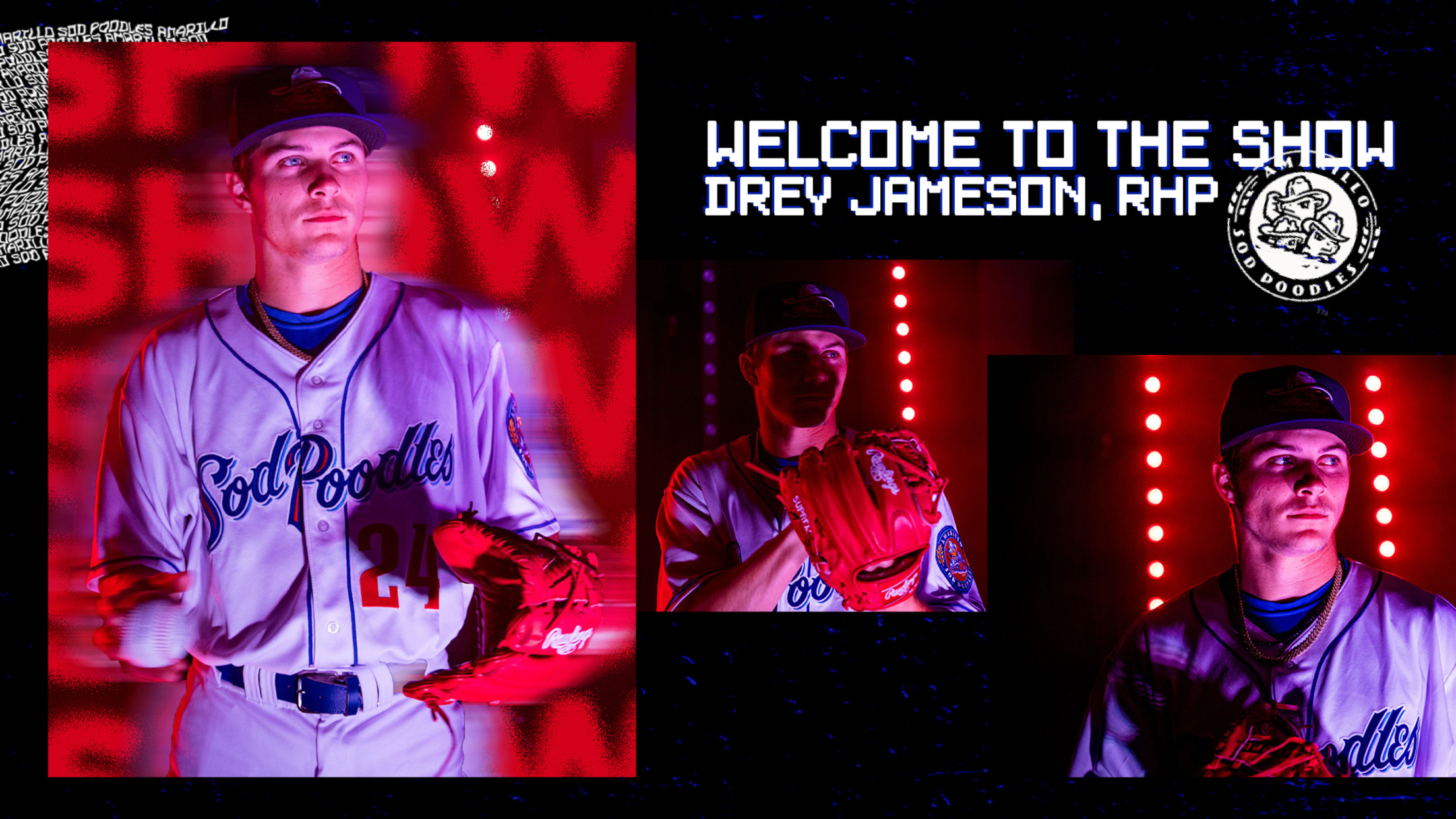 Amarillo, Texas - Last night, right-handed pitcher Drey Jameson made his MLB debut for the Arizona Diamondbacks against the San Diego Padres. The Arizona Diamondbacks No. 9 rated prospect was the Sod Poodles Opening Day starter to begin the 2022 season. Jameson became the 12th former Sod Poodle player to
Amarillo, Texas - Last night, right-handed pitcher Drey Jameson made his MLB debut for the Arizona Diamondbacks against the San Diego Padres. The Arizona Diamondbacks No. 9 rated prospect was the Sod Poodles Opening Day starter to begin the 2022 season. Jameson became the 12th former Sod Poodle player to make his big-league debut with the D-backs' since Amarillo became a farm club for the team ahead of the 2021 minor league season.
Jameson (1-0) impressed in his debut, spinning seven scoreless innings in a 4-0 Arizona win over the Padres en route to collecting his first MLB win. He scattered just two hits and struck out five of the 24 batters he faced with just one walk issued.
Jameson, the former 34th overall pick in the 2019 MLB draft out of Ball State University began the 2022 season with Amarillo, going 2-1 with a 2.41 ERA in four starts before being promoted to Triple-A Reno. He ended his time with the Sod Poodles not allowing a run over his final 16.2 IP while striking out 20 and walking none and just four hits against him. For his efforts, Jameson was named the Texas League Pitcher of the Week on April 24 and promoted to Reno on April 28.
The right-hander also appeared in eight starts for Amarillo to end the 2021 season, going 3-2 with a 4.08 ERA after appearing in 13 games (12 starts) for High-A Hillsboro last season. He was awarded a Rawlings Minor League Gold Glove at the end of the season to go along with his Northwest League Pitcher of the Month award in July, 2021. In his minor league career, Jameson is 12-19 with a 5.29 ERA in 55 games (53 starts).
Jameson joined current big-leaguer and former Sod Poodle, Ryne Nelson, as the first pair of teammates to throw 7+ scoreless innings in their MLB debuts in the same season since Mike Maroth and Andy Van Hekken for the Tigers in 2002. Nelson fired seven scoreless in his debut against the same Padres just 10 days apart on September 5.
The list of former Sod Poodles to make their Major League debut with the Diamondbacks includes OF Corbin Carroll, RHP Luis Frias, OF Stone Garrett, LHP Tommy Henry, C Jose Herrera, LHP Tyler Holton, INF Buddy Kennedy, OF Jake McCarthy, RHP Ryne Nelson, RHP Brandyn Sittinger, OF Alek Thomas, and Jameson. They join RHP Humberto Mejia and INF Geraldo Perdomo who were recalled to the Major League roster during the 2021 season. Since 2019 as a San Diego Padres affiliate, there have been 37 former Sod Poodles to make it to 'The Show'.
For the most up-to-date information on the Sod Poodles, visit www.SodPoodles.com or follow the team on social media on Facebook, Twitter and Instagram at @sodpoodles.