Long Balls Sink Curve In Series Opener
Matt Gorski and Connor Scott each picked up three hits in the defeat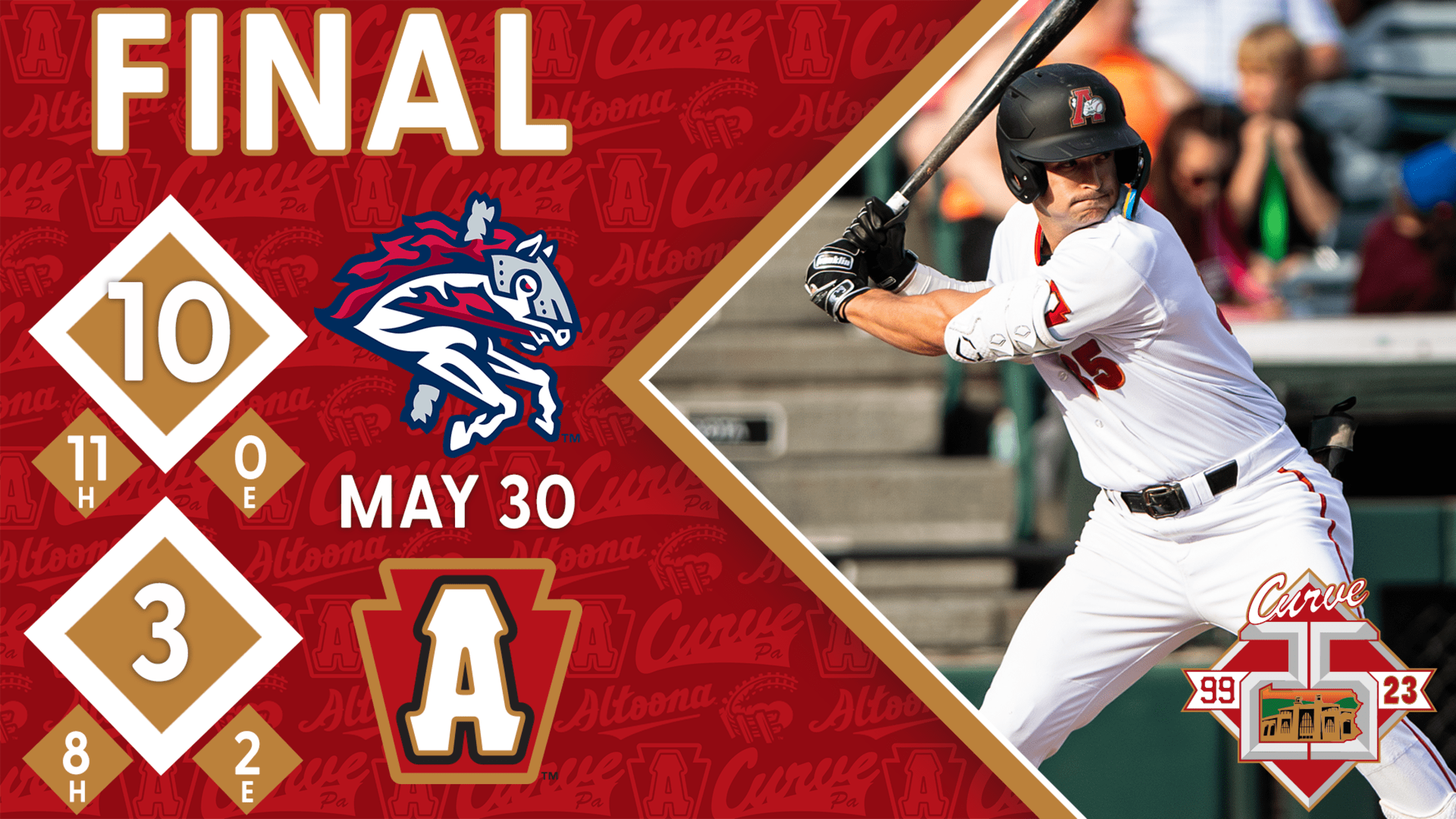 CURVE, Pa. – Binghamton starter Junior Santos spun a career-best 8.0 innings to hold the Curve bats quiet in a 10-3 defeat for Altoona on Tuesday night at Peoples Natural Gas Field. With the loss, Altoona's record dropped to 22-22. The Curve offense managed just two runs on seven hits
CURVE, Pa. – Binghamton starter Junior Santos spun a career-best 8.0 innings to hold the Curve bats quiet in a 10-3 defeat for Altoona on Tuesday night at Peoples Natural Gas Field. With the loss, Altoona's record dropped to 22-22.
The Curve offense managed just two runs on seven hits off the Rumble Ponies starter. Matt Gorski and Connor Scott paced the Curve offense and the pair combined for Altoona's first run in the bottom of the second inning. Gorski swatted a leadoff double to left center and then Scott drove him home with a solid single to left to cut Binghamton's early lead to 2-1.
Scott finished the game a home run shy of the cycle and has driven in seven runs across his last two games.
Binghamton's offense took a commanding lead in the fifth inning with six straight batters reaching base safely to start the inning against Aaron Shortridge and Nick Dombkowski. Shortridge left after two walks and two singles to start the inning, with a run scoring on an error by Altoona's right fielder. Dombkowski was called upon with the bases loaded and no out and induced a soft groundball on the infield for the first out, but Rumble Ponies outfielder Agustin Ruiz swatted a grand slam to take a 7-2 lead for Binghamton.
Shortridge, charged with the loss in a second straight outing, struck out a season-high seven batters in 4.0 innings for the Curve. He scattered six hits and three walks in the defeat but did manage three straight strikeouts to finish the third inning.
Following Dombkowski's two innings of relief, Cameron Junker tossed his tenth consecutive scoreless outing of the season covering 13.2 innings in which he's allowed just five hits and seven walks.
Andres Alvarez swatted his fifth home run of the season with a solo shot in the ninth inning.
Henry Davis played right field for the seventh time this season and went 0-for-4 with a pair of strikeouts at the plate; it was just the fourth time in 37 games this season that he hasn't reached base safely.
The Curve continue their series with the Rumble Ponies, Double-A affiliate of the New York Mets, on Wednesday night with a 6:00 p.m. first pitch. RHP Kyle Nicolas will start for the Curve while RHP Jose Chacin is slated to start for Binghamton.
The Curve are proud to celebrate 25 years of memories in Curve, PA throughout the 2023 season. For tickets or more information, visit AltoonaCurve.com, call 877.99.CURVE or stop by the PNG Field box office. Additionally, the Stockyard Team Store is open Monday-Friday from 9 a.m. to 5 p.m., during every home game and online 24/7/365.