Sugar Land Clips Mariachis, 9-8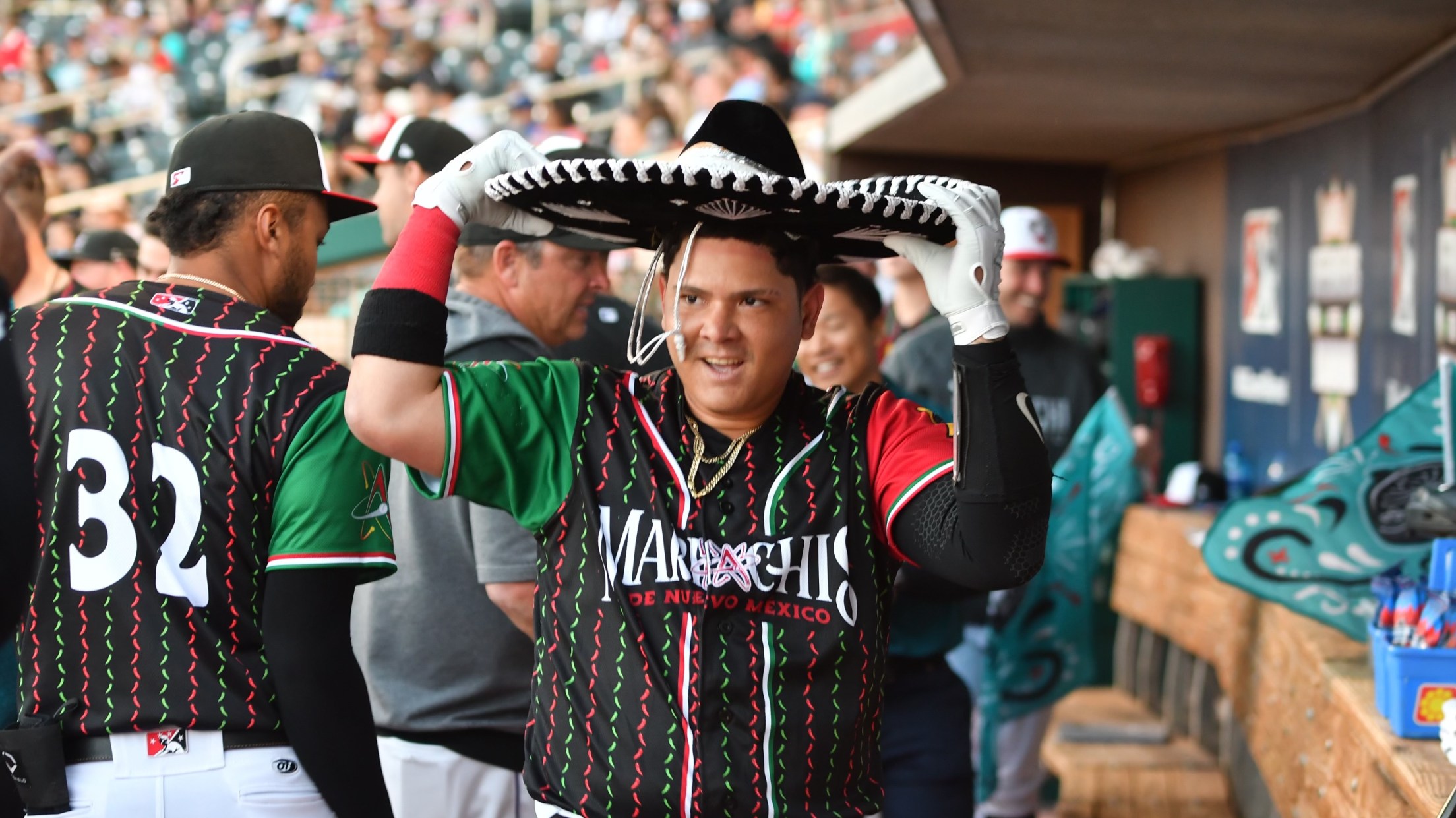 Albuquerque, NM – On the 5th anniversary of the first Mariachis game, a crowd of 15,817, the sixth-largest crowd in RGCU Field at Isotopes Park history, packed the park for the "Cinco de Mayo Celebration." However, Sugar Land plated seven runs in the seventh frame to overcome a six-run deficit
Albuquerque, NM – On the 5th anniversary of the first Mariachis game, a crowd of 15,817, the sixth-largest crowd in RGCU Field at Isotopes Park history, packed the park for the "Cinco de Mayo Celebration." However, Sugar Land plated seven runs in the seventh frame to overcome a six-run deficit to win, 9-8, Friday night at "The Plaza."
Topes Scope: - The crowd of 15,817 is the largest in Minor League Baseball this season and the sixth largest crowd at RGCU Field at Isotopes Park history. It is also the largest crowd in all of MiLB since 2019 (Triple-A Buffalo, 16,409).
-The first challenged pitch at RGCU Field was by Sugar Land's catcher Luke Berryhill in the first inning on a 3-2 pitch to Nolan Jones. The original call of a ball was overturned to a strike. On the night, the Isotopes went 1-for-4. The lone correct challenge came with the Mariachis on defense. Catcher Jonathan Morales challenged a ball in the visiting half of the seventh, which was overturned to a strike. Jimmy Herron and Elehuris Montero both unsuccessfully challenged calls on offense while Morales' first challenge attempt on defense failed. Overall, the teams combined to go 3-for-9.
-Albuquerque is 16-7 when donning the Mariachis jerseys at "The Plaza," dating back to 2018.
-The Isotopes are 3-5 in one run ballgames, including 2-3 at home. The club has lost five-straight such contests.
-Albuquerque's six-run blown lead is the largest of the season (previous: 3, April 29 at Round Rock).
-The Isotopes have lost 12 of their last 15 games.
-Albuquerque scored two runs in the first frame and 38 on the season, the most in all of MiLB.
-Hunter Stovall extended his hitting streak to 14 games with two hits. It's the longest active streak in all of Triple-A and tied for the longest in all of MiLB. During the stretch, he is slashing .421/.521/.561 with five doubles, one homer 11 RBI and 13 walks. He has eight multi-hit efforts during the streak and nine overall. Additionally, he has a hit in 18 of 19 games he's started.
-Morales tallied three hits, including a solo homer, for the second time this season and his seventh multi-hit effort of the year. It was his first clout since April 25 at Round Rock.
-Herron belted his second homer in his last three games. He also has a hit in nine of his last 11 contests.
-Montero recorded three hits, including a double, while driving in three runs. He has collected multiple hits and RBI in three-straight games. He has an RBI in eight of 10 games played. Montero has tallied five multi-hit games, including three, three-hit performances.
-Connor Kaiser connected on his third homer of the year, his first since April 9 vs. Salt Lake. Additionally, he collected his seventh multi-hit contest of the season.
-Criswell went 5.0 innings and allowed two runs on three hits and three walks with six punchouts. He completed 5.0 innings for the first time since Sept. 28, 2022, with Las Vegas at Sacramento. Additionally, he pitched 5.0 innings and allowed fewer than two runs for the first time since Aug. 4, 2022, with Midland at Arkansas. The six strikeouts are also a season high.
-Fernando Abad has not allowed a run in his last nine outings (11.2 IP). During that stretch he has allowed just three hits and one walk while fanning 15.
-Sugar Land's Justin Dirden belted a grand slam in the seventh inning, his second-straight game with a slam. It's the second allowed by the Isotopes this season.
-The Space Cowboys plated seven runs in the seventh frame. The seven runs allowed are the most in an inning this season and most since Sept. 27, 2022 vs. El Paso (also seven).
On Deck: The Isotopes and Space Cowboys are set to meet for game five of the series Saturday at 6:35 pm at RGCU Field. Albuquerque is scheduled to start Ty Blach while Sugar Land are expected send Jayden Murray to the hill.