Offense Produces Early, Late in 8-4 Triumph over Aviators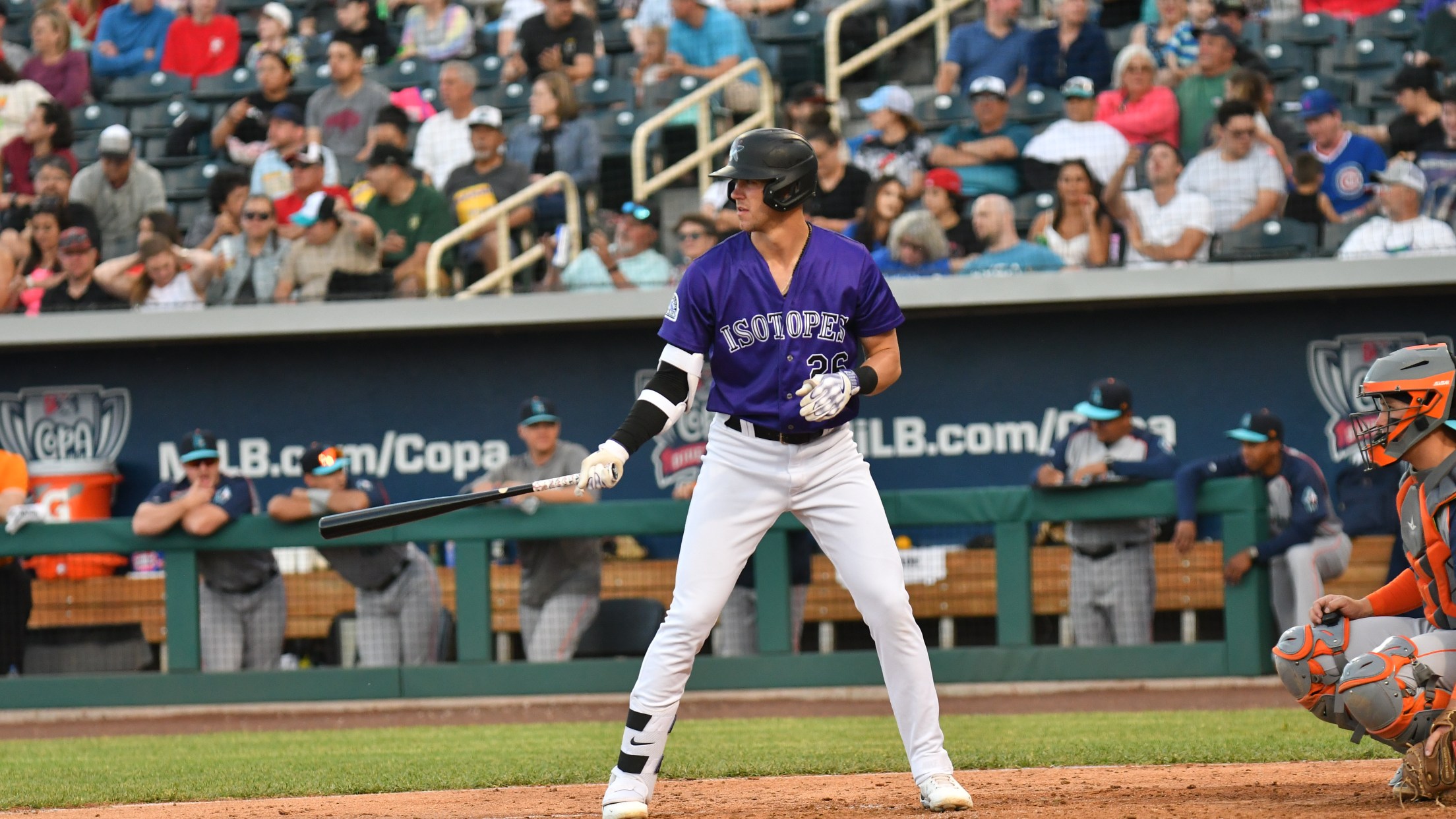 Summerlin, NV – Despite falling behind in the seventh inning, the Albuquerque Isotopes showed their resilience with a late rally on Friday evening. The visitors plated five combined runs over their last two at-bats to earn an 8-4 victory over the Las Vegas Aviators, tying the series at two wins
Summerlin, NV – Despite falling behind in the seventh inning, the Albuquerque Isotopes showed their resilience with a late rally on Friday evening. The visitors plated five combined runs over their last two at-bats to earn an 8-4 victory over the Las Vegas Aviators, tying the series at two wins apiece.
The Aviators took a 4-3 lead on Connor Capel's three-run double with two outs in the seventh. Albuquerque saw their first two batters retired in the eighth before Coco Montes singled. Nolan Jones then picked up his third hit of the evening, a double to plate Montes. Michael Toglia doubled to put the Isotopes on top for good, and Brian Serven capped the rally with an RBI single.
Isotopes starter Ty Blach turned in a solid performance on the mound, working 4.2 innings of one-run ball.
*Topes Scope: - *Albuquerque won a game when trailing after seven innings for the first time since Sept. 1, 2022 at Sugar Land, when they turned a 7-2 deficit into a 9-7 victory.
- Jones produced his 13th multi-hit contest of the season, and it was his fifth time delivering three or more knocks. He has 11 multi-RBI games, tying Montes for the team lead.
- Toglia is 15-for-44 (.341) with three doubles, two homers and six RBI in his last 11 contests.
- Montes notched his team-leading 17th multi-hit game of the year with a 2-for-4 performance.
- A day after his 16-game hitting and on-base streaks came to an end, Hunter Stovall was 1-for-3 with a walk and two runs scored. Stovall has at least one hit in 18 of 20 games started at the Triple-A level.
- Jimmy Herron saw his 14-game on-base streak reach its conclusion. During the stretch, he slashed .378/.500/.689 with five doubles, three homers, 11 RBI and a dozen walks.
- Albuquerque starting pitchers have tossed a combined 23.1 innings in this series while allowing only six earned runs (2.31 ERA). They have walked just two batters compared to 18 strikeouts.
- Blach turned in his longest outing since working 6.0 frames for the Isotopes on Sept. 20 at Sugar Land.
- Logan Allen struck out three batters in 1.1 scoreless innings of relief, and 27 of his 72 outs recorded this season have come via punchout.
- Matt Koch has allowed ten runs (all earned) across 2.1 innings in his last four appearances.
- As a whole, the Isotopes pitching staff has walked just six batters through the first four games of this series.
- Albuquerque has been held without a home run in three consecutive ballgames for the first time since a stretch of four in a row from May 21-25, 2022.
- The Isotopes have plated three or more tallies in a frame 34 times this season, after a pair of three-run innings tonight.
On Deck: *Southpaw *Josh Rogers is expected to start the fifth game of the set for Albuquerque tomorrow at 8:05 pm MT (7:05 PT). He will be opposed by Aviators right-hander James Kaprielian.