Isotopes Drop 7-6 Heartbreaker on Bride Walk-Off Hit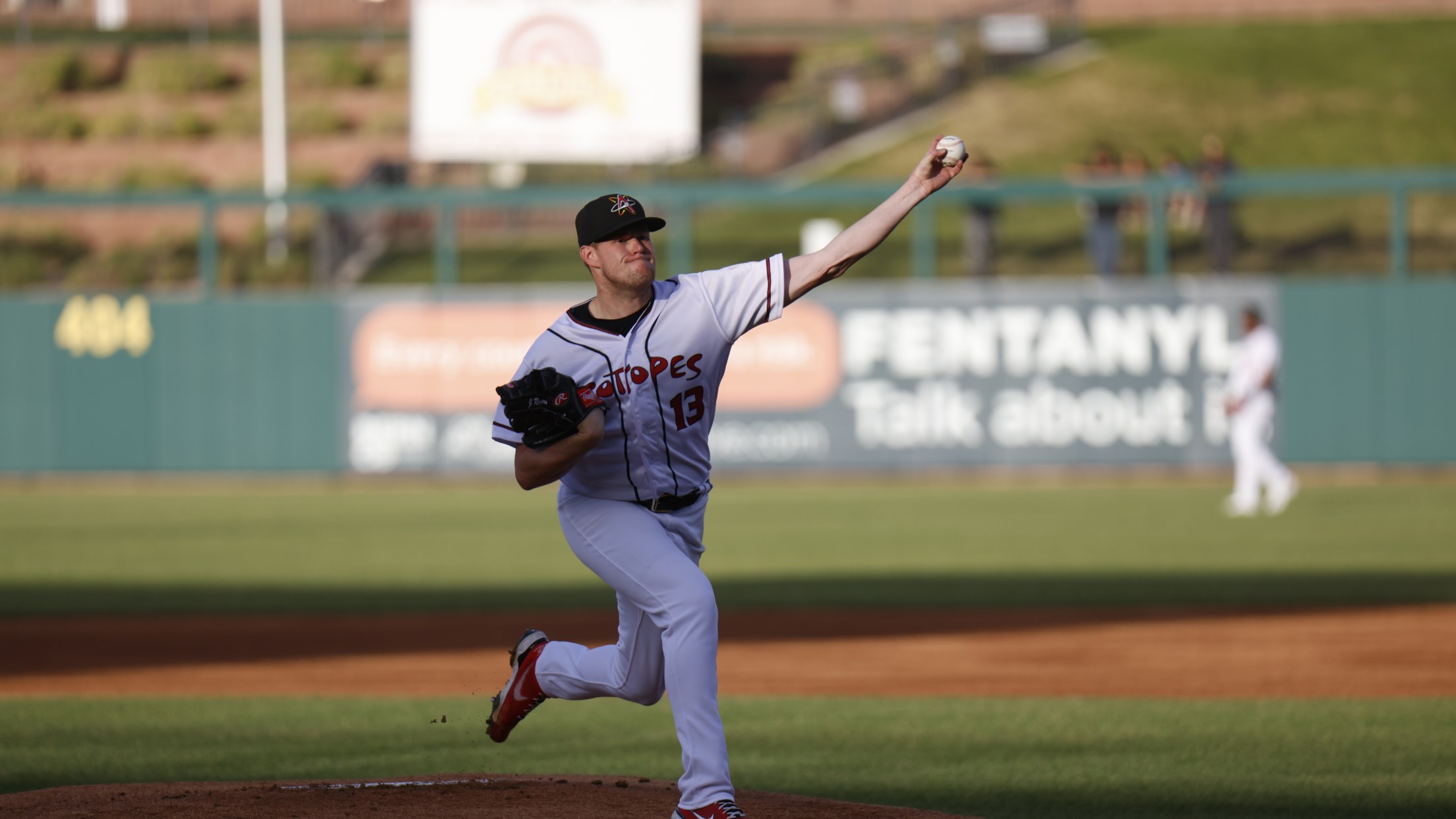 Summerlin, NV – For the second consecutive evening, the Isotopes and Aviators played a frenetic final three innings, but the home team had the last laugh Saturday. Jonah Bride's bases-loaded single in the ninth plated the winning run as Las Vegas walked off with a 7-6 victory. The Aviators have
Summerlin, NV – For the second consecutive evening, the Isotopes and Aviators played a frenetic final three innings, but the home team had the last laugh Saturday. Jonah Bride's bases-loaded single in the ninth plated the winning run as Las Vegas walked off with a 7-6 victory. The Aviators have taken three of the first five contests in this set.
Albuquerque led 3-1 heading into the bottom of the seventh, but homers by Cody Thomas and Yohel Pozo highlighted a five-run frame to give Vegas their first advantage.
It remained 6-3 to the ninth, when a leadoff hit was followed by back-to-back homers from Nolan Jones and Elehuris Montero, tying it up.
Topes Scope: - *Albuquerque starting pitcher *Josh Rogers was dominant, tossing 6.0 innings of two-hit, one-run ball without issuing a walk and striking out five. It was the third quality start of this series by an Isotopes pitcher.
- Rogers completed six innings for the first time since Sept. 27, 2022 with Triple-A Jacksonville at Norfolk, which was also his last quality start.
- Jones was 4-for-5 with two doubles and a homer, his second time this season recording four hits in a contest (May 6 vs. Sugar Land). He is 7-for-9 with four extra-base hits and four RBI in the last two games. This is the first time Jones has three or more knocks in back-to-back ballgames since June 23-24, 2019 with High-A Lynchburg (Cleveland).
- Montero connected on his eighth long ball in his last 15 games. He is slashing .355/.425/.790 with 22 RBI during the hot streak.
- Albuquerque received back-to-back home runs for the fourth time in 2023 and first since April 9 vs. Salt Lake (Jones & Montes, 6th inning).
- Coco Montes was 2-for-5 with a double, his team leading 19th multi-hit contest this season.
- Jimmy Herron registered his eighth multi-hit game of the campaign in a 2-for-4 performance.
- Michael Toglia delivered an RBI double in the seventh inning, but also struck out three times in a contest for the fourth time.
- The Isotopes finished with 15 hits, their third most in a game this year. Additionally, their five doubles were second most for a contest (six - April 12 at El Paso, May 4 vs. Sugar Land).
- One walk drawn tied for the fewest by Albuquerque in a ballgame, done on three previous occasions, including just two nights earlier in this series.
- Albuquerque plated a run in the first inning on Montero's RBI single, their 40th tally in the opening frame which is tops in all of Minor League Baseball this season.
- The Isotopes suffered their third walk-off loss of the season (April 25 and 28 at Round Rock). It was their ninth time being walked off by Las Vegas and eighth since 2013.
- Albuquerque pitching surrendered five or more runs in an inning for the 12th time this campaign.
On Deck: *The Isotopes will play their first ever matinee contest at Las Vegas Ballpark tomorrow at 1:05 MT (12:05 PT). Right-handed pitcher *Phillips Valdez is scheduled to start for Albuquerque, while the Aviators are undecided. The Isotopes need a victory to split the series.