Isotopes Claim 10-9 Thriller On Montes' Walk-Off Single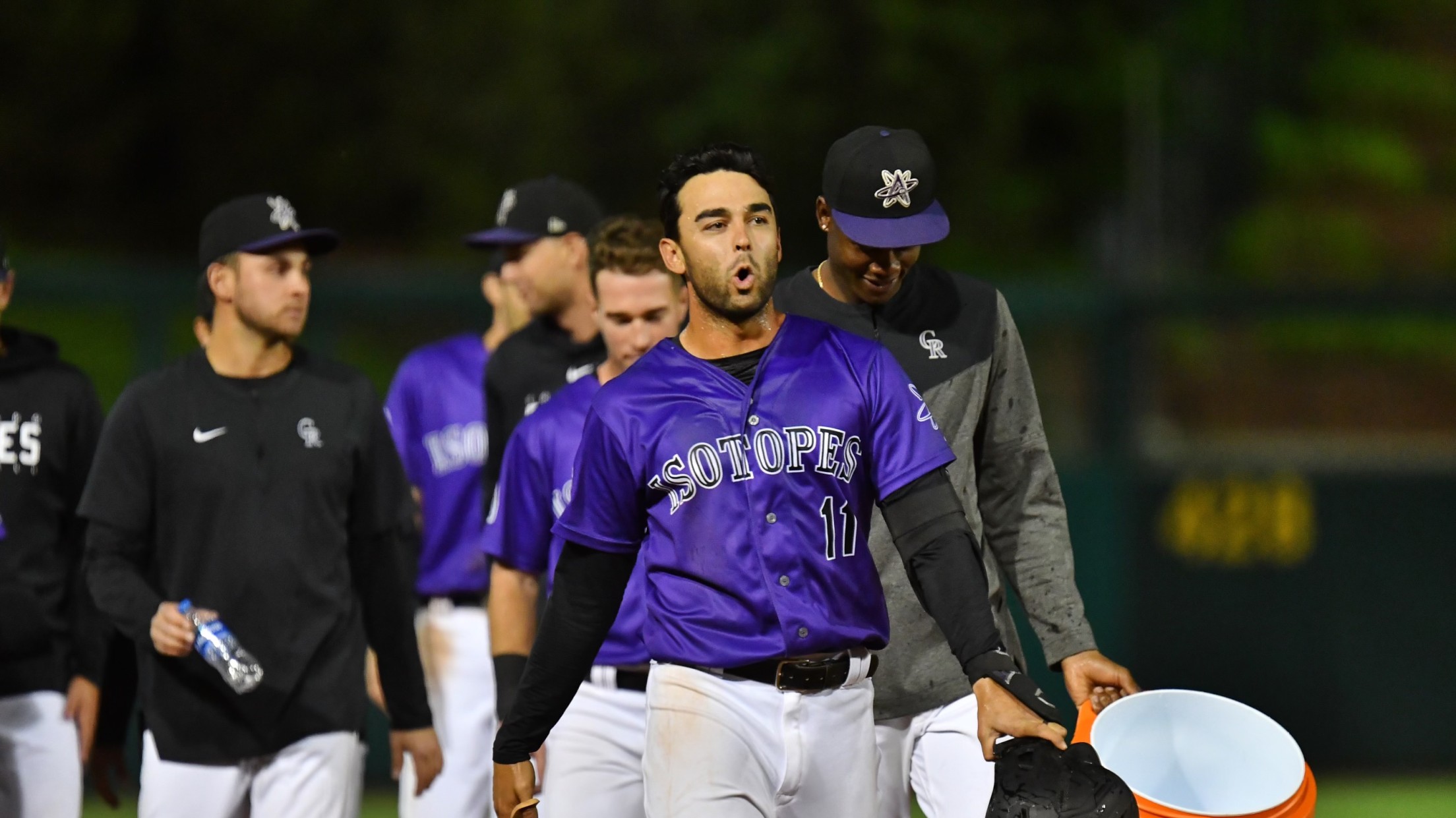 Albuquerque, NM – The Isotopes provided a thrill for 10,314 fans at Rio Grande Credit Union Field on Saturday night. Trailing 9-8 heading to the bottom of the ninth inning, Albuquerque put two runners aboard with two on for Hunter Stovall, who singled home the tying run. Coco Montes then
Albuquerque, NM – The Isotopes provided a thrill for 10,314 fans at Rio Grande Credit Union Field on Saturday night. Trailing 9-8 heading to the bottom of the ninth inning, Albuquerque put two runners aboard with two on for Hunter Stovall, who singled home the tying run. Coco Montes then swung at the first pitch and lined a single to right-center, setting off the celebration.
Albuquerque had taken a 5-3 lead by plating five runs in the fourth inning, only to see Sugar Land rally. Elehuris Montero remained hot with his seventh home run in the last nine games, while Nolan Jones chipped in a four-hit night.
*Topes Scope: - * A crowd of 10,314 was on hand, meaning a total of 35,052 fans have been in attendance at Isotopes Park in the last three days. This also marks the 50th time the Isotopes have drawn five-figure crowds in consecutive home games in team history.
- Albuquerque delivered their second walk-off win of the season. Brenton Doyle hit a game-ending solo homer to defeat Oklahoma City on April 19.
- Montes came up with his second walk-off hit as an Isotope; he doubled to cap a doubleheader sweep of the Dodgers on Sept. 14, 2022. In both cases, Jimmy Herron scored the winning run.
- Montes is slashing .364/.449/.636 with 10 doubles, two triples, five long balls, 26 RBI and 15 multi-hit contests across his last 25 games dating back to April 8.
- Stovall extended his hitting streak to 15 games, which is the longest active in Minor League Baseball. During the stretch, he is slashing .413/.506/.540 with five doubles, a homer, 10 RBI and 13 walks. Stovall has nine multi-hit contests during his streak, including six in a row, the first time he has done that in his professional career.
- Montero bashed his seventh homer in the last nine contests. During the span, he is slashing .410/.457/1.000 with 19 RBI.
- Jones recorded the fifth four-hit game by an Isotope this year and first since Trevor Boone on April 13 at El Paso. It was his 12th multi-hit contest of the season and first time picking up four hits since July 1, 2022 for Triple-A Columbus (Guardians) at Iowa.
- Michael Toglia saw his 10-game hit streak come to an end, which tied a career-best. He slashed .372/.460/.628 with two doubles, three home runs and nine RBI during his run.
- Connor Kaiser tripled for just the second time in his professional career (261 games); his other came May 30, 2019 with Single-A Greensboro (Pirates).
- The two teams have combined for 108 runs, 137 hits, 20 homers and 63 walks over the first five games of this series.
- The Isotopes are now 4-6 in contests decided by one run this season, and snapped a five-game losing streak in such occurrences.
- Will Gaddis tied his longest outing of the season by working 2.1 frames (also April 9 vs. Salt Lake) and it was only the second time in nine appearances he did not relent any runs (April 22 vs. Oklahoma City).
- Albuquerque's five-run fourth inning marked the eighth time the club has plated five or more tallies in a frame this season.
- Sugar Land scored three times in the second, the 35th time Isotopes pitching allowed three or more runs in an inning in 2023.
- The Isotopes turned four double plays, the ninth time this year they have converted multiple and fifth occurrence in the last nine contests. The quartet of double plays tied their season-best (April 27 at RR).
- Albuquerque hit two triples in a game (Kaiser and Jones) for the first time since July 7, 2022 at Round Rock.
- The Isotopes reached double digits in the run column for the ninth time in 2023 and third time in this series vs. Sugar Land.
- The two teams combined to go 6-for-10 on challenges (SUG 1-for-1 offense, 2-for-5 pitching; ABQ 1-for-2 offense; 2-for-2 pitching)
- Rehabbing Astros star Michael Brantley started at first base for the first time since June 15, 2008 with Double-A Huntsville (Brewers).
On Deck: *The Isotopes and Space Cowboys wrap up their six-game series tomorrow at 1:35 pm MT. Left-handed pitcher *Josh Rogers is slated to start for Albuquerque against Sugar Land right-hander Bryan Garcia.